Melissa Martin went on the microphone of Padel Magazine during theStéphane edition Cupra Padel-Point Tour. On the program of the interview: his collaboration with Amélie Detrivière, his role on the Cupra Padel-Point Tour, the French team and its vision of padel feminine in general.
Melissa, the expert padel Cupra Padel-Point Tour
Padel Magazine : We could see you on different stages of the Cupra Padel-Point Tour, what is your role with this organization? What for you makes it so special and differentiates it from other circuits?
Melissa Martin : "I work with the event company that was hired by Cupra and Padel-Point to organize the tour, and who is called Welldone. I help with the organization and especially at the sporting level, I advise a lot and I am on the animations. I'm a bit of an expert padel of the team, let's say (laughs). If there are animations and clinics also I try to attend them, etc. The objective of this Tour is to ride the wave of padel, to make known Padel-Point and Cupra too, but their goal is to make padel what it is: something fun and convivial. "
" I will see to do as many APT tournaments as possible and World Padel Tour"
Padel Magazine : On the sidelines of this Cupra Padel-Point Tour you also have your career as a player, what do you have in the program in the next 2-3 months to come?
Melissa Martin : " So yes indeed, I play on the side (laughs). It is true that I resumed not so long ago (at the P2000 of Padel Horizon which she won). I had a lot of work and little time to redo tournaments, but now I'm picking up little by little and I want to do a lot more. We have a big break from P2000, the next one (P2000) is at the Pyramids in September.
I intend to do the tournaments that come up: so the APT which will be in Portugal soon, I will play with Wendy (Barsotti); the Toulouse WPT that I will play with Amélie Detrivière and for which we asked for a wild-card. I will see to do the most APT and World Padel Tour possible depending on my availability, but I want to play anyway. "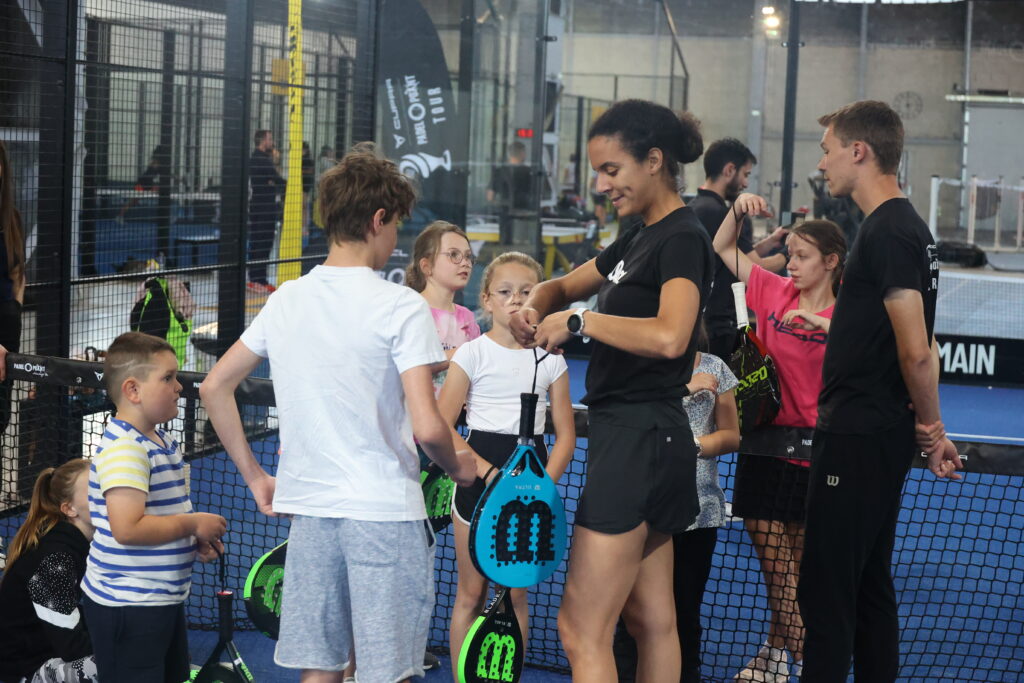 Aligned alongside Amélie Detrivière at the French championships
Padel Magazine : You mentioned Amélie Detrivière earlier, can we consider that she is your official partner on the French circuit? Can we expect to see you play together during the French championships?
Melissa Martin : "Yes, that's for sure! We already discussed it with Amélie at the end of last year, in particular because she separated from Mai Vo who put the French circuit aside a little. And it's true that with Amélie we have always played together in the France team, it was a bit like my official partner in the selection. We always got along very well, but we never had the opportunity to do the French circuit together and so we went for it and we had a blast.
We will be together at the French championships for which we are automatically qualified, so we will not do the regionals. And we will do as many tournaments as possible in France, even international tournaments when she can. "
" The padel feminine is very close to padel male amateur in France "
Padel Magazine : Let's talk about padel feminine. How do you judge the overall situation of the women's circuit?
Melissa Martin : " For the moment the women are not sure Premier Padel, but we know that the best players want to negotiate the best contract on this circuit. They want to value the padel feminine, which everyone finds incredible these days. I think it can be one of the most developed women's sports.
Le padel feminine is very close to padel male amateur in France, people recognize themselves a lot in it and take pleasure in watching. Women and players have this real weapon of being able to say: "We too, people want to watch us and we are legitimate to claim to have the same rights as men".
The France team always in a corner of my head
Padel Magazine : The French team, can we expect to find you there as part of the team?
Melissa Martin : " Framework (laughs). No, I think the managers are more Alix and Léa! In any case, I've always loved playing for the France team, anyway: who doesn't love playing for France?
But it's true that I had great experiences, and it would be incredible to come back. It's true that I didn't do the last world championships because at the end of last year I wasn't in good shape and the results weren't in my favour. But it would be great, it's a goal and we think about it. Above all, it's having fun, and having the best team to represent France.
Since now I'm in France, I'm no longer in Madrid, I train but I also work on the side… It's still a dream of the French team, but I'm quite objective about the situation.
It will depend on the results, even if we do some good ones at the start of the year, the world championships aren't there yet. We'll see, but we want it with Amélie anyway. "
To find the entire interview and the bonus question asked to Mélissa at the end of this interview, it happens here:

Passionate about football, I discovered the padel in 2019. Since then, it's been crazy love with this sport to the point of abandoning my favorite sport.