The official list of players for the Argentina selection for the 2020 Worlds (which will take place in 2021) was communicated this morning and the least we can say is that there are a lot of people in this national team. .
On paper the casting is a dream, to see what these players will give on the field.
From November 15 to 20 will be played at Doha, Qatar, the World Championships Padel.
For men, a real dream team
On the Argentinian side, it is clearly a dream team which is aligned for this major 2020 end-of-year event.
We simply find there 8 of the 12 best players in the ranking of World Padel Tour ! What offer us a very big confrontation against Spain!
The lucky ones selected are:
Fernando Belasteguin
Daniel Carlos (Sanyo) Gutiérrez
Juan Tello
Federico Chingotto
Martin Di Nenno
Franco Stupazcuk
Agustin Tapia
Maximiliano Sanchez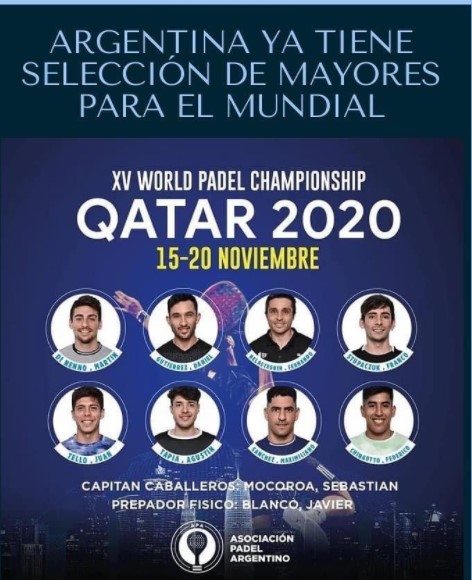 Gentlemen will be coached by Sebastián Mocoroa and physically prepared by Javier Blanco.
Among the ladies, beautiful people too
On the women's side, there are also a lot of people, with four players accustomed to the semi-finals of the Opens and Masters of the World Padel Tour : Aranzazu Osoro, Cecilia Reiter, Delfina Brea and Virginia Rieira!

Youth mixed with experience, the cocktail has the right ingredients to make this World Cup a success.
The surprise of this list comes from the daring bet of captain Fernando "Nito" Brea, who decided to select the young 16-year-old Italian-Argentinian player. Claudia Jensen.
The selected for this world in the female category are:
Aranzazu Osoro
Cecilia Reiter
Delfina Brea
Virginia rieira
Silvana Campus
Nela Brito
Claudia jensen
Julieta Bidahorria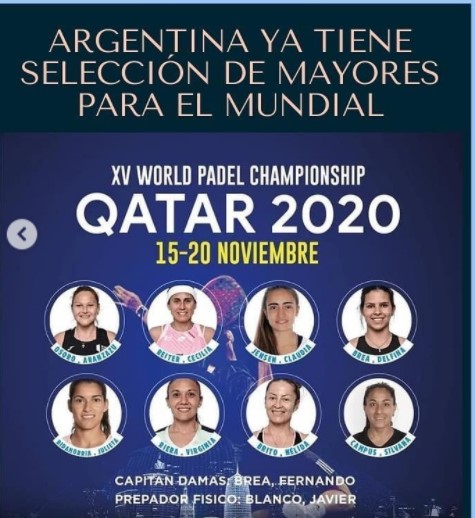 Their captain will be Fernando Brea and the physical trainer Javier Blanco.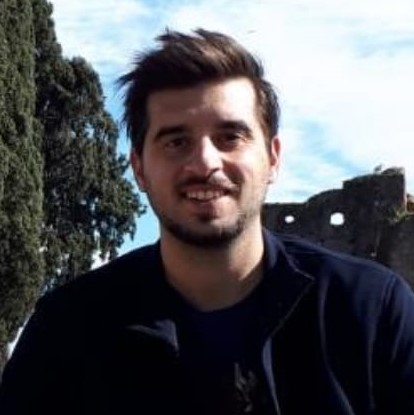 Fan of padel and of Spanish origin, the padel runs through my veins. Very happy to share with you my passion through the world reference of padel : Padel Magazine.