Qualified for the French championships, Nicolas Lamontagne and Jordan Bouchez who come from New Caledonia, tell us more about their beginnings in the padel, their qualification for these French championships as well as their assessment of padel Caledonian through a cross interview.
"There are only 2 structures of padel in New Caledonia"
Padel Magazine : How did you discover the padel ?
Nicolas Lamontagne : "I discovered the padel on Reunion Island in 2017. I played 5-a-side football in a large sports complex where there were 4 football tracks padel. I was invited to a "discovery" party and I was immediately hooked! "
Jordan Bouchez : "I knew the padel thanks to my former tennis teacher who has always marked me: it was Alain Henry, a man who knows an important place in the padel French. "
Padel Magazine : Where do you play?
Nicolas : "There are only two structures in New Caledonia: the tennis league has two courts and the Mont Coffyn Club two tracks as well. I played a lot in these two complexes, depending on the availability of courts. "
Jordan : "I currently play tennis padel Mont Coffyn club in Nouméa. I have played a lot of tennis since I was very young in competition in the second series. But I was also very often focused on sliding sports. "
Technical weaknesses, but a strong competitive spirit
Padel Magazine : What are your strengths and weaknesses in this sport?
Nicolas : "I have a lot of technical shortcomings due to both lack of training and self-taught practice of tennis. I've picked up a lot of bad habits in terms of gestures, especially on smashes. I try to compensate with a good defense. I had the opportunity to take lessons in padel with Mickaël Grenier in Reunion Padel Club and with Mathieu Feyler in New Caledonia. I take this opportunity to salute them both because they have helped me a lot to progress, on all fronts. "
Jordan : "My strengths in the padel are certainly my motivation and my competitive spirit. I do not pretend to want to be the best during the French championships, but I will give my all for both my teammate and also to represent Caledonia, which is a bit behind.
My weaknesses, let's say that in the game, I lack a lot of automatisms and I hope that Caledonia will have teachers trained to fill in my gaps. "
Padel Magazine : What do you think of your partner? (Warning, this is a trick question)
Nicolas : "Jordan is a very good player, of tennis and of padel. He is comfortable technically, on the fly and at the smash level. He is able to vary the effects and the tempo. We are therefore rather complementary. He's been pretty hampered by injuries in recent years but he's coming back well. It can happen to him to "crack" mentally on a track of padel but he has always been in control of these championships. I enjoyed playing alongside him. "
Jordan : "I have a golden partner, a calm man, who fills in my weaknesses, who has the right words at the right time! And we are quite complementary. You should know that Nico is the first partner I had in Caledonia and offering him victory in the Caledonian championships is my greatest satisfaction. "
"It was instinctive, Nico called me and the adventure began! "
Padel Magazine : Tell us about your adventure during these qualifications?
Nicolas : "It was a very pleasant weekend, in a sporty and family atmosphere. I was able to share it with my partner and my three year old daughter who saw most of my matches and it was very important to me. It was special because it was my last tournament on the territory before returning to Reunion Island for new professional projects. In addition, it turns out that several New Caledonian favorites are not registered for these championships, for various reasons. It was therefore an unexpected opportunity for us to become one of the favorite teams in a major tournament, in a territory where the padel is in full development. We didn't want to miss our chance.
In terms of atmosphere and context, there were sometimes a hundred people on the tennis league complex and in the stands. This sometimes generated a little tension and we felt some players a little tense by the issue and the context, us first. "
Jordan : I did not have to be present for these championships, because I had to return to France. However, they were advanced a week before I left! And it was instinctive, Nico called me, and the adventure began.
We trained a little before, without having too much time either, since in Caledonia we only have four tracks at the moment.
Several of my usual partners were absent from these championships, for various reasons. With Jordan, we had considered playing together several times, but his injuries and the Covid-19 had decided otherwise. Fortunately, all the lights were green for these championships and we seized the opportunity."
Padel Magazine : You got away with it in sometimes complicated matches.
Nicolas : " Yes, our adventure in qualifying was eventful. We fell on the worst of the pools and our final table was difficult until the end. The matches went well overall except in the final where our opponents led 8-7 in the third set super tie-break, with two serves to follow. It came to nothing. We were able to stay calm and united, and tighten the game in difficult times. I had a lot of fun on the track. "
"We hope to represent New Caledonia with dignity and sell our skin dearly! "
Padel Magazine : Do you hope to create a surprise in the French championship? What are your ambitions in this sport?
Nicolas " (Laughs) No. We hope to represent New Caledonia with dignity and sell our skin dearly. No points will be awarded. We just hope to have fun and gain experience.
We are well aware of coming from a territory with a level of padel among the lowest in the entire national territory. We have no particular ambition, except to play to the maximum of our abilities and to go as far as possible. "
Jordan : "Our objectives for these championships are to have fun, have fun and above all to fight even if we have to take a correction. I consider myself lucky to be able to participate in the championships with such a feeling of relaxation and serenity. "
Nicolas : "I am 37 years old and my desire is to play as long as possible and to reach a satisfactory level by crossing as many levels as possible. For this, the first condition is to have fun and enjoy the superb atmosphere that revolves around this sport. "
Jordan : "The desired ambition in this competition is to improve ourselves in order to make up for our shortcomings. Do not kid yourself, when you see Benjamin Tison and others, there is really a step above. But playing against the best is an honor and a unique experience. "
Confident about the "clear progress" of the padel Caledonian
Padel Magazine : Your opinion on the development of padel in New Caledonia?
Nicolas : "These championships came a year after the birth of the padel in New Caledonia, and they made it possible to measure the progress made by all the players. They are defending better and better, and the intensity of the games is skyrocketing, it's impressive! With the arrival of new tracks and trained and qualified teachers, I am confident about the clear overall progress of the padel Caledonian over the next few years. "
Jordan : " Caledonia is a step behind, but given the success of this sport, the delay will be caught up! I'm sure. Note that very good players like Nicolas Ngodrela will very quickly manage to advance future Caledonian players, and why not integrate Caledonians into the professional circuit. "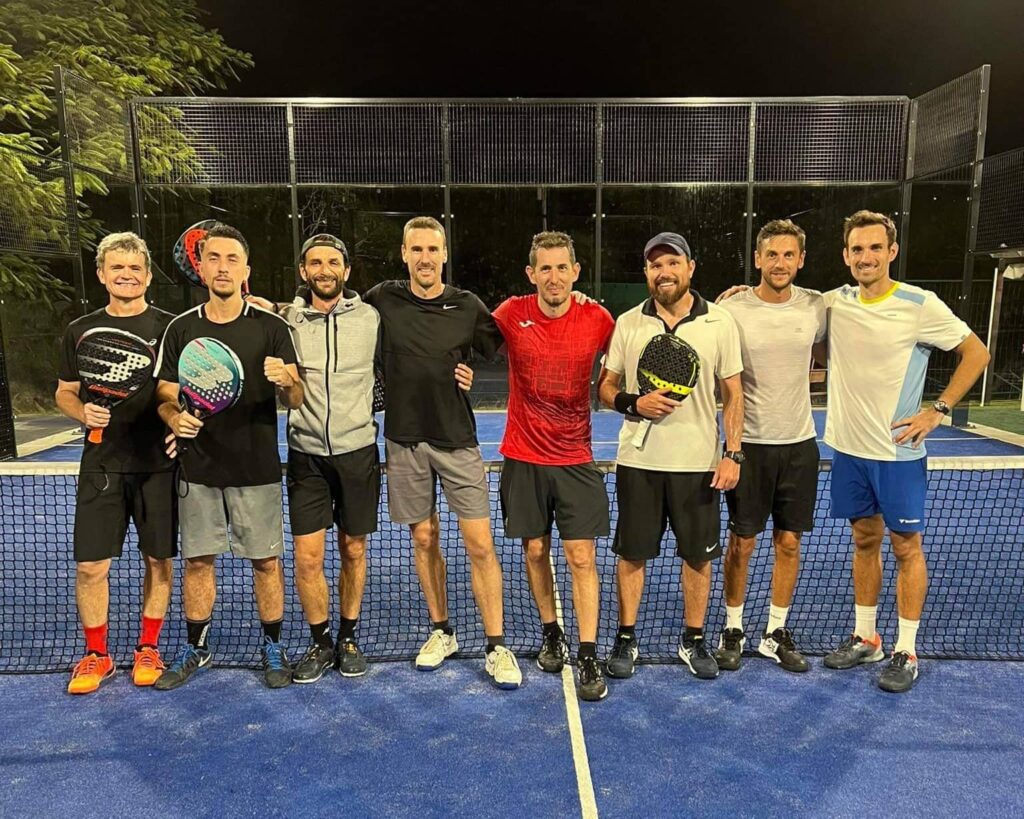 " Good things come to those who wait for.."
Padel Magazine : Do you have links with other islands, around the padel ?
Nicolas : "I'm going back to Reunion Island soon, where the level has nothing to do with it. Lots of infrastructure and a lot of players, for a level that is clearly superior to New Caledonia. I couldn't have hoped to make the final draw there on the Territorials. It was my former coach, Mickaël Grenier, who won them and I'm very happy for him. I can't wait to get back on the slopes of Reunion because I will have the opportunity to confront myself with excellent players in very structured clubs with very festive and friendly atmospheres. "
Padel Magazine : What do you think are the strengths and weaknesses of the padel ?
Nicolas : " What strengths. A fun, exciting, unifying and less traumatic sport for our old bodies (laughs). I became addicted! "
Jordan : "As for strength, I would say it's a very fun sport accessible to everyone, with room for fairly rapid progress. I can even say that playing with players of all levels is a real pleasure.
For the weaknesses, I would say a lack of competent teachers in the field, a dynamic still in slow motion (tournaments, structures). But everything comes at the right time to who knows how to wait.
I would particularly like to thank Mr. Alain Henry for his wise advice when I started. And especially all my friends from padel with whom we spend great moments before and after the sessions. "

Passionate about football, I discovered the padel in 2019. Since then, it's been crazy love with this sport to the point of abandoning my favorite sport.