An unusual column this week for the first of the year: just want to share my personal experience with you. I had the chance to experience, during the All Saints holidays, a superb experience within the X3 team Padel, based in Madrid. Another world !
Madrid: a lung of padel global
4 days of dreams in Mecca from padel ! I left with the project of resting, of rediscovering Madrid, capital of this fabulous country that I love a lot, of working a little to prepare my future columns for Padel Mag, and why not, to play once or twice padel… "Because, all the same, this is the country where to do it", I said to myself!
The number of practitioners in the Community of Madrid is estimated at more than 800! Yes, yes, you read that correctly: 000, that is to say approximately 800% of the total population of the surroundings. Another world I tell you!
So I put my pala and two sportswear in my suitcase… just in case! Welcomed like a princess by my friends, expats there, I was immediately put to the scent. As soon as I arrived, I was offered to replace an absent the next day at noon in a class, then to play a game behind against the teacher. Afternoon nap? Impossible ! I am doing 4th again during a session coached by Mr. Bastien Blanqué (triple French champion incidentally) and if I want to, I can still play in the evening ...
Rest the next day? Impossible (again)! My friend offers me a diagonal in the biggest club in the world (43 pitches of padel !)… The evening ahead for a socios club, among the oldest in Madrid. Once again a great course offered by a Spanish coach, who adapts perfectly to the little "Francesa" passing through: passion, motivation, positive… their joy is addictive!
Cervezas and tapas with the girls at the end, in a jovial, friendly and noisy atmosphere, Spanish style.
Old-fashioned land
Third day of my Madrid vacation. Today, it will be part of a local "urbanization" on one of the oldest still practicable land: walls at the back, wire netting on one side ... and wall on the other side (with a painted strip to materialize the place. where is the usual fence: confusing at first). The local pair are, like from the start, adorable! It was a pleasure to meet so many different players, with such an irreproachable state of mind.
Most of the "urbanizations" in Spain offer access to a swimming pool, to a plot of padel, at a gym, etc. And, of course, a whole bunch of "aficionados" ready to share a frenzied game as soon as possible!
I then forfeit a new game. Instead, it's a nap, rest in the jacuzzi and recovery in the gym… in my friends' residence.
Mojito evening in the evening to stay in the local atmosphere.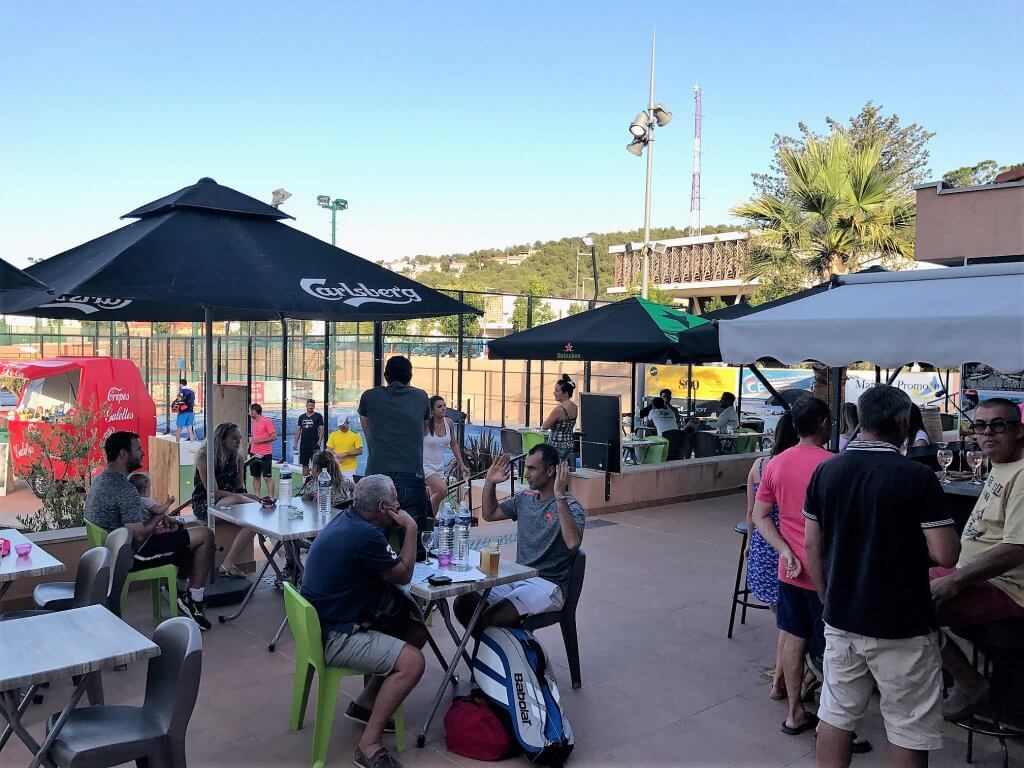 Already the fourth and last day of my Madrid getaway. My return flight is in the middle of the afternoon. Program of the day: padel of course ! Again another club discovered within another "urbanization", against local players who accepted a game at 10am! Superb part on a great lot, in the middle of buildings, with crystal windows. We play under the stares and cheers of the inhabitants who are having their coffee on their terrace. Spanish life!
It's time to close your suitcase, put your pala away and go home. Head full of images, giggles galore, enriching sharing, intense moments and unforgettable experiences!
Here, I lived an internship x3 Padel… Tailor-made as they propose it, to all! Another world…
And you, when are you going to meet them?
¡Que disfruten! Carpe Diem !!

Line Meites is one of the best French players in padel. It's the voice of your live on Padel Magazine. But not only, she also hosts the column "Investigations of the Swiss Army Knife". Every month, she will come back to a controversy or a theme that is close to her heart.