The MASTERS of My Padel Tour 2016 takes place in Toulouse Padel Club on December 3 and 4, 2016 (11 rue Marie Louise Dissard)
The male chart will begin on Saturday morning. 24 Men's Teams (1000 € Prize Money)
The Women's Table will start on Saturday afternoon 8 Women's Teams (250 € Prize Money)
We will send you the tables for the game schedules tomorrow in the day.
Thank you for arriving 30 minutes before your matches. Please do not forget your medical certificate and your 2017 license number.
For players coming from afar, here is the contact of the partner hotel with a preferential rate. (77 € the night for 2pers with breakfast / Hotel 4 ****)
Registration: 25 € per player Saturday evening: PLAYERS / PLAYERS EVENING The My team Padel Turn to the pleasure of offering you an aperitif at the club's club house around 20 p.m. Follow-up of the evening at the club (Tapas boards at 8 or 15 €, Bruchetas, drinks ...)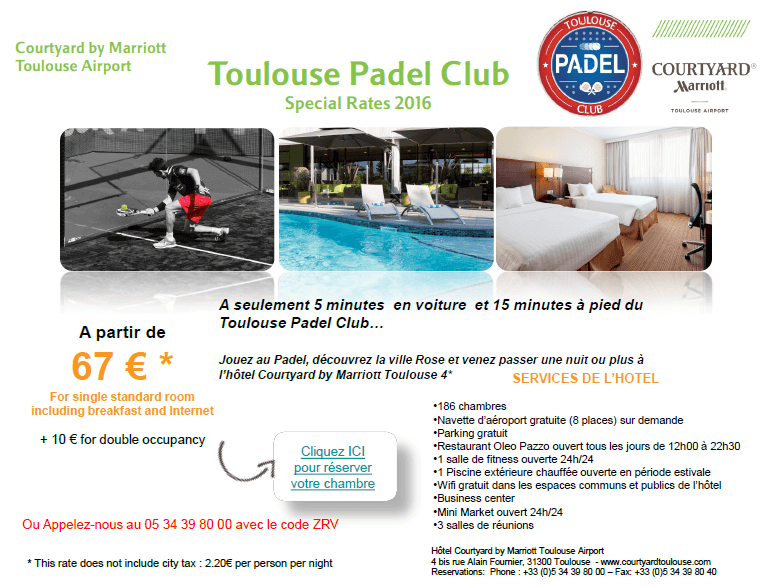 Franck Binisti discovers the padel at the Club des Pyramides in 2009 in the Paris region. Since padel is part of his life. You often see him touring France going to cover the major events of padel French.