Patrik Wozniacki, the brother of former world number one Caroline Wozniacki launches into padel. Sporty, passionate and a very interesting international vision, he gives us his opinion on the development of padel.
Patrik Wozniacki is also and above all a former Danish professional soccer player with more than 100 games to his credit, players' agent, commentator for the TV2 channel. Founder of Padel Geek, he gives us his opinion on the evolution of padel in Scandinavia but also on the institutions of padel.
Patrick, how did you get into the padel?

I started playing padel thanks to my football friends. Sometimes a player was missing and I was offered to join them. But it was when I stopped football that I really started to padel. I took classes and became a big fan of the sport.

And then there was this particular interest in padel rackets. They have different shapes and the sensations can be really different from one racket to another. This is how I got into padelgeek.com April 2019.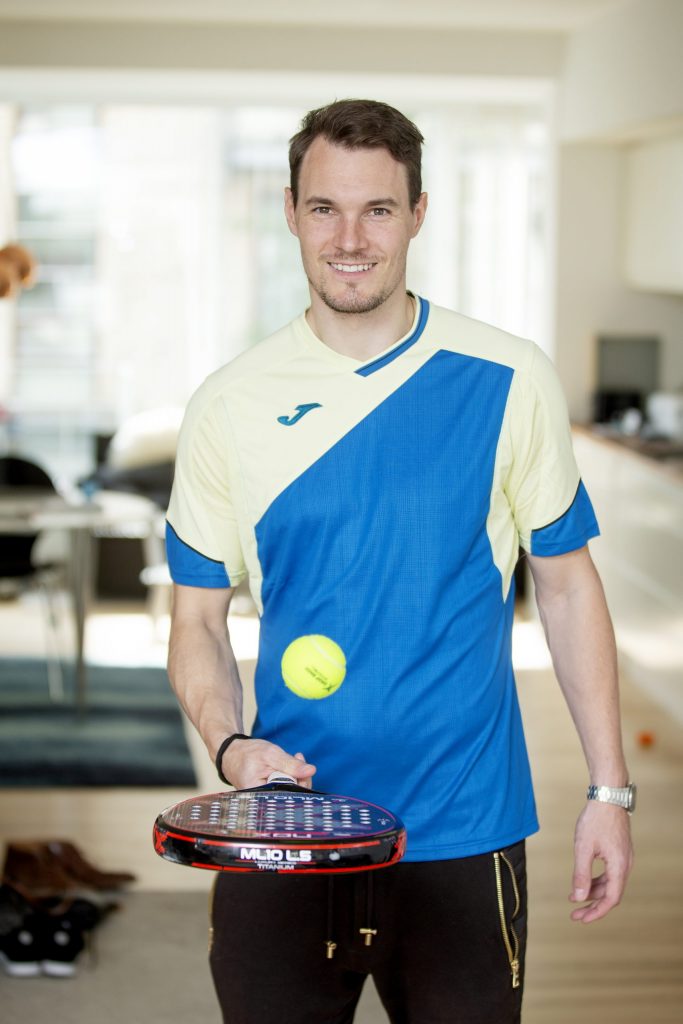 Can you give us some figures on the development of Denmark and its neighbors?

This year has been incredible for padel racing in Denmark. We tripled the number of padel courts in 2019. We had thirty. At the end of 2019, we had 91. The padel is just starting up in Denmark, but I am sure that we will follow our Swedish neighbors where the padel has been booming for a few years. There are more than 300 padel courts and each year this country multiplies its facilities.

Norway is also gradually taking a taste of padel like Denmark. More generally, it is Scandinavia which is being affected by the padel. This is why, we also launched a Padel Geek branch at Denmarkbut also Sweden.
You know the world of tennis very well. Can you compare it with the padel world?

They are two completely different worlds. At least financially. We cannot compare WPT with WTA / ATP.

What may also surprise you is that comments during live shows are only made in Spanish on the professional circuit. I think it's a brake. The official language should be English. Spanish is a big problem even if I understand that it is still a predominantly Spanish-speaking sport today. But the padel becomes more and more international.
When we see these 9000 people present during the Master of the World Padel Tour in Barcelona last December, it is however very motivating and we feel the emulation that there is behind this sport.
On the other hand, the problems that we see in tennis between the WTA / ATP circuit and the ITF cannot be compared with what we can see between between the FIP / WPT and the EPA. What we see in padel is certainly unique in sport in general. (editor's note, notably returning to the two European padel championships in 2019 in the same week)

Some people from these padel institutions need to be replaced by more professional people for the sake of padel. But I'm afraid it will take time.
Tennis and padel, sports that can help each other?

Tennis can help padel to develop for several reasons. First, tennis players seem to bring reflexes, gestures, reactions to the padel. We see many tennis players testing their padel and becoming good. Many tennis players know how to volley, for example. Easier to get started in padel.

Then, we see more and more celebrities from the tennis world going into padel tennis. Of course, it is beneficial for the padel. It gives him good publicity.
Professional tennis players can become ambassadors of the sport. I do not see the padel on the other hand bringing so much to tennis.
Carolone

Wozniacki, soon on the padel tracks?
Caroline plays padel. She also loves this sport. She doesn't practice it often yet since she still plays tennis and that might not help her. But sometimes with her friends, she can hit the ball on the padel. She must have played ten times I imagine.

But since she should withdraw from the circuit after the Australian Open, I'm sure she could play much more often in the near future.

Franck Binisti discovers the padel at the Pyramid Club in 2009 in the Paris region. Since then padel is part of his life. You often see him touring France by going to cover the big French paddle events.