A world tour of clubs padel can sometimes give the opportunity to discover tracks of padel in a surprising setting, sometimes even idyllic.
During the weekend of November 11/12, the national championship padel took place in the Philippines. We can't hide it, we don't know any of the participants, even if we can only congratulate the winners of the tournament: Noschese/Lacamoire for men, Capadocia/Tan for women.
In Taguig, a city on the outskirts of Manila, capital of the Philippines, there is a club of padel, in a setting to say the least… sensational. Amidst the city's skyscrapers, five tracks of padel blend into the decor.
If it happens in France that pitches are set up in the city center, they only ever stay for a week or a weekend. But in Manila Padel Club, it's every day of the year that padelists are surrounded by immense buildings around them.
It almost makes you want to go and test the carpet.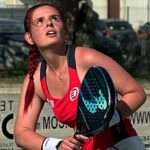 It was his brother who one day told him to accompany him on a track. padel, since then, Gwenaëlle has never left the court. Except when it comes to going to watch the broadcast of Padel Magazine, World Padel Tour… or Premier Padel…or the French Championships. In short, she is a fan of this sport.