Du padel, sun and kiff! 

Mario Cordero et Julien Pes are launching an EXCEPTIONAL internship week!
Mario, French number 110 (ex 53) is a coach in Clermont-Ferrand. You also know him through his comments on Padel Magazine throughout the year. Julien is the co-founder of French Padel Shop, coach and TFP trainer.
From the magnificent club of Tops of Nîmes Padel, in the south of France, they will welcome you for a complete course, combining pleasure and conviviality… Without forgetting performance.
In the program : 
12h30 of training divided into pure training, "Americana" tournament, video session and coached free play with material testing.
You have a problem with housing ? Mario will take care of everything to find you hotels at the best rates!
Happiness Week Prize: 295€ (welcome pack made by French Padel Shop and lunch included).
Finally, you will have the opportunity to confront other pairs at the end of the week. In effect, 5 tournaments ranging from P100 to P500 are waiting for you to check the achievements and progress of the week. And all, in the same place, on the 8 tracks of WinWin Padel Hauts de Nimes.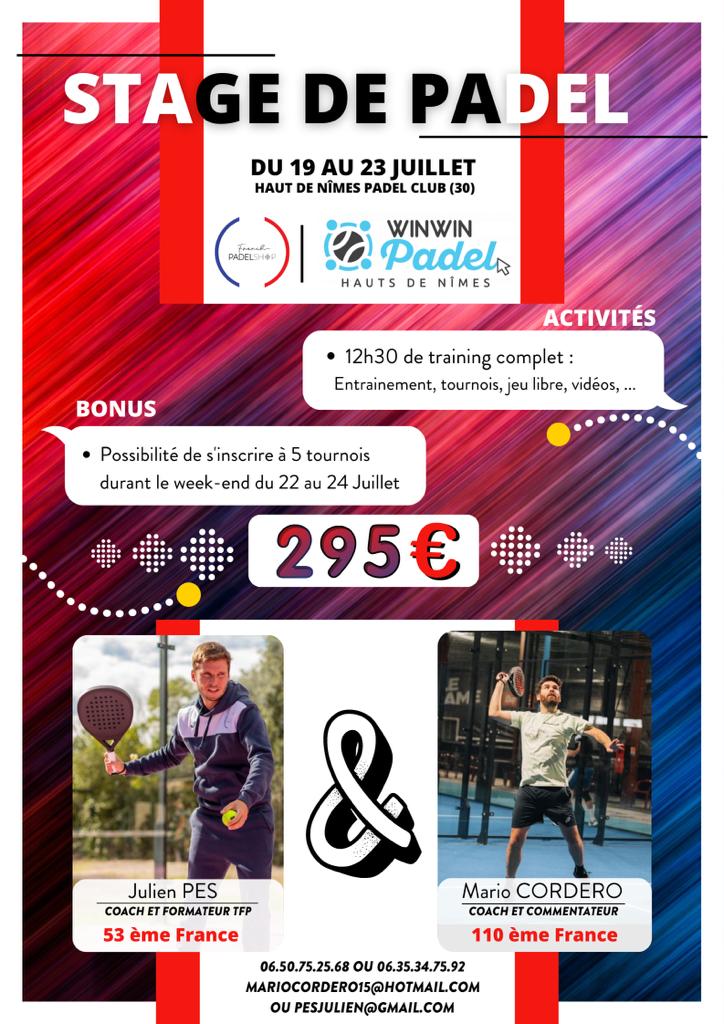 Info and registration:
– Mario Cordero: +33 6 50 75 25 68 – mariocordero15@hotmail.com
– Julien Pes: +33 6 35 34 75 92 – pesjulien@gmail.com
Attention, the number of places is limited !

Team Padel Magazine tries to offer you since 2013 the best of padel, but also surveys, analyzes to try to understand the world of padel. From the game to the politics of our sport, Padel Magazine is at your service.