Sanyo Gutiérrez and Agustín Tapia have joined forces to continue the adventure on the World Padel Tour in 2021.
Objective clearly announced for Sanyo: to return to the best pairs of the moment. And hope that they will have a little time to be fully operational by the Masters next December.
The Argentine duo retain their status among the top 4 seeds at the Menorca Open
The Tapia phenomenon, after Juan Martin, Bela and Lima will know a new legendary partner. For many, the pair could turn out to be incredible. On paper, "the best player on the right with the best on the left"Say many fans on social networks.
If the magic happens, the two players could become the pair to take down.
Sanyo, after 12 events with his idol Fernando Belasteguin, and Agustin Tapia who separates from left-hander Pablo Lima, have everything to perform. It will certainly be the duo to follow from Menorca.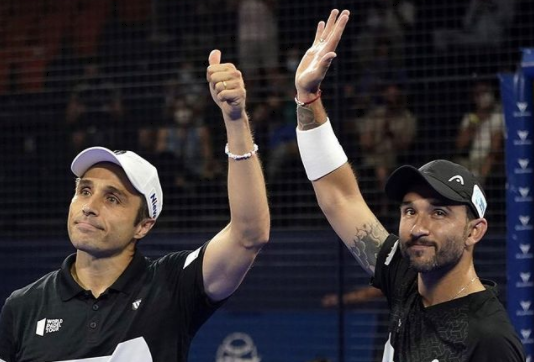 Note Sanyo's measured words in his Instagram ad who indirectly believes not to be in pole position for the moment while it is all the same the world number 5.
I present to you my new partner for the World Padel Tour Menorca Open. I will play with Agustin Tapia. We will try to catch up with the best pairs of the moment.
I would like to take this moment to thank Agustin for agreeing to fight alongside me. As I always tell you, I can't promise results, but I promise to work and deliver.
Image: arkosports

Franck Binisti discovers the padel at the Club des Pyramides in 2009 in the Paris region. Since padel is part of his life. You often see him touring France going to cover the major events of padel French.