The Alsatian Sébastien Husser-Walther, one of the best French players in padel-armchair, looks back on its history in tennis and padel. He gives us his vision of the evolution of the padel in France with in particular in sight the very beautiful international tournament of padel-armchair in Le Mans.
Testimony.
Born with a tennis racket in his hand
"I started tennis at the age of 6 and was ranked 15/1. At the age of 20, following a diving accident, I found myself paraplegic and in a wheelchair. However, 3 months later, I already had a tennis racket in my hands. For 15 years, I scoured tournaments around the world reaching my best, the 15th place in the world. To this day, I am still 5th French.
Le padel-armchair, I discovered it during a tennis camp in 2014. To cut it a little, the organizers had organized an afternoon padel to show us something else. I was so hooked that I came back the same evening to do it again… it was love at first sight!
Since then, I try to play more and more regularly. I get involved in organizing events, competitions. I am in contact with the FFT to try to structure our discipline as well as possible. Following the first French competitions which have been played since the beginning of 2022, I am ranked 1st in the unofficial French ranking.
"The brake is the lack of suitable infrastructure"
"At the start, the main obstacle was the lack of infrastructure near my home. But for several years, I have a complex with 2 indoor tracks and 2 outdoor tracks 10 minutes away.
Regarding practice, I progressed fairly quickly in wheelchair tennis thanks to my "tennis" experience since I was little. The technical aspects, tactics, management of a match, I knew. I had to "tame" the use of the sports chair and it was not an easy task…"
"I play with valid players"
"When I started the padel-armchair, all this "tennis experience" helped me enormously to manage quickly. By dint of playing, I learned to play with the windows. I have played a lot with and against able-bodied players so when I play against wheelchair players, there are small tactical adaptations to put in place.
I think the padel-armchair is much easier to access. Being on a smaller field, having the windows, being in doubles allows you to make exchanges and have fun quite quickly.
Tennis seems more technical to me at the start and it takes time to have fun.
Moving around in a wheelchair is also easier padel even if the playing surface is much less rolling. But to find out, a player will be more quickly pleased with the padel… The fun side is also very important!"
"I like the fact of playing with two people"
"Tennis helped me a lot for the padel. The volley is one of my strong points so with a racket of padel, I immediately felt good. On the other hand, to progress there is a technique specific to the padel gain. That's what I like about playing two.
My strong hit padel is service. Both against wheelchair and standing players, it is quite annoying. It is skimming, fast and quite precise. On the other hand, I have to work on the variation to blur the tracks even more.
My volley and ball touch are also strong points.
On the other hand, I consider myself more of a left player so I would like to improve my service return, especially on the side window side.
"The joy of seeing the competitions padel-chairs recognized by the FFT"
"Since we have been discussing the subject, the evolution has been impressive. We had the surprise and the joy that the competitions of padel- wheelchair are included in the competition guide padel of the FFT since the beginning of 2022. The approval of our tournaments is now possible. The specifications correspond to a P100.
We were already in the starting blocks to organize competitions, but the fact that the FFT recognized our tournaments gave a boost to the practice of padel-armchair.
Currently, groups of players, all over France, are created to play. The next step will be, for them, to set up collective training.
The evolution has been more than positive for the past few months, it's going in the right direction."
"You don't need to be 4 wheelchair players to have fun"
"The obstacle remains to acquire or find a sports chair to start with. As soon as we find one, we can start having fun. The advantage is that you can play with three other players standing, with friends or family. No need to be four wheelchair players to have fun...
I play a lot like that."
"Clubs must not be afraid"
"I heard about these apprehensions from clubs who were afraid to welcome us because of a supposed degradation. So I contacted the Spanish wheelchair players who have been playing for more than 15 years. No degradation has been observed in Spain and no club has ever been reluctant to welcome them.
Spanish players are often invited to play exhibitions at WPT tournaments so if there was already any damage to the surface, it would not have been repeated.
Our armchairs rest on 3 or 4 wheels, therefore 3 or 4 supports. They have been designed to play on all tennis surfaces. Clay is the most fragile and we regularly play on it. Carpet is also a playing surface, especially in Switzerland.
We protect our fork axles in the event of chair-window contact. But again, the Spanish players have never heard of glass damage due to an armchair. We take much less speed than a standing player so when there is contact with the glass, it is much lighter.
I think that in general, this apprehension comes more from a lack of knowledge. But I can understand it, it will be up to us to show and prove that there is no risk for the structures.
"For proofs of padel mixed namely a pair with an armchair and without"
"I am completely for mixed events with one player in a wheelchair and another without. Anything that will allow people to see, to discover the padel-armchair, will be favorable to us for the development.
The only rule difference, when we play in a wheelchair, is that we can use a 2nd bounce (either 2 bounces before the glass, or a bounce then glass then another bounce). This rule is easily adaptable when we play with invalids. I play a lot like that, I have already participated in tournaments in my center and I could even sign up for a P25, P100 or other with a standing partner. The FFT rules allow it.
Some clubs have already offered this formula and the feedback, both for wheelchair and able-bodied players, is very good."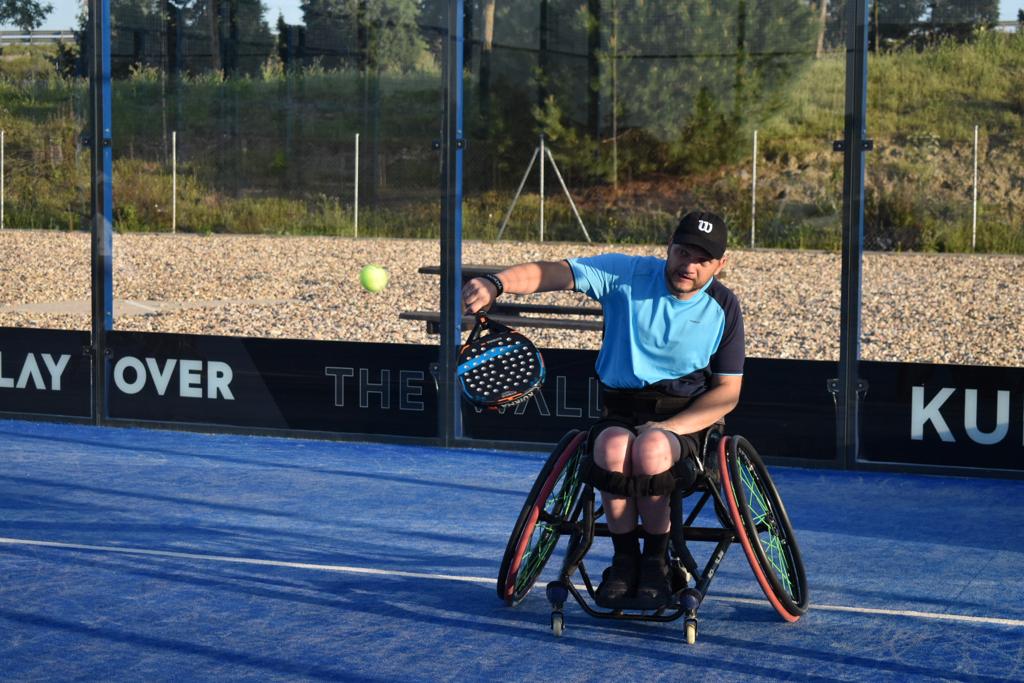 "Going to Spain to play against the best"
"A career in padel, it seems complicated to me but you never know. My goal would be to play Spanish tournaments. I take the necessary steps. The Spanish federation is recalcitrant for the moment but it is mainly because it is a first and they do not know. I've already had the opportunity to train against the best there, the level is very impressive. They have at least 15 years of experience, so 15 years ahead of us.
I will see how this discipline develops but I would like to contribute to its development. And then, I'm a competitor so if I can win a few titles, I'm not going to deprive myself.
At Le Mans, the first international tournament of padel-armchair
"At Le Mans, I'm going to play with Nicolas Vanlerberghe who is licensed at Ronchin. It was with him that I discovered the padel-armchair in 2014.
This international tournament, the first organized in the world, which will bring together at least four nations (France, Spain, Belgium, the Netherlands), will be a discovery for everyone. I am very proud to be part of this adventure. It's amazing that Albane Vanier managed to put this event in place in such a short time.
At the sporting level, I know the level of the Spaniards so we will try to annoy them a little and if there is an opening, we will not hesitate. The Dutch pair is made up, among others, of Robin Ammerlaan, former world No. 1 in wheelchair tennis, double gold medalist at the Paralympic Games. I imagine that with the hand he has, his level of play must be interesting.
This weekend at the end of August will be a great showcase for the padel-armchair and I intend to make the most of it!"
Du padel-armchair at Roland-Garros in 2023?
"First of all, you need maximum visibility and, above all, a maximum number of players in the "sphere padel" know that the padel-armchair exists in France. If we manage to multiply the demonstrations during big "valid" events, we will be more and more known. And it is at this time that the few reluctances will rise.
I hope that we can show our discipline next year at Roland-Garros during the Greenweez Paris Premier Padel Major. Contacts have already been established in this direction with the FFT.
My wish would also be that we can play our French championship during the valid French championship.
In general, all actions in favor of the padel-armchair will be welcome."

Franck Binisti discovers the padel at the Club des Pyramides in 2009 in the Paris region. Since padel is part of his life. You often see him touring France going to cover the major events of padel French.