Sergio Alba and Francisco Gil are two World Padel Tour players who, after a big end to the 2019 season, spent 4 laps in Marbella. Two catchy and friendly players.
We had the chance to interview Sergio Alba, 29, and currently 66th in the World Padel Tour ranking. A former STAPS student, he is known for always give everything on the track, with his partner Francisco Gil, 69th at the WPT, and which comes from win the FIP Rise de Mérida. The two men, who train in Madrid, with Adrian Caviglia, overview alongside Clergue / Godallier in Marbella, hit hard in the first tournament of the season, winning four games in three sets, before losing in eighths 6/4 6/2 against Lima / Navarro.
Padel Magazine : Francisco and you are not necessarily well known to the general public in France, can you tell us since when you play together, what are your goals in padel?

Sergio Alba: Francisco and I have been sharing the track since 2018. From the start we wanted to build a serious project, by training together and trying to evolve our vision of padel together. Our first goal is first to improve, always with the aim of entering the WPT tournament table. We hope in the future to have a ranking that allows us to find ourselves directly in the final table. (note: they currently start in Previas).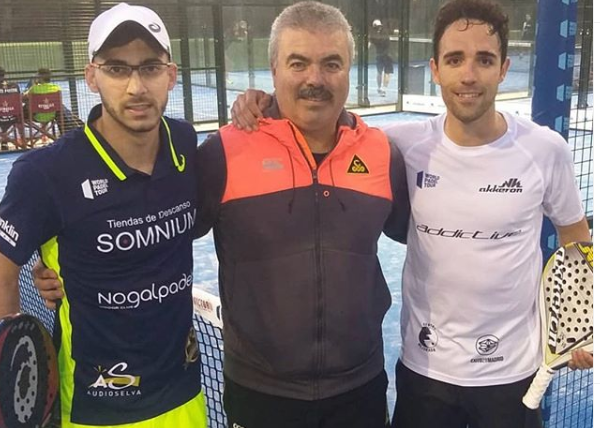 PM: At your level, can you live only on padel?

HER : We cannot live only on the "professional padel player" part. So, we both give padel lessons, trying not to do too much either to be able to save time for training and recovery.

PM: Having seen you play several times, and knowing that you have studied in STAPS, I imagine that you attach particular importance to physical preparation, don't you?

HER : Of course, today the physical aspect seems essential to me, whatever the sport for that matter. We realize that padel is an ever more powerful game, with players always more ready. For my part, I love physical preparation so I try to apply all my knowledge on my own workouts. In addition to that, I am followed by Exito28Madrid (professionals in personal training), and by Martin Villar, who trains me specifically on the "field" part.
PM: Does all this represent a large weekly hourly volume?

HER : It depends of course on the weeks, because sometimes we are in tournament several days in a row, but basically I do 1:30 physics on the ground on Mondays and Wednesdays, and two hours in the gym on Tuesdays, Thursdays and Saturdays. In addition to padel training, matches etc.

PM: In these times of coronavirus, do you manage to keep yourself in shape?

HER : I don't let myself be put down, I do a double daily session of physical training at home, using all the equipment I have, whether it is sports equipment or not! I put all my training on Instagram (@s_alba1990). Basically I do a day of hard work, a day of resistance. And the second training of the day is more focused on compensation work, injury prevention, muscle control, or flexibility. I realized that I had to take this period as a new preseason and I am sure that those who are seriously working on their physique at the moment will be rewarded when we can start playing padel again, whether in terms of performance, or injury prevention!