Sportn'play is revolutionizing the world of amateur sport thanks to fully customizable technology and services adapted to each need. To best meet the expectations and needs of center managers and players of padel, Sportn'Play offers real interaction both on and off the field thanks to its automated services, unconstrained connected equipment, and the management of all services in just a few clicks.
Discover Sport'n play: a turnkey technology "Made in France"!
What added value for clubs?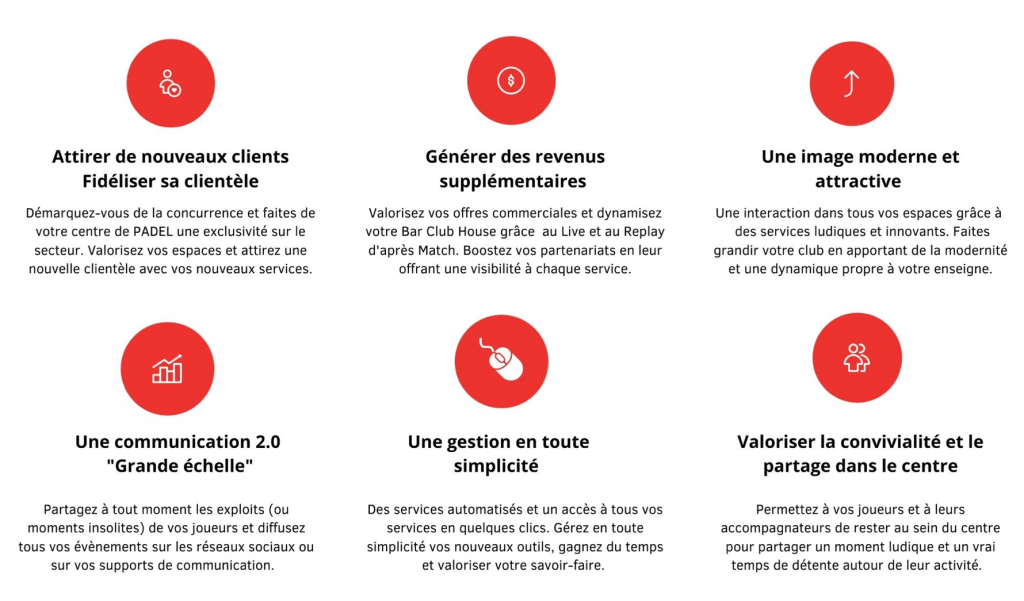 Field interactions
FULL HD capture & automated recordings
Film all your fields without doing anything and recover all your recordings in a few clicks. FULL HD capture and videos immediately accessible. No external hosting for secure and optimal use of your videos!
Offer your players or families the opportunity to leave directly with their videos in their pockets. Share videos and highlights (sequences) with a few clicks from your home page.
Sequence your best moments
Your players immortalize all the highlights or important points without constraint directly on the pitch to review or share them after the match.
Display of the score "full screen"
A score in your colors thanks to a complete personalization of your display. Configure your match in 2 clicks and let's go!
Partners / Sponsors banner
An automated drop-down banner to enhance the visibility of your network and improve your sponsorship or partnership offers. Insert your logos and the software takes care of the rest ... Maximum visibility of your partners on your screens or directly on your reruns and recordings!
Video feedback directly in the field
And the "VAR" for the padel, have you thought about it?
Offer a video feedback on your field "off-line" to review all the points, validate an arbitration decision or enhance the work of your educators during your courses and training. A unique service in France and exclusive to Sportn'play !
An interaction for the greatest pleasure of players and spectators!
Video feedback and Score display service "Like on TV" !
Sharing and conviviality in the Club-House
Live sharing on your Club House screens

Do not leave the "Non-athletes" around the grounds but offer them to settle comfortably in your spaces and to follow "LIVE" the
events or activities on your land.
Share all your equipped fields on your TVs and please your Spectators!
Choose the camera (s) to broadcast on your screen with ease.
Display one or several fields at the same time on your screens!

Integration of the personalized score and / or of your partners on your broadcasts
Build the loyalty of guides and families by promoting all your activities (Competitions, tournaments, academic courses, meetings between friends ...
At the end of the match, your players can review their match and all the highlights selected on the pitch in complete autonomy in your spaces. Service installed on your Club House TVs or on a mobile tablet directly at the table for the benefit of as many people as possible after the game! The last WINNING SET… It has to be earned! Make way for DEBRIEF like the pros ...

Want more? Live Streaming!
The easiest to use and cheapest solution on the market. Communicate when you want on your events "Live" on your networks and your communication media. Share and broadcast on multiple platforms at the same time! All your publications in less than 2 minutes!
Boost your visibility and your referencing on the networks
- Integration of your partners on the direct
- An integrated and interactive scoring service for your broadcasts
- A strong identity and recognition thanks to borderless communication
- An on-demand Replay service on your news feed and your web pages
Communicate differently ...
Video teaser presentation for your center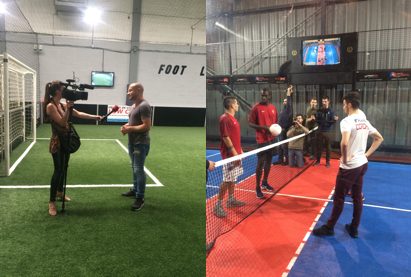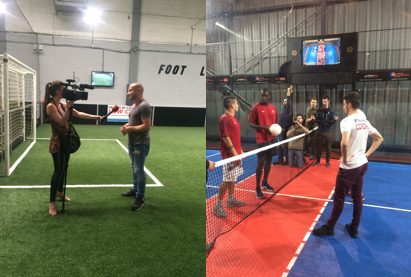 Make the most of your infrastructures and your know-how for the resumption of activity. Our teams come to you to make THE video in your image and allow you to communicate quickly and attract new customers!
Sportn'Play offers many services such as:
STORY BOARD - CAPTATION & DIRECTION - INTERVIEW
EDITING - GRAPHIC ANIMATIONS
Don't wait any longer to make the difference!
CONTACT

Team Padel Magazine tries to offer you since 2013 the best of padel, but also surveys, analyzes to try to understand the world of padel. From the game to the politics of our sport, Padel Magazine is at your service.