NOX has been a staple brand for over 10 years, with an unmistakable hallmark – the famous X stamped across most of the sieve. It is a company that needs no introduction, main sponsor of the World Padel Tour, she is represented, among others, by the two sympathetic players Agustin Tapia and Miguel Lamperti, as well as by the Ayaleto twins.
All of them have (at least) a signature pala which they have developed according to their own aspiration and inspiration.
But first of all, I'm going to tell you about the WPT Series, with two models with glorious claims.
Nox Tempo WPT
La nouvelle NOX TEMPO WPT LUXURY SERIES 2022 is a model that does not lose its essence compared to the previous version. It is mainly aimed at players who are looking for a balance between control and power. Precise like a Swiss watch and comfortable like a velvet glove: that's how it could be called.
The pala has been cataloged as a teardrop, but for me it is very close to the round shape (I would therefore categorize it as a hybrid). Its mid balance and sweet spot sits slightly above the center of the hitting surface. Suffice to say that we are in the ultimate versatility, and this model will therefore address a very wide range of players.
Its design has changed very little, still this electric blue, a color chart of blacks and grays, and the raw gold logo shining with a thousand lights when the sun is at its zenith.
The main technologies are still accredited for this 2022 season.
Let's start with Multilayered Black Eva. Constructed from several layers of rubber of different densities, this foam allows an optimal distribution of energy on the faces of the racquet, which allows a better transfer of power both at low speed and at full power.
The touch is average in order to have the necessary watts to finish the points with authority while benefiting from a very good ball exit, and the sweet-spot is still as wide in order to erase the imperfections of strikes.
The frame is made of 100% carbon to ensure a certain resistance to wear, the faces are mounted in 12K for maximum versatility. Note that the grammage of this carbon fiber is above average in order to guarantee efficiency and longevity in all circumstances.
The racket has an anti-vibration system AVS which effectively dampens vibrations on impact and notably reduces the risk of tennis elbow.
This model also uses what Nox calls Rough surface, a coating with a relief structure helping to generate more effects. Created using pre-molded honeycomb plastic, it's a happy medium between smooth surfaces and some excessive 3D.
This new Tempo features the new replaceable wrist strap system SmartStrap which allows you to change it without any problem when hygiene issues become urgent, or when the racket has to change owners. The latter is premium class by being sliding and padded.
In conclusion we can say that this pala obviously retains the soul of the Tempo series, providing incredible sensations of control and unparalleled playability.
Nox Nerbo WPT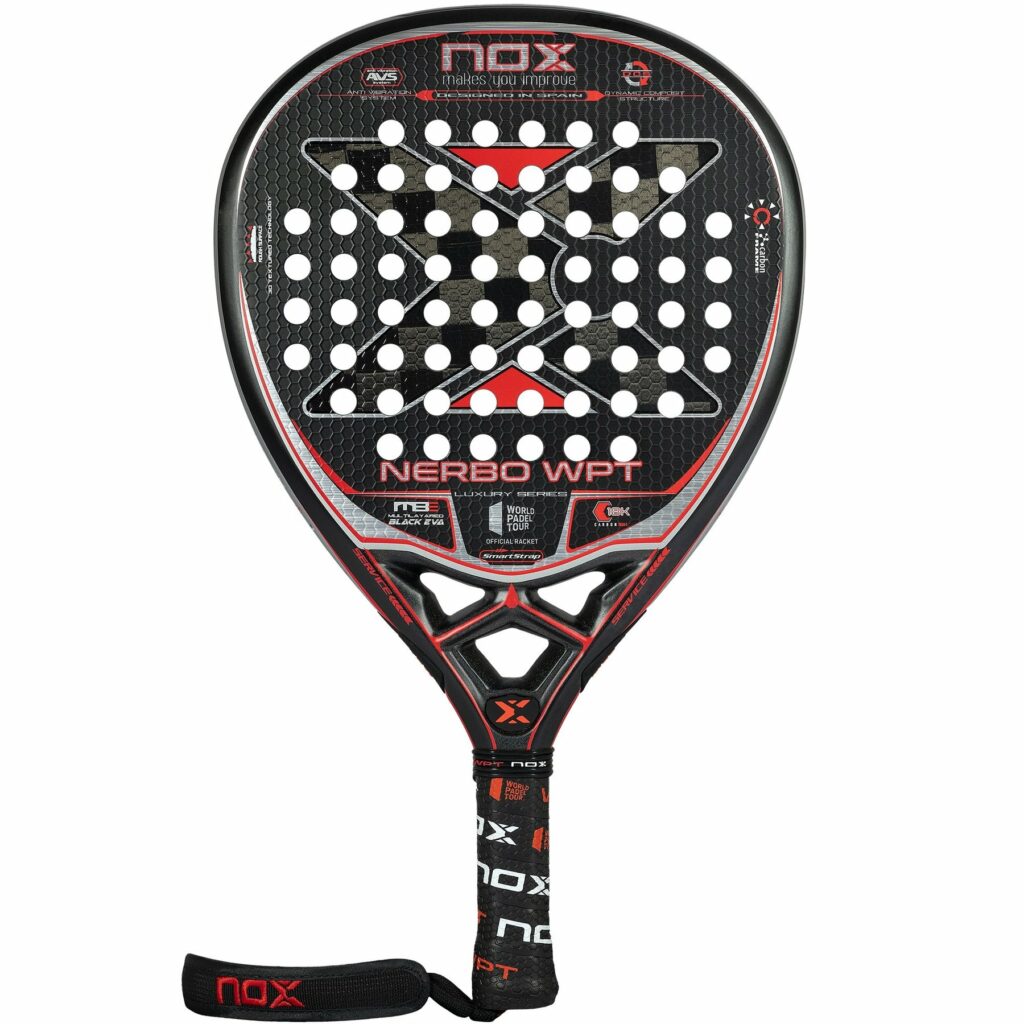 Now let's look at the other model in the WPT Official range, the Nerbo, a pala with a strong character that is aimed at the fine flower of attackers. Indeed, we are facing one of the rackets of padel the most powerful and impactful on the market. Message to future buyers who are eyeing this model: read what follows!
First of all, what changes compared to the Tempo?
The form – shape is important because it defines MANY factors. The Nerbo WPT is diamond-shaped, which implies that its balance will be in the lead.
The balance – the latter is the manager of the racket, the driving machine and the instigator. The higher the balance, the more percussion you will have, and, few people assimilate it, the more precision you will also have (but still it will be necessary to manage to flirt with the sweet-spot).
The sweet spot – it is much higher compared to the center of the pala. Remember that the sweet-spot is the most effective place to hit the ball. Due to its shape and this high punto-dulce, this racquet will allow you to have a lot of power, provided you have an excellent technique in order to fully exploit this potential which is just waiting to be unlocked.
This model is still equipped with the famous kernel called MultiLayered Black Eva, which is a combination of layers of different densities. The outer layer has a higher density to improve power on more aggressive shots, while the inner layer is softer to help speed on slower shots.
The striking surface is this time made of fiberglass. 18K carbon (seven layers of material around the rubber). Maximum rigidity and lightness thanks to this interwoven carbon. Add that to the latest generation rubber, and you have one of the most efficient racquets on the market when par 3s are within range.
Other common characteristics are always present, namely the DCS which guarantees uniformity of each blow at the moment of impact, theAVS, this homemade anti-vibrator which is placed on the exterior faces of the bridge and which will annihilate bad waves, as well as the replaceable wrist strap SmartStrap with optimal comfort, and the honeycomb surface Rough surface which covers 100% of the faces.
Conclusion
La Nerbo wpt is SPECIFICALLY designed for aggressive players who want to put pressure on their opponents while leaving all notions of comfort in the locker room. Constraining but precise, it offers power that just needs to be tamed and absolute stability. All of this makes this reference to reduced punto-dulce an ultra-performing model, provided you have the arm and the technique to follow.
La WPT Tempo is its perfect opposite, as we have seen from its form, balance and indulgence. It is a pala aimed at patient players, who are looking for comfort and maneuverability, and an enlarged sweet-spot. It will not be penalized that much in attack, but compared to a Nerbo, it is still two notches below.
To each their own model, and there is no doubt that the Tempo will find its audience thanks to its comfort and versatility, while the Nerbo will be favored by experienced players in search of new requirements that will take them to new heights.
Thanks to Manu and Julien from French Padel Shop for allowing me to test this new 2022 range!

Fan of padel, Stéphane has become the official tester of the planet padel in Europe. Everything goes through his expert hands. Thanks to his extensive experience in the snowshoeing world, he is able to scan your gear from head to toe!