Volume II at StarVie. After having deciphered the names of the rackets from the brand to the star, Stéphane Penso today grabs the pala of Franco Stupaczuk, the Raptor 2021.
This pala in version 2021 displays striking characteristics. For the third year in a row, Argentinian Franco Stupaczuk will use a pala which he himself participated in the design. Renewed, improved model, Made in Spain, with a new design in order to stand out from other rackets of padel of the market. The player has cooperated fully in the development of this signature pala, and has created a racquet that offers an excellent balance between ball exit, control and power.
This round shaped model is made of 100% carbon, which ensures very high performance in the game as well as foolproof durability. The mold optimizes the "in game" movement, which allows us to have a huge sweet-spot that covers almost the entire surface of the frame which provides exceptional control without sacrificing power. Its handling is fantastic thanks to this ideally distributed balance.
The faces have a double carbon stratification to stiffen the touch of the racket during manly strikes, giving it great power (for a round shape). With a weight of 370 grams, it is located in the upper part of the "palas redondas" which clearly announces the intention to shine during explosive shots.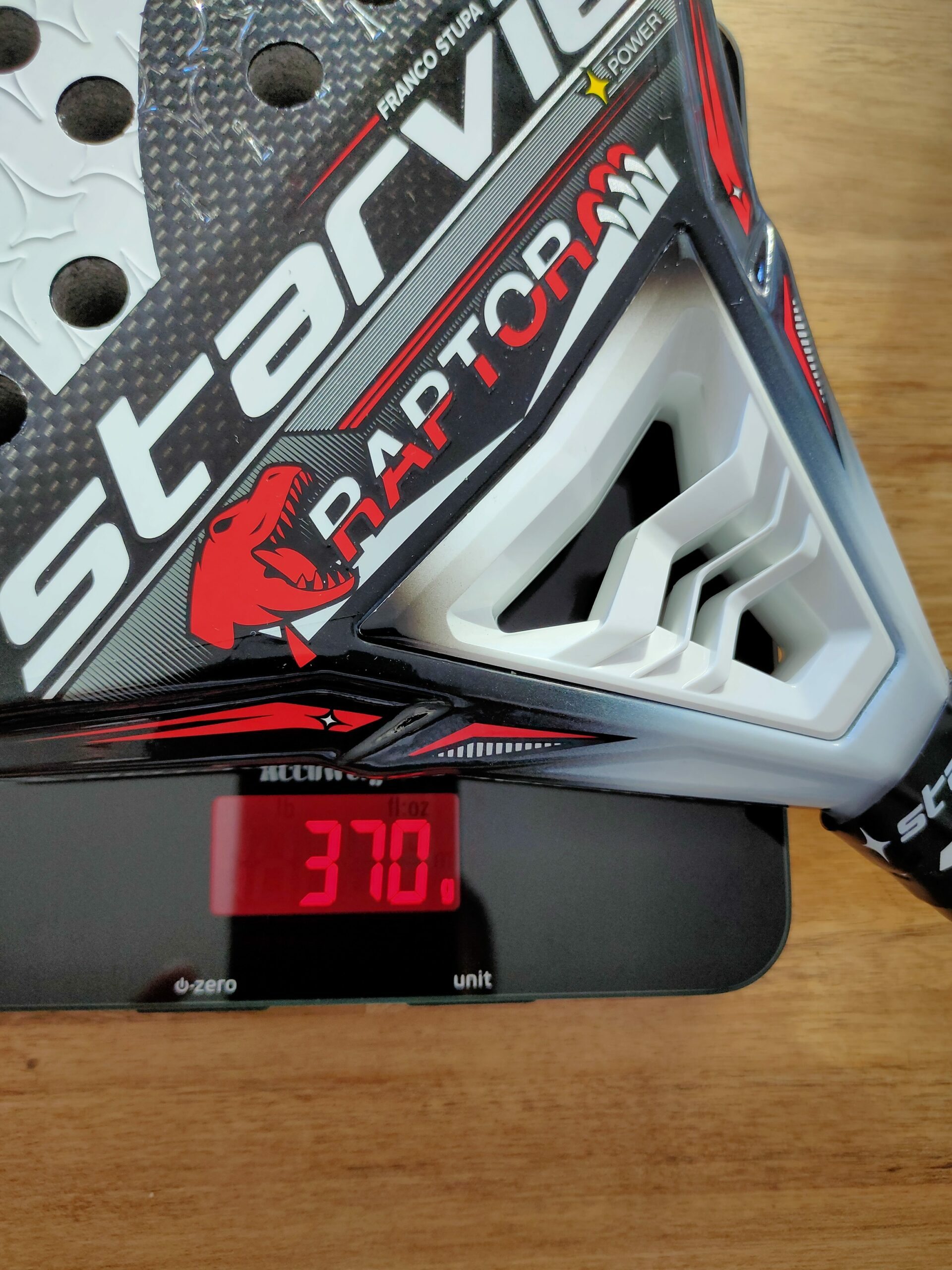 The brand wanted to equip the frame with technologies that have proven their worth.
Eva Rubber Soft: SOFT30 rubber of soft / medium sensitivity, which hardens thanks to the use of two carbon layers, and which offers better control and greater punching power. Clearly, it's harder than soft, but it's not extremely hard.
Raptor Core: part located at the heart of the racquet that optimizes balance and benefits from greater rigidity in the strike zone. This system connects the two parts of the frame, stabilizing the pala even more and giving players more determined and stable shots.
Full Plane Effect: 2 mm relief texture worked directly on the mold of the pala, which gives the ball more grip and more efficiency during spin.
Finally, in terms of its design, the brand has chosen to associate black and white colors with a fairly sober decal.
Black chaos predominates over the entire surface of the sieve
The full white logo is unmistakable in the center of the racket
The small blood red touch of a dinosaur and its claw brings a quirky side
Let's see what it looks like on the track
At the back of the court, like a good, self-respecting pala round, defending is child's play. The huge sweet-spot helps us in those specific phases where our opponents overwhelm us with bandejas deep or powerful volleys and, thanks to its excellent maneuverability, we can defend or even counter attack in the best possible way.
At net we have these rough planes (Full Plane Effect) made directly from the mold, offering greater precision when we want to give spin to the ball, either with cut and sharp volleys, or on bandejas and other shots of expectations. Its great control helps us adjust strikes very well in search of complicated angles.
It should be noted that despite a remarkable exit of the ball, it is necessary to accompany the blow a little during the dry strikes, especially if we want them to be as close as possible to the frontal plexiglass.
Regarding the smashes, if we follow Franco Stupazuck's matches, we see that he has a huge strike. The double carbon faces and the Raptor Core system offer us an excellent mix. We might be less comfortable getting the balls out than with a diamond-shaped racquet, but this pala clearly doesn't lack power!
Characteristics of flexible foams
This type of racquet offers us above all better ball performance, insurance with each stroke and correct absorption during manly strikes.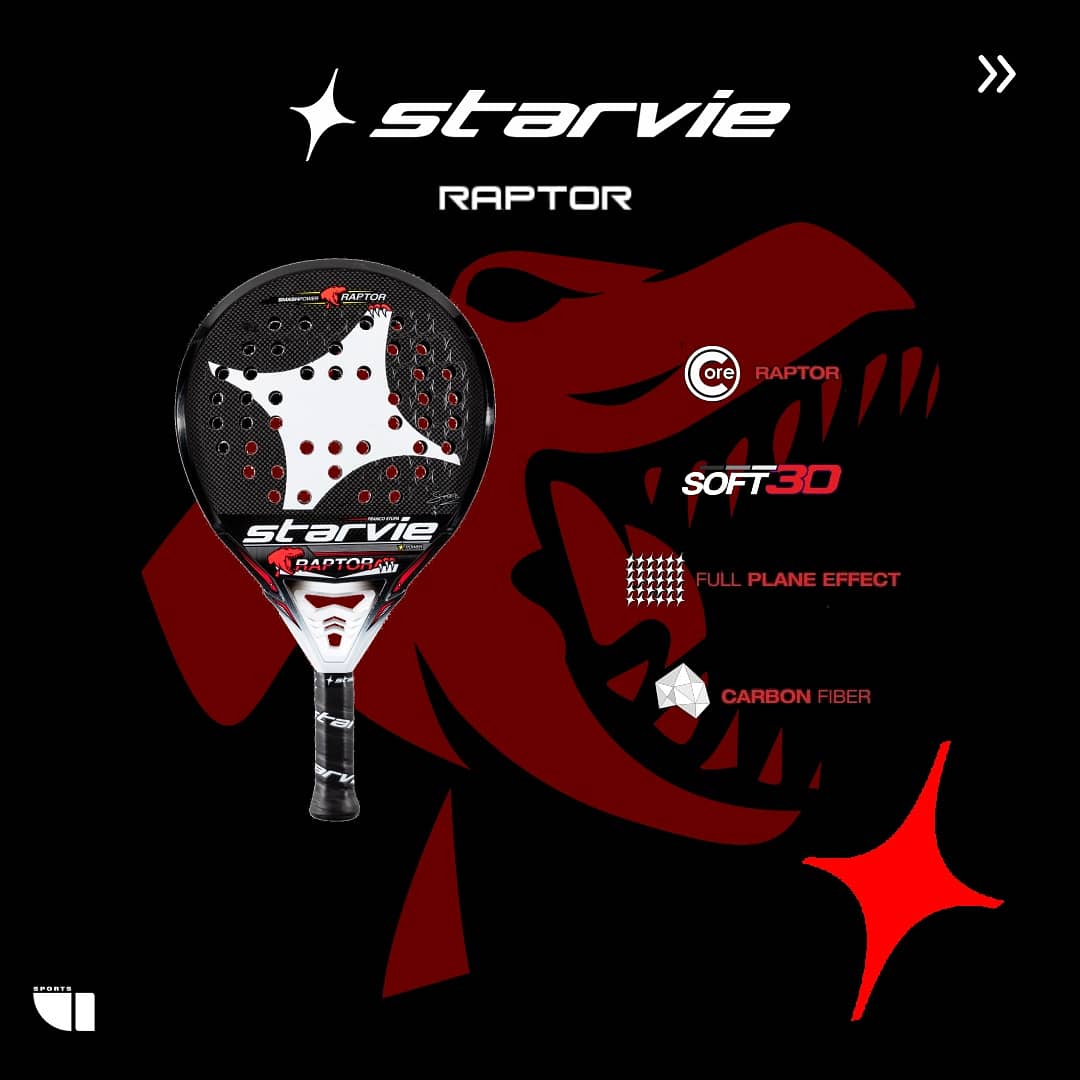 Avantages
Efficiency and ball output: this is a flexible racquet, so the ball's propulsion will spring (on slow to medium shots) with more dynamism. That is, you will be able to perform better shots where the ball comes out faster with less effort.
Corrects shock absorption vibrations for greater comfort when typing. In addition, thanks to the high elasticity rubber, the hits will be cushioned in the racket rather than in the elbow, which will help you to avoid injuries like epicondylitis, commonly known as "tennis elbow".
It is important to keep in mind that soft gums give off less raw power than hard ones, because by absorbing the hits, you inexorably lose firmness, and therefore punch. On the other hand, soft racquets have different densities compared to hard racquets, giving us completely different playing sensations, such as comfort or a generally amplified sweet-spot.
En conclusion
This pala, designed by Franco Stupaczuk, is aimed at advanced / expert players offering an optimal balance between mastery, power and excellent performance.
We have before us a round pala with total control, but with incredible power. It is obviously a very aggressive racquet but with a lot of handling and comfort. She is also very responsive at the back of the court thanks to her rubber, and has enormous control to block quick shots in the middle of the field.
The soft rubber offers, as we saw above, a better ball feel, increases comfort and helps a lot in defensive situations.
Regarding the smashes, you only have to see how the Argentinian negotiates them to understand that it is in this precise part that the pala will express all its potential (if the name "smashpower" is noted above the sieve, it's not for nothing !)
Its roundness would make it seem like a pala for right-wing players or those who prioritize control over muscular power, but the Raptor is tasked with shattering that stereotype when you go up to the net and decide to 'send the watts.
Priced at € 269, it's a great choice for those who don't want to compromise on power and control.

Julien Bondia is a teacher of padel in Tenerife. He is the founder of AvantagePadel.net, a software very popular with clubs and players of padel. Columnist and advisor, he helps you to play better through his many tutorials padel.