ADIDAS, a famous multi-sports brand, has become a key player in the landscape padelglobal istics. Ale Galan propelled his Metalbone (modulation, explosiveness) to 1st place in the world ranking. Alex Ruiz meanwhile still trusts his Adipower CTRL (spin, comfort). And Martita Ortega, former world number 1, also benefits from a signature model designed with specific characteristics (lightness, maneuverability).
In this first test article dedicated to the palas of the brand, Stéphane Penso tests 5 models of the new Adipower range.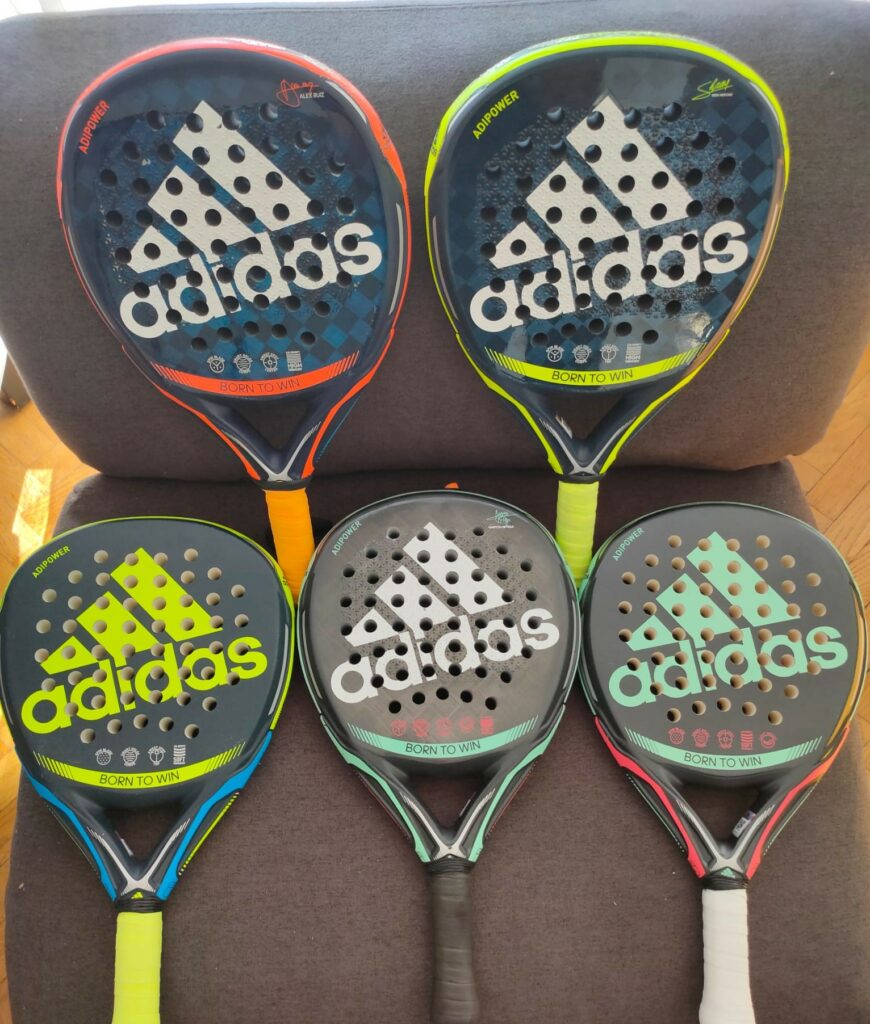 ADIPOWER ATTK 3.1
Seba Nerone, although recently retired, has been fine-tuning this model for many years according to a very precise "road map" for the aggressive left player in search of thrills.
Stamped Pro, it is a pala with a strong character.
First of all, its diamond shape immediately announces the color. The weight is well north and on my scale it gives birth to a nice 368 grams.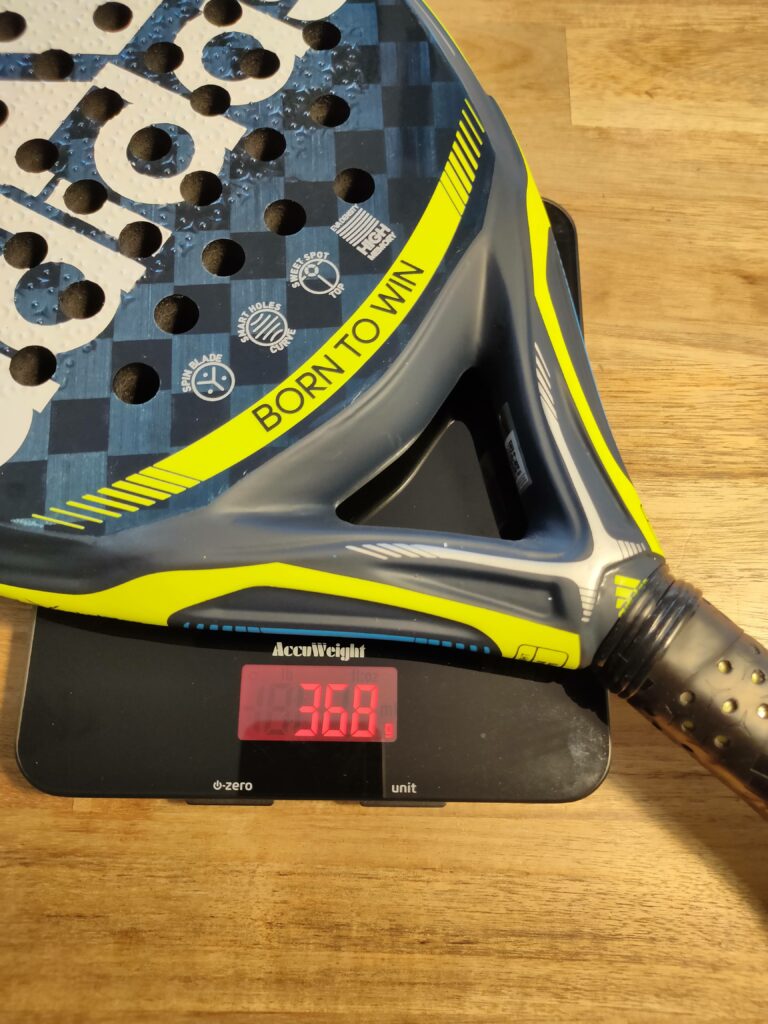 The chromatic field contrasts yellow and black, hot and cold. This combination is a safe bet, the darker the background, the more intense the eye-catcher. The glossy lacquer gives a more contemporary note, and gives the pala additional reactivity and renewed explosiveness.
The length of the handle is standard and the wrist strap is of the simplest kind (for a premium series, we would have preferred the padded/sliding duo).
Now let's move on to the technical specifications.

DUAL EXOSKELETON
The Dual eXoskeleton technology consists of double height carbon nerves inserted in the heart of the racquet which reinforce the bridge and the frame, allowing the player to hit with all their force.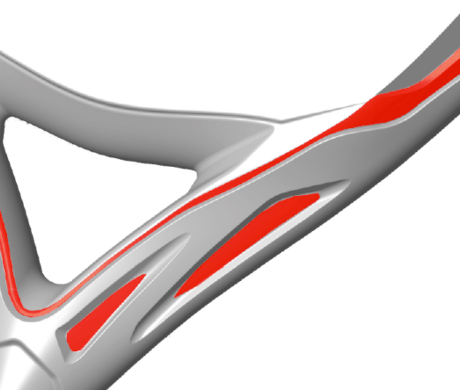 SPIN BLADE MOLD
Imprint the best effects on your shots thanks to this technology: a 3D roughness inserted into the mold of the racket which improves the spin of the ball during cut shots.
POWER EMBOSSED RIDGE
External carbon nerve on the frame to reinforce the rigidity of the structure. Designed for more aggressive racquets to increase power and provide a more compact hitting feel.
The heart is made of gum EVA High Memory (red cap) with high recovery.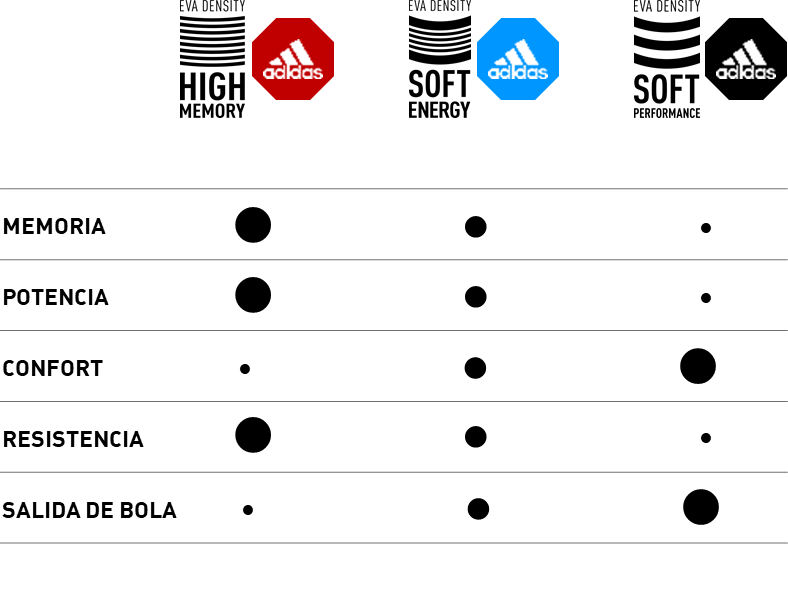 The combination with the 15K Aluminized Carbon provides breathtaking power and increased strength.
The touch is quite dry, so it is ideal for those looking for impact, less for those looking for comfort. In play, it's a racquet made for modern-day warriors who favor thrust and chaos.
The high balance and the diamond shape allow the calibrated foam to express itself "al dente" to send well-weighted bags.
The smashes are dazzling, the blocks assured and the volleys sharp.
With a heavy weight in mind, it takes less effort to return the balls if hitting with the top of the racquet. The major balance (285mm) causes the weight to be balanced on the upper part of the frame. This means that when you hit the ball, it will come out with greater force.
It is only in defense where it will fish a little because of a limited ball output and staggering maneuverability.
En conclusion
It's a luminous pala that will require whoever has the honor of handling it to raise their level of play to fully master it.
The power/vehemence axis is fully assumed and the dimension of this racquet will take on its full meaning in expert hands. Let's not forget that the higher and smaller the sweet spot, the more difficult it will be to master this type of racquet.
It remains nevertheless quite controllable, which makes it a complete and powerful model.
ADIPOWER Lite 3.1
Little sister of the pala we saw above, it is not as technical a racket as Seba Nerone's Adipower 3.1 since high resistance fiberglass has been used on the surface, a more elastic material that offers more great playability.
Still equipped with an oversized 100% carbon diamond frame, but this time combined with a soft EVA rubber in its heart, it gives it a softer touch and increases the feeling of domestication and comfort.
In fact, gum Soft-Performance EVA (black cap), unlike the High Memory, is more welcoming and more elastic, which makes it possible to obtain more comfortable and more bouncy shots (trampoline effect) and above all to cancel out the vibrations a little more.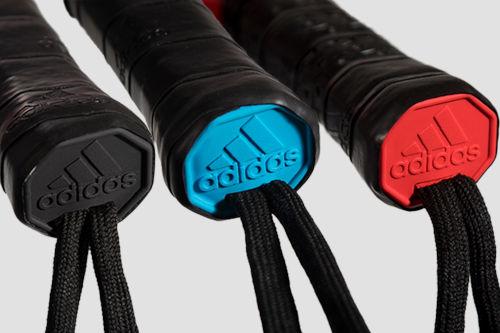 It is excellent for those looking for versatility in their game, to be able to attack freshly but also to be able to defend calmly.
The faces are lined this time with Fiber Glass Brainded (braided) for more dynamism and ball release, as fiberglass is a much more flexible and forgiving material than carbon.
The result is devilishly more comfortable and secure strikes, ideal for players who are not looking for a raw and rustic contact.
The balance is also clearly in the lead (285mm) which allows him to squirt the balls with disconcerting ease.
On the other hand, it also has the technology exoskeleton as well as the system Power Embossed in order to engulf the strikes and restore a maximum of credit during the impact.
The third difference is in the finish of the faces.
This Adidas 3.1 LITE is equipped with the technology Spin Blade Gritt. It is a sandy finish throughout the striking surface, which aims to increase the grip of the ball for better spin.
Finally, it also features an intelligent hole system that improves its sweet-spot and a design similar to its big sister with a black background, logo and yellow details.
Flashed at 373 grams, it's the heaviest pala I had in my hands during the entire Adidas test (LITE therefore does not mean LIGHT)!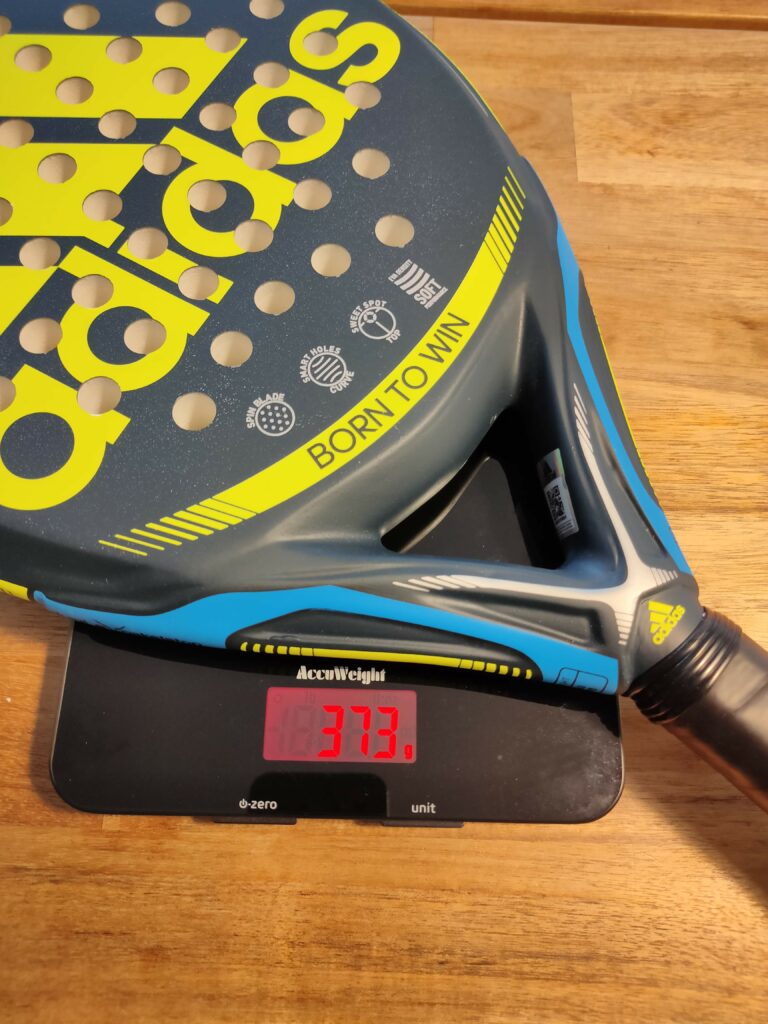 Lite means a simpler version, exempt from bonuses (which does not bother with the superfluous), and, as we say in Marseille, gets straight to the point.
So no frills with this refined model from the advanced range exempt from the latest innovations that equip premium palas, but which manages to hold its own thanks to an optimal combination of ultra-comfortable foam and generously reactive fiberglass.
Plenty of attack thanks to its diamond format, a ball exit that won't make you lose control in defense and above all a much more generous punto dulce than on the other models.
Designed for the intensive player who wishes to obtain the maximum comfort, and generate heavy and incisive movements, all for a mini price.
The match Adipower ATTK 3.1 vs Adipower Lite 3.1
These 2 diamond-shaped models with a high sweet spot are nevertheless aimed at two very different types of players.
The Adipower ATTK 3.1 will be dedicated to supporters of the hustle and bustle looking for chaos and chaos thanks to a full carbon ceremonial.
From this equation follows an obvious observation; a weakened pleasantness and a diminished punto dulce. Aside from those two downsides it's the most powerful pala in the range, so you know what to expect if you embrace this model.
Conversely, the Lite version will be aimed at players looking for the opposite, namely velvety typing comfort and undeniable versatility. Although the latter is heavier (on the test) and equipped with less flashy technologies, it will delight competitors of a confirmed level who wish to temporize for some time before moving on to a higher range.
Now, let's stop at 3 round-shaped Adipower models.
ADIPOWER CTRL 3.1
Certainly the most popular racquet in the entire Adidas collection. A bestseller with the signature of WPT player Álex Ruiz.
It benefits from the same technologies as the ATTK version (rubber and carbon fiber) but with a more centered sweet spot, and therefore comes back to us in a round format for players looking for more control.
This racquet offers excellent precision thanks to its 15K aluminized carbon and increased maneuverability thanks to a medium balance, while the core is also hard.
As a result, the racquet is stiff and has a distinct feel when contacting the ball.
Its centered balance and excellent maneuverability give us time to arm the arm in situations under pressure.
This allows us to control the game with great precision when faced with lightning counter-attack situations (and also thanks to the moderate weight of the pala we received: 363 grams!).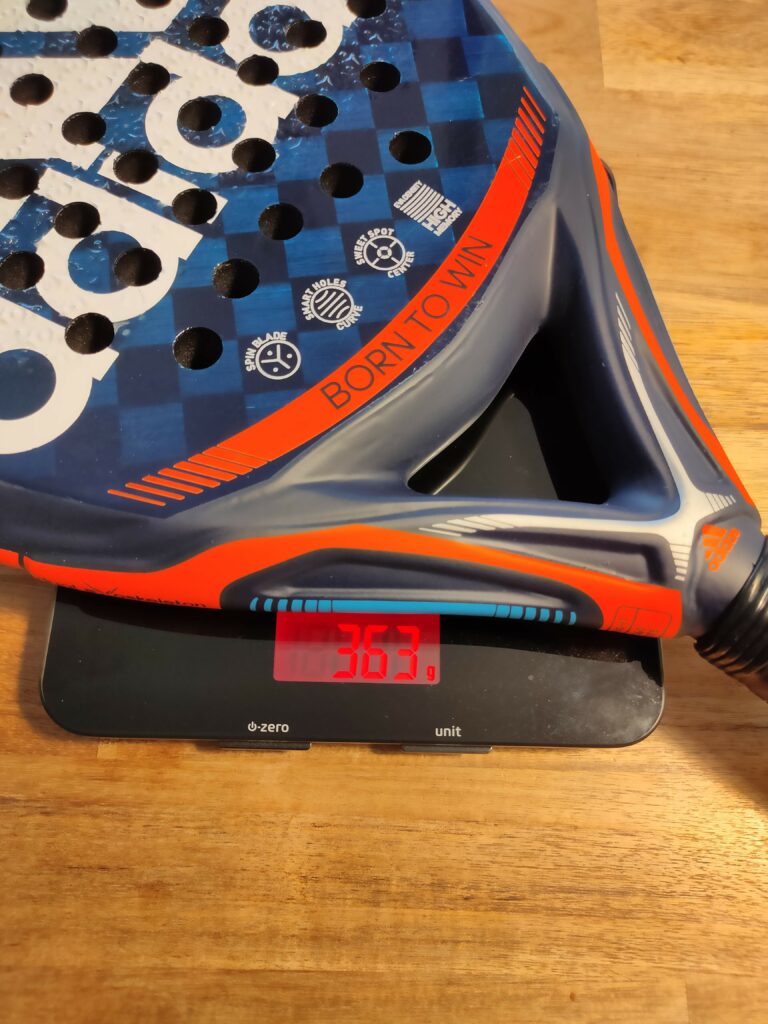 Due to its rigidity, the racquet can sometimes punish us in defensive play if we make mistakes. A racket not to put in all hands therefore, but relatively more manageable than the ATTK version.
Adipower CTRL offers both power and control in attacking play around the net.
In aerial play, the racquet responds instantly when you want to send the watts thanks to the foam duo EVA high memory et 15K Aluminized Carbon.
Not only focused on control, this Adipower offers excellent results in smashes. You just have to see Alex Ruiz when he decides to make the powder speak, round shape or not, it goes to 4000.
Although it has a hard core, the Adipower CTRL racket absorbs vibrations well, so it is not uncomfortable to play. Even when forcefully decentering shots, the racquet remains stable, ideal when it comes to blocking opponents' offensives firmly and confidently.

In summary, it is a versatile pala that is excellent everywhere and average nowhere, which will allow you to be very solid in defense and ultra offensive in attack.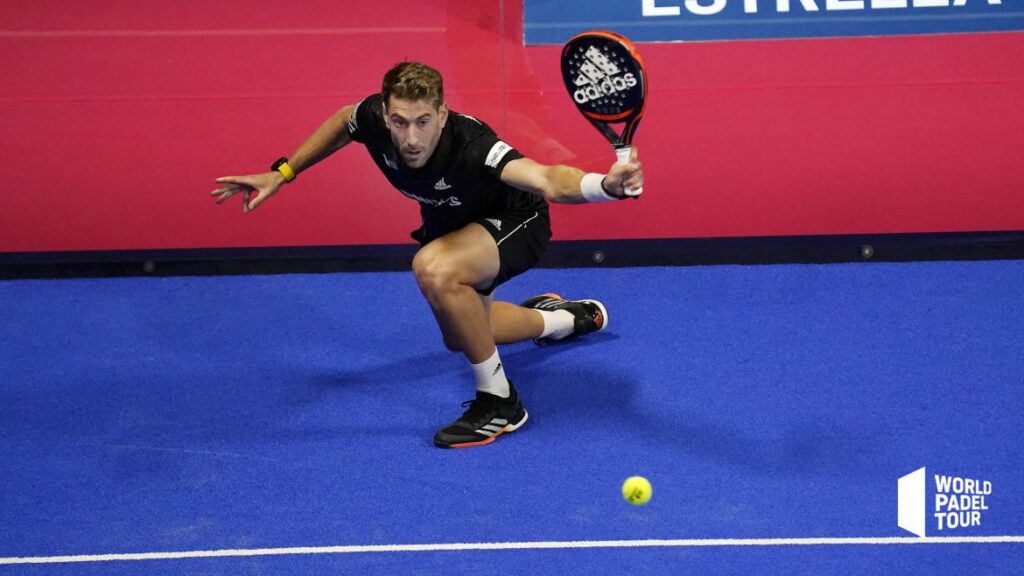 Choosing this model means making no concessions between maneuverability and power.
Personally, this racquet is automatically on my podium, and considering this future purchase will give you the certainty of benefiting from one of the most accomplished palas on the market.
ADIPOWER Light 3.1
It is a version similar to the Adipower CTRL but with some features specific to the Light series. The big difference of this racquet is its reduced weight.
This pala was created by and for Martita Ortega's game, a game based on control and precision without neglecting the necessary punch that the Madrid player will be looking for in attack. Also round in shape, it allows more agile movements and greater ease in the execution of blows.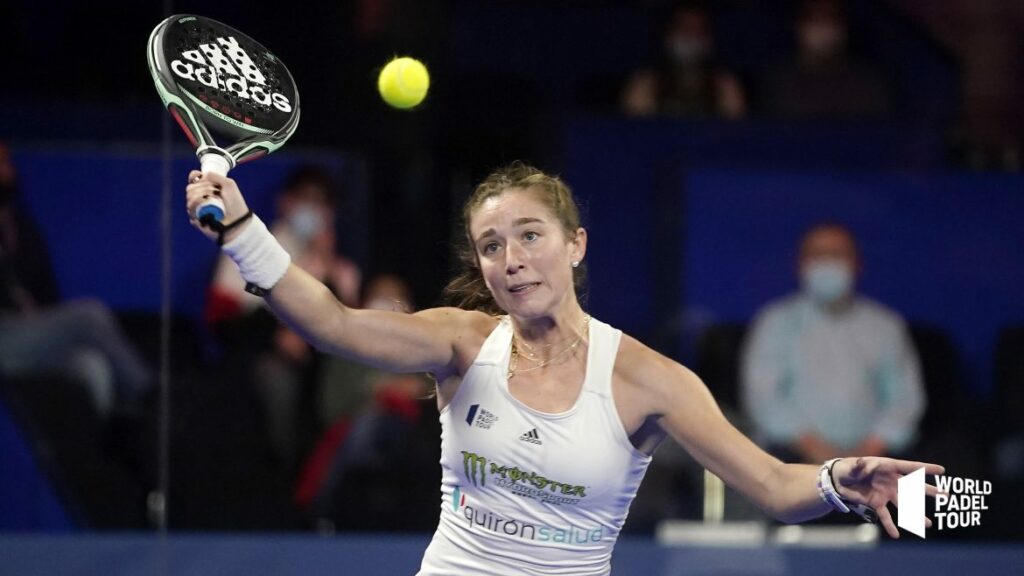 It's a great racquet for very good level players, but it's also a great option for intermediate level players looking for a maneuverable racquet.
Like the other rackets in the Adipower ATTK and CTRL range, the Light has a 100% carbon composition, both in the frame and in the faces.
Another difference is in its core, for this model an eraser Soft Energy (blue cap) was chosen. Due to its intermediate characteristics, it offers increased flexibility and better deflagration on impact. It is a rubber very similar to the EVA Soft Performance of the control version of the Adipower with a medium density, in order to obtain a performance contained between power and comfort, which makes it possible to offer the best of each one.
What distinguishes this racquet from the other models tested is that it is mounted in 24K Aluminized Carbon, which will provide a lot of explosiveness and precision.
The combination of a mid compound and very rigid carbon fiber as well as a reduced weight (351 grams) offers us the best compromise between responsiveness/power/maneuverability.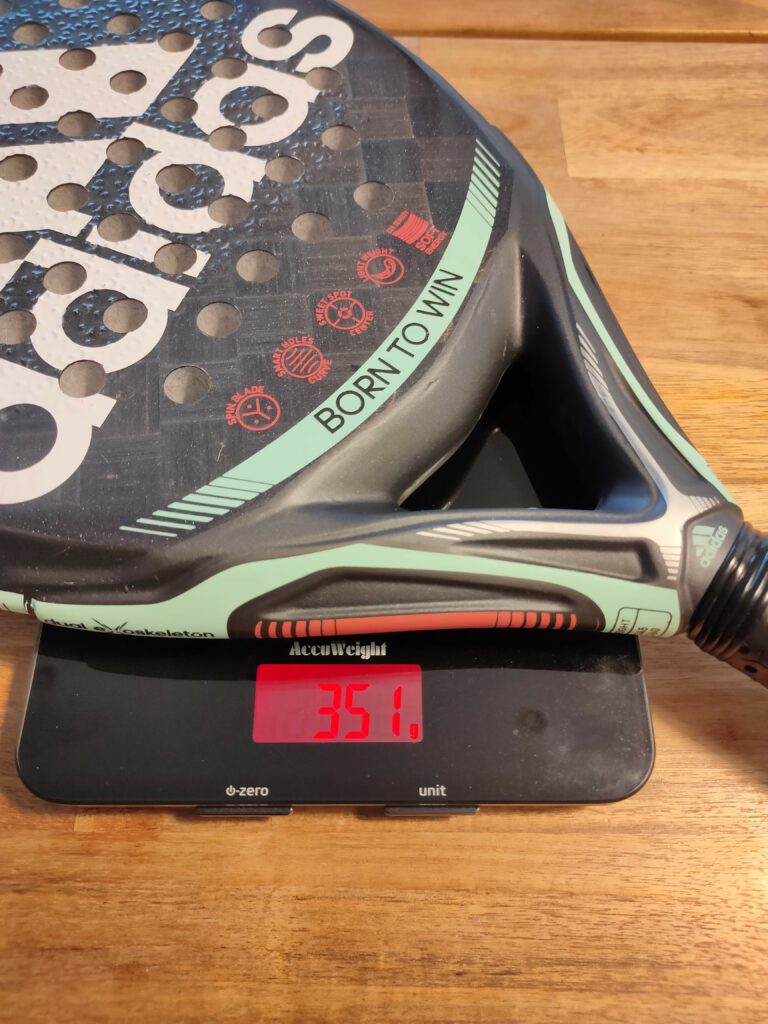 It is a pala with which I had extremely fun. A control racket that stands out for its versatility in the different phases of the game.
From the baseline, it's one of the best racquets I've had the opportunity to test thanks to its low weight and very large sweet spot. With a superior ball output and rock-solid maneuverability, it facilitates defensive play and allows us to attack even in the most embarrassing positions to finish the point.
Severe Blows now have a different flavor. The previous version could not reach its limits due to its softer touch, so this time the brand opts for the Carbon Aluminazed 24K. In power shots, this less flexible carbon produces more energy in the ball and makes it escape with more power.
It's not a racquet designed to win matches with huge shots, but it has the power to surprise opponents. Ok, it does not send caramels like the ATTK and CTRL versions, but the ease of use and the general approval are a real plus for those who are looking for a model that can be quickly tamed and still does not lack advantages. to finish the points with gusto.
Adidas Woman Lite 3.1
To conclude the last ADIPOWER of this file, here is the version Woman Lite.
As its name suggests, it is devoid of the brand's latest innovations and is the official version for women.
The frame is as usual 100% carbon and the faces are in Fiber Glass Braided, a braided fiberglass with good durability and optimal comfort on every keystroke.
In the internal core of the racket, the EVA Soft Performance rubber has been favored, since the latter has a low density in order to generate a great ball output and a unique comfort when hitting.
It is therefore the same version as the Adipower LITE but in a round shape, which means that it will be even more manageable and controllable than its cousin.
The additional lightness (357g for the model I received) will suit those looking for a product that will avoid massacring their shoulder, thanks to this contained weight, its perfect balance and its perfectly exhaustive rubber.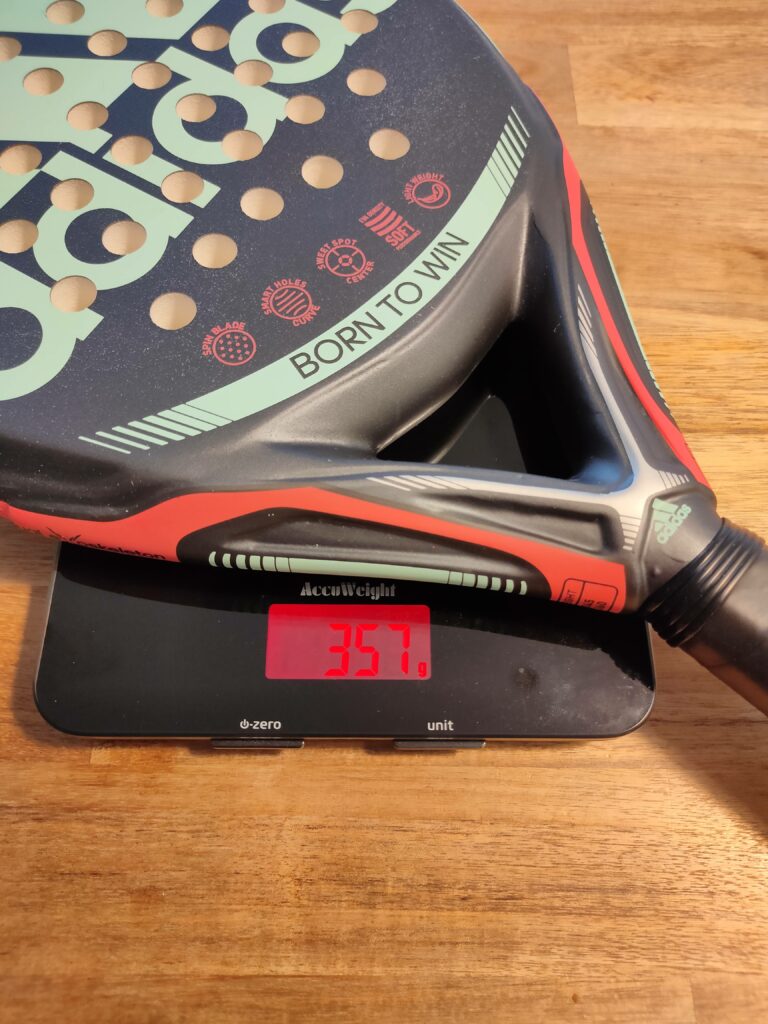 Conclusion ADIPOWER
This series is undoubtedly a success, both technically and in terms of convenience and ergonomics that have proven themselves over many years.
La 3.1 CTRsL is the most complete model that will delight the widest spectrum of players.
The version guide will be slightly more restrictive to handle, and will be offered to players who already have a substantial technical background.
Marta Ortega's Light is an impressive pala by its maneuverability and its general balance, but which will nevertheless lack power when you want to make the powder speak.
These 3 models are full Carbon, 3D roughness and gloss lacquer.
And the 2 Lite grinds are present in order to expand the range with a fiberglass variant (with matte lacquer), sandy roughness and a very low price.
The entire ADIPOWER range is equipped with a 3M protector series in order to limit frame jamming when you flirt too closely with the gates. But, to my great regret, none of the models benefit from a padded and sliding wrist strap.
Despite this detail which is not one for certain, I was conquered by this range and more particularly by theADIPOWER 3.1 CTRL which is simply stunning on all levels.
I wanted to thank Julien PES and Manu GARCIA for French Padel The shop, without which nothing would be possible, and which allow me to test the latest generation equipment as soon as it is available.

Fan of padel, Stéphane has become the official tester of the planet padel in Europe. Everything goes through his expert hands. Thanks to his extensive experience in the snowshoeing world, he is able to scan your gear from head to toe!