The association MY PADEL TOUR was created in order to develop and promote the padel thanks to the organization of the circuit "MY PADEL TOUR" which the company FOR MY PADEL will be co-organizer.
The company FOR MY PADEL was created by 4 friends with very complementary skills and united by the passion of the padel.
---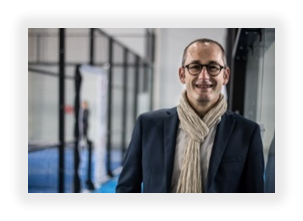 "We decided to put our experience, our energy and our skills into the co-organization of the MY PADEL TOUR 2016 circuit, we are convinced of the extraordinary potential of this sport", Alexis Salles, European Padel Champion 2015
« Nos 25 ans d'expérience en France et à l'étranger nous ont amené à développer de nombreuses compétences dans la pratique, la connaissance et l'enseignement du Padel. Notre objectif est de tout mettre en œuvre pour que MY PADEL TOUR devienne un circuit majeur en France»,
the FOR MY PADEL team
---
The organization of the circuit:
MY PADEL TOUR is a national male and female circuit of Padel destiné à réunir les meilleurs joueurs et joueuses français dans des infrastructures de qualité et au travers d'animations originales et inédites pour nos partenaires.
This circuit is approved by the French Tennis Federation, the results will be taken into account for the French ranking!
This 1e edition will include 4 steps and 1 Master which will take place at the following dates and places:
Toulouse Padel Club: 17/06 to 19/06/2016
Tennis Club of the Hers: 08 / 107 at 10 / 07 / 2016
Club Saint Cyprien: 23 / 09 at 25 / 09 / 2016
Soccer Parc de Bordeaux: 04 / 11 at 06 / 11 / 2016
Master au Toulouse Padel Club: 02/12 to 04/12/2016
Attention to the registration deadline of each stage ...
Each stage will start on Friday night from 17H for local teams and the finals will be played Sunday on 15h30.
The matches will be played in 2 winning sets according to the FFT rules (No Ad and super tie break). A consoling will be organized for the losers of the 1er round, 2 minimum matches will be guaranteed for each participant!
For this 1e edition, each step will have lots for a minimum value of 2 000 €
Note that our 1ages étape au Toulouse Padel Club du 17 au 19 juin servira de qualifications pour l'Open de France de Padel which will take place on the Place du Capitole from August 26 to 28 !!! It is really a magnificent event of Padel with the presence of 4 good foreign teams !!!
For more information join us on our Facebook page FOR MY PADEL and on our website: www.formypadel.fr.
See you soon to start this new adventure together ...
The team of FOR MY PADEL

Franck Binisti discovers the padel at the Pyramid Club in 2009 in the Paris region. Since then padel is part of his life. You often see him touring France by going to cover the big French paddle events.