The Tecnifibre WALL BREAKER is the new attack oriented PALA.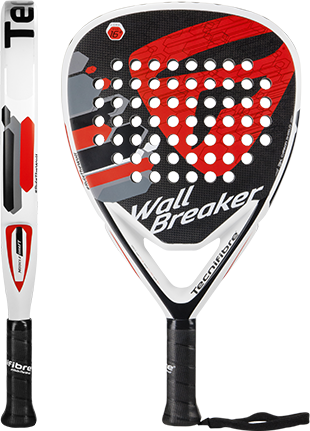 The Wall Breaker is the paddle racket used by Jérémy Scatena, several times French champions and recent European team padel champion.
What does the snowshoe under the hood offer?
This racket is clearly focused on attack. The balance of the racket shows that the weight is moving towards the front of the sieve "at the frame".
This high-end racket also offers full carbon characteristics offering a little more rigidity and therefore control.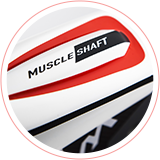 The Muscle shaft technology also accentuates the rigid side of the racket thanks to lateral tendons that stiffen the frame to maximize power.
Like any attack racket that respects itself, the sieve of the racket is of a diamond shape resulting in a zone of higher impact for more power.
The mouse or the nucleus is firm. Tecnifibre has chosen to use a black EVA foam with a degree of 16 (while the WALL MASTER is at 14). Consequences :
Firmness brings better restitution

energy for more power
Snowshoeing video with Jérémy SCATENA
The characteristics of the WALL BREAKER
| | |
| --- | --- |
| <span style="font-size:0.8em">Weight</span> | Shape of the sieve |
| 375g +/- 5g | Diamond |
| Balance | Length |
| 275 +/- 10mm | 455 mm (17,9 in) |
| Firmness of the foam | Profile |
| 16 ° | 38mm |
Results
Players and player loving round rackets / Defensives with a lot of flexibility, go your way, because the WALL BREAKER is aimed at players rather confirmed or wishing to evolve their game towards the attack.
Like the WALL MASTER, it's a high-end racquet, but it seems to require some experience in the padel to be able to master it at 100%, even if it remains very accessible.
Franck Binisti - PADEL MAGAZINE

Franck Binisti discovers the padel at the Pyramid Club in 2009 in the Paris region. Since then padel is part of his life. You often see him touring France by going to cover the big French paddle events.