Certainly the event the most anticipated of the summer, the competition which will see two continents clash, will start today. We now know the first pairs that will hit the slopes.
America vs Europe, the new prestigious competition of padel world should offer us a big show today in Bastad, Sweden.
The two captains, Ramiro Choya (Team Europe) and Gustavo Maquirriain (Team America) therefore composed the different compositions for this first day of competition.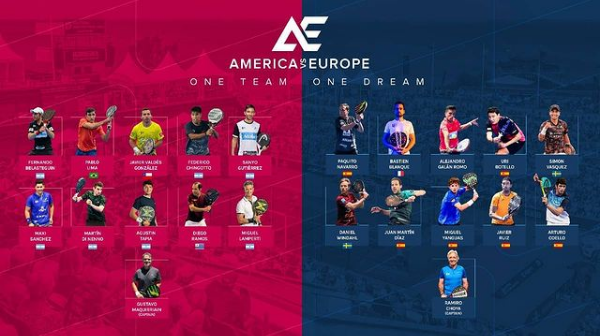 Here are the first clashes:
Match 1
Team Europe: Francisco "Paquito" Navarro & Uri Botello
Team South America: Maxi Sanchez & Diego Ramos
Match 2
Team Europe: Javi Ruiz & Simon Vasquez
Team South America: Agustin Tapia & Javier Valdes
Match 3
Team Europe: Daniel Windahl & Juan Martin Diaz
Team South America: Miguel Lamperti & Pablo Lima
Match 4
Team Europe: Bastien Blanqué & Arturo Coello
Team South America: Daniel "Sanyo" Gutierrez & Martin Di Nenno
It is obviously a great moment for the 125th player in the standings, the Toulousain Bastien Blanqué. It will be associated with Arturo Coello, 19th in the ranking and nugget of the padel world for his first match.
The Franco-Spanish pair will face it Sanyo Gutierrez, legend of padel, current n ° 4 in the standings and his compatriot Martin Di Nenno, 12th!
An incredible experience for the champion of France, especially since he should in all likelihood have Sanyo Gutierrez, one of the greatest players in the history of this sport, in his diagonal!
Meetings begin today at 10h00, and its to follow on Padel Television !

Alexis Dutour is passionate about padel. With his training in communication and marketing, he puts his skills at the service of padel to offer us articles that are always very interesting.