The P2000 de Toulouse, which starts today in Toulouse Padel Club, will be played whatever happens without the French champions Bastien Blanqué and Johan Bergeron.
At the moment we still don't know if the P2000 in Toulouse will be able to take place. Anyway, we are certain of one thing is that it will unfold without the champions of France, Bastien Blanqué and Johan Bergeron.
Indeed, Johan Bergeron, hamstring injury less than a week ago on the World Padel Tour, is forced to give up. It must be said that the schedule was particularly demanding for organizations since the WPT of Valencia, FIP Star of Cagliari, WPT of Cagliari, P2000 of Paris, WPT of Menorca… and now Toulouse… have been linked in recent weeks.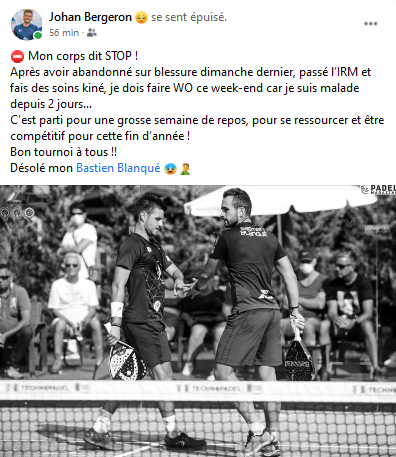 Photo credit : Facebook Johan Bergeron
An infernal rhythm for the players that the body of the champion of France did not support. It is obviously a hard blow for Johan, but also for Bastien Blanqué, the Toulousain, who will not be able to compete in the event which takes place at home ... Of course, for the competition it is obviously a shame since we were waiting for the reaction of the French champions who had been dominated in Paris by Scatena / Tison.
We wish Johan a speedy recovery, and hope to see the Blanqué / Bergeron pair in top form during the next P2000, for even more shows!