Once is not customary, we are going to come back to a news item in Spain which upsets the themes regularly addressed in off between actors of the padel : Plagiarism.
This time, it's not off. The case is on the public square in Spain. 2 brands, which we know almost not in France, except among insiders, Akkeron and Vibor-A have declared war.
It is a story that has just been born in the setting of padel in Spain. Two racket makers. On the one hand, Akkeron, from Madrid, who has just released 3 new racquets: The Cobra, the Cobra Edition and the Black Cobra.
On the other hand, Vibor-A of Madrid also, a company created in 2011, its spearheads, Black Mamba, Yarara and Yarara Edition.
But that's where the problems start: Two competing brands and yet Vibor-A estimates that Akkeron would have copied at least 3 from his rackets.
It's up to you to judge, but it seems that these snowshoes look a lot alike. Vibor-A filed a complaint for plagia following a statement reproaching Akkeron for having copied his rackets.
Frankly is there a difference between a Cobra and a Yarara or a Black Mamba? For your guidance, a Yarara is a snake of the viper family, and a Black Mamba or cobra are snakes of the family Elapidae. In short, they are very venomous snakes.
The color of the rackets? The Akkeron cobra edition is black with a golden cobra while the Yarara edition is black with a golden snake, nothing to see.
The cobra is white with a golden cobra while the Yarara is white with a golden snake, nothing to see.
Finally, the Black Cobra is black with a fluo green cobra while Black Mamba is black with a neon green snake. Still nothing to see.
Regarding the shape of the rackets, is it the same? It is not so clear either.
Not easy for Vibor-A to file a complaint for plagiarism because the similarities are not so obvious. And even admitting that this is the case, many brands source from the same factories. Some technologies are sometimes even very similar between certain brands.
Akkeron side, one could reproach the mark to have used an image of snake like Vibor-A… But Vibor-A does not own this kind of symbol or images.
Either way, it's a soap opera that may take a long time. But very many players in the padel may follow this matter with interest.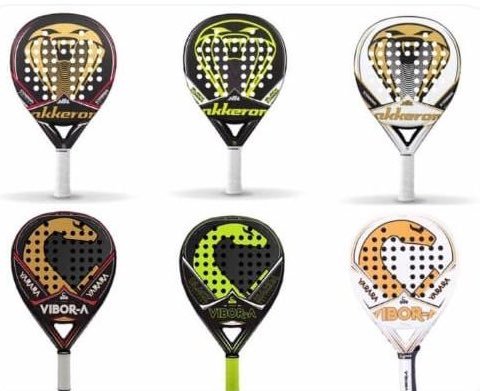 Julien Bondia is a teacher of padel in Tenerife. He is the founder of AvantagePadel.net, a software very popular with clubs and players of padel. Columnist and advisor, he helps you to play better through his many tutorials padel.