There seems to be electricity in the air on the side of the World Padel Tour.
This time it is not yet another battle between PPA and the WPT but between a player and a well-known trainer on the circuit.
Indeed this weekend we were able to see a tweet launched like a direct from the law by Alvaro Cepero in destination to Gaby Reca.
The Andalusian seems very upset against the Argentinian technician and in view of his remarks everything suggests that it does not date from yesterday.
It is via the social network with the little blue bird that the native of San Fernando expressed his dissatisfaction with the behavior of Rec.
"I didn't know that coaches could disrespect you and devalue live a team that works hard to get better every day.
I'm talking about Monsieur Reca, a wretched and badly educated man who never had a good education. I was not mistaken about this person. THANK YOU"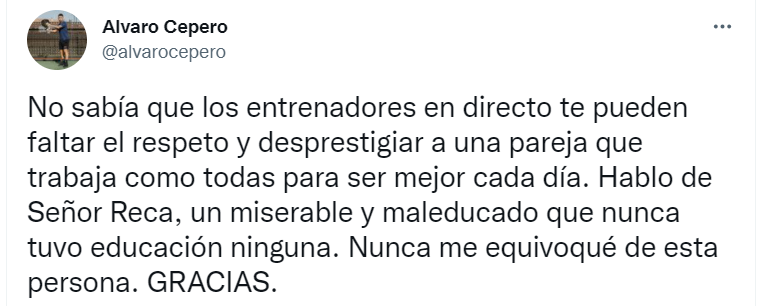 On the side of the Argentine technician, no response.
What really happened?
Last Thursday Alvaro Cepero et son partenaire Sergio Alba played their 1/8th final against the pair Chingotto and Tello, players coached by Gaby Reca. A very big game that ended in the third set and during which the Argentines were well shaken.
Could there have been words during the match, at the end?
We don't know more for the moment but one thing is certain, it is that with the various events that have taken place in recent weeks, the atmosphere is more than hot on the World Padel Tour !

Team Padel Magazine tries to offer you since 2013 the best of padel, but also surveys, analyzes to try to understand the world of padel. From the game to the politics of our sport, Padel Magazine is at your service.