Padel Magazine - The world's padel au gratin are preparing to make their debut in the first international competition of the World Padel Tour era. The best players of the circuit are already on the lands of Lusas. The wait is great on the side of the fans. The tickets have been sold like hot cakes and the bleachers of the Lisboa Racket Center's central runway seem too small to accommodate everyone.
Since 10h00, a succession of matches have taken place. They will only stop when we have all the players, qualified included for the main draw.
More than a tournament, it's a big party since we have been able to attend demonstration matches with Agustín Gómez and Federico Silingo Quiles, part of the world's top 9, and two of the best Portuguese players: Miguel Oliveira Diogo and Taveira.
If outside the tournament, the padel is at the party, the preliminary rounds gave rise to the big show.
This Wednesday, the matches of the knockout stage have started. On the central, Roberto Saba and William Demjanjuk Vs Raul Diaz-Javier Limones opened the ball.
Tomorrow is the return of all our champions. We will keep you informed in the news until the end of the week. Stay connected on our site!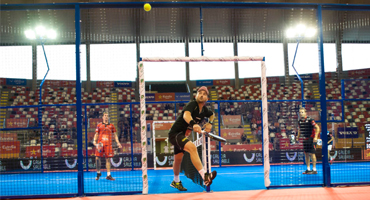 Franck Binisti discovers the padel at the Pyramid Club in 2009 in the Paris region. Since then padel is part of his life. You often see him touring France by going to cover the big French paddle events.