Established around the world, the padel becomes more and more popular with the passing days and its growth seems endless.
This is what our colleagues from Marca in an exclusive report on the current situation of padel at the World level.
"We feel more and more support in the stands and in the streets"
Asked during an interview for the Spanish daily, Paquito Navarro, 32 years old and current number 8 in the WPT gave his vision of the padel. For the Sevillian it is "A sport easy to learn, very sociable, and inexpensive". This largely explains its success with the general public.
For Alejandra Salazar, number 2 for the ladies, the padel "Can be considered a giant, but it can still develop a lot more over the next few years. the padel makes you addicted and pushes you to become better whether you are professional or just amateur. We always have to learn and the advantage of this sport is that it leaves little room for monotony.
In fact, we are changing partners, opponents, the playing conditions and the terrain vary all the time and for some tournaments you have to take into account the climate and the geographical situation "
She ends by expressing her joy to see that the padel is becoming more and more popular and players are getting a lot of support whether it's during games, or even on the streets.
An unstoppable boom
In recent years, no less than 35 cities in Spain have hosted events of the World Padel Tour.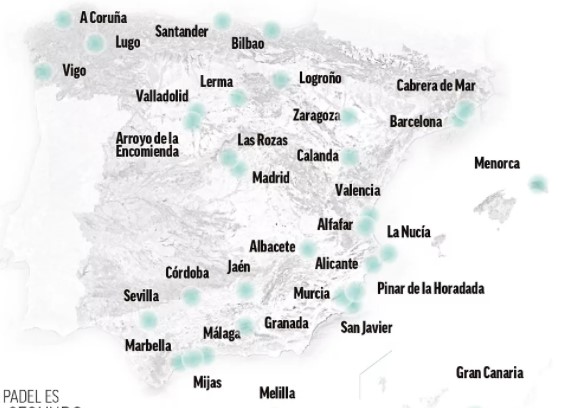 Without forgetting the other countries around the world which have served as hosts, whether through tournaments or exhibitions:
Mexico
Italy
Argentina
Brazil
Portugal
Sweden
Egypt
France
...
Le padel thus becomes the second most practiced team sport, just after football among our Iberian friends.
Between 2019 and 2020 the number of matches and hours of television broadcasts also increased from 112 hours to 152 hours and from 45 live matches to 76.
We can see an increase of 171% since 2018.
Ditto concerning the group's Youtube page: between 2018 and 2021 the number of views evolved positively reaching + 166%.
Regarding social networks, it is an unnamed success because we notice that in 2018 the number of subscribers was 620. in 699 the WPT accounts count no less than 2021 followers in total.
Significantly, while Spain is a land of football, only 9 La Liga teams have been found to hold more subscribers than the WPT.
What is certain is that in the digital age and social networks, the padel is not about to stop there.
Success across borders
As we could see a little more above, competitions could be organized in more than twelve different destinations, which at their level and with their means try to make the sport grow.
Countries like Sweden, Italy, Finland and even Belgium are working hard to make this discipline open to everyone.
A large number of events have already emerged and sports complexes dedicated to padel come out of the earth a little more each day, for example the Padel Zenter by football player Zlatan Ibrahimovic or colossal projects Italy.
What future for the padel ?
The future of padel in general is very promising but David Hernandez, WPT GM, knows there is still a long way to go for the sport to become one of the most followed around the world.
The organization recently announced via a press release that it was strengthening itself by bringing in a minority shareholder in order to solidify its finances and count on a new player to continue its expansion.
The second important point to underline is that from next year fans should be able to enjoy more days of audiovisual broadcasts. Indeed, there is a strong demand from the public and the WPT Management seems to want to meet it.
Finally, it is the internationalization of padel which will be a major issue for the coming years. David Hernandez would like the matches to be broadcast in more than 70 countries that is why it is currently in negotiations with several television channels.
Credits: Brand

Fan of padel and of Spanish origin, the padel runs through my veins. Very happy to share with you my passion through the world reference of padel : Padel Magazine.