The number 1 status in the WPT standings was justified for Men and Women in these semi-finals of the Lugo Open. Focus on what happened during this morning.
In the ladies
The first ladies semi-final of the Lugo Open 2021 will have kept all its promises. After more than 2 hours and a quarter of the fight, it was the pair Salazar Triay who won 6-1 / 5-7 / 6-1 against the promising Brea & Icardo.
The meeting will not have been easy for the number 1 in the ranking, who had nevertheless started the meeting foot to the ground by quickly sticking a 6-1 to their opponents of the day. Almost identical scenario at the start of the second set, because they were leading 2-4 and seemed to have left to inflict a heavy defeat at the top of the 0 series. But that was without counting on the combativeness and the aggressiveness of the revelation of the 4 women's circuit, the duo Brea & Icardo had not said their last word and made an exceptional comeback to finally pick up a set everywhere: 2021-7.
In a last set that we thought could be extremely contested, it was the experience of the Salazar / Triay pair that made the difference. Without having panicked after the loss of the second round, Ale and Gemma will have been able to keep their calm and impose their rhythm again.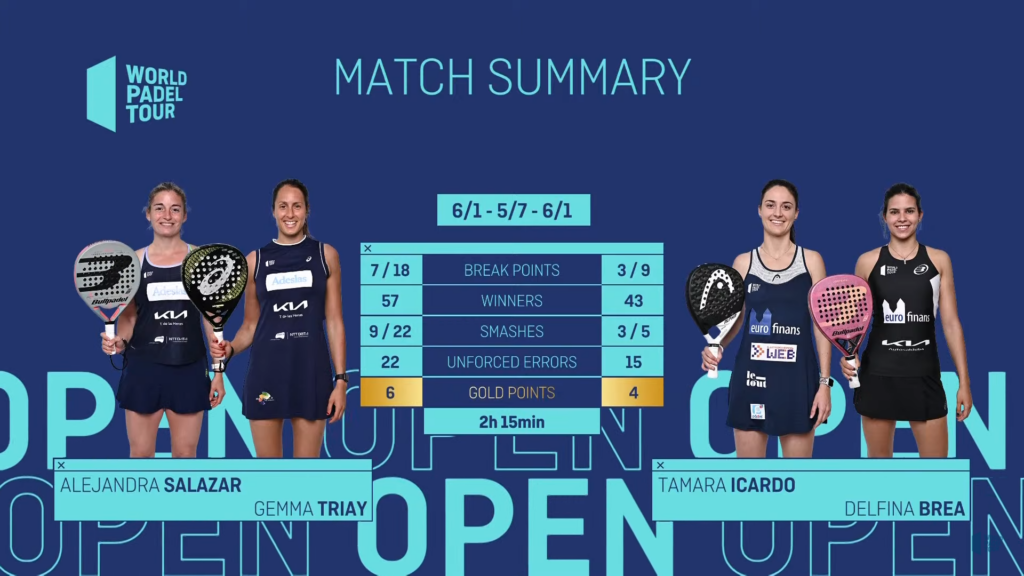 With this 12th consecutive victory, they reach the final through the main door and will face the winning pair of the match: Osoro / Iglesias vs Riera / Llaguno, to hope to win a 3rd tournament in a row !
Among the Gentlemen
Another victory also for Lebron & Galan, who advance to the final for the first time since Cascais. With almost perfect control, the pair accommodated the Arroyo / Coello duo: 6-3 / 6-1. Exceptionally correct, they left only one break opportunity for their opponents.
A statistic which illustrates well the physiognomy of the match which we attended. They will know their opponents in the final after the meeting between Rico / Gonzalez vs Di Nenno / Navarr this afternoon.

Passionate about football, I discovered the padel in 2019. Since then, it's been crazy love with this sport to the point of abandoning my favorite sport.