This will be the only French representative in these Menorca Open qualifications : Carla Toully will play her first match this Monday at 10:30 a.m. The Frenchwoman will be accompanied by the Argentine player Nelida Beatriz Brito Azcona, 159th in the world.
The Franco-Argentinian pair are expected on the Menorca court, where they will face the two Spaniards Rebecca Lopez Lopez (84ᵉ) and his compatriot Marta Arellano Navarro (88ᵉ). A big opening match awaits our Frenchie in this last tournament of October World Padel Tour.

In case of victory, Carla Touly and Nelida Beatriz Brito Azcona will have to prepare to meet the number 1 seed of these Menorca previas: Jimena Velasco Postiguillo (59) et Noa Canovas Paredes (50). Difficult table for Carla who will not have benefited from an advantageous draw.
But we know his iron determination and the Frenchwoman will not be impressed by the event!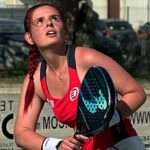 It was his brother who one day told him to accompany him on a track. padel, since then, Gwenaëlle has never left the court. Except when it comes to going to watch the broadcast of Padel Magazine, World Padel Tour… or Premier Padel…or the French Championships. In short, she is a fan of this sport.