Two weeks before the very first tournament of the season, which will take place in Miami, the World Padel Tour finally released the posters for the final draw matches.
This first American stage will offer us great encounters from the start of the competition and the players now know who they will meet on their way.
Among the Gentlemen
One of the first matches which is very interesting to follow is that of the pair Belasteguin–Coello who is putting the cover back on for another year and who will face a brand new pair formed by the promising and talented Miguel Yanguas and Coki Nieto
We will also follow the beginnings of Maxi Sanchez and Pablo Lima, in the face of the always tough Pincho Fernandez and Jose Antonio Diestro.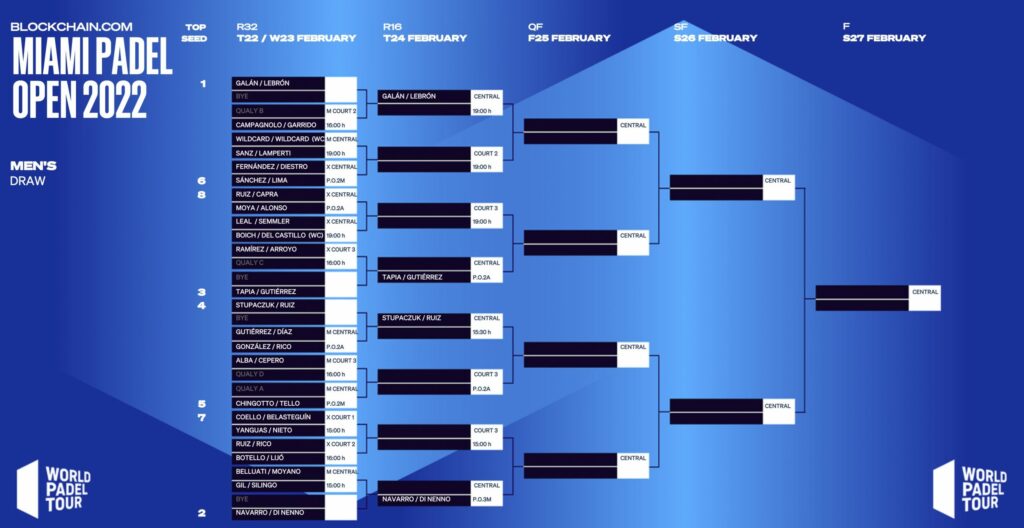 Note that the qualifications begin this Friday 11, and that three French people participate.
Thomas Leygue et Ignacio Sager Nagel will face the pair Delgado Sanchez (170)/López Luque (170) Friday at 10:30 a.m. in the first round of pre-previas. At the same time, Johan Bergeron and Simon Vasquez will face the Wild Card Richters/Martinez Marcos.
For Benjamin Tison et Teodoro Zapata, it will start on Saturday at 15:00 p.m., against a pair from the previas.
In the ladies
On the women's side, the show will also be there and the first meeting we will follow will be that of Delfi Brea exceptionally accompanied for this tournament of Julieta Bidahorria following the package of his partner Tamara Icardo. Chance of the draw, they will face the usual partner of Bidahorria, Lucia Martinez placeholder image, and the French Léa Godallier, which, as in France, will switch to the left for the occasion!
Note that the pair that wins this match will be opposed either to the other French on the circuit, Alex Colombon and his partner Jessica castello, or to a pair resulting from the previas.
On the same day, the Alayeto twins will have to compose against the pair Veronica turnsda- Barbara Las Heras who has succeded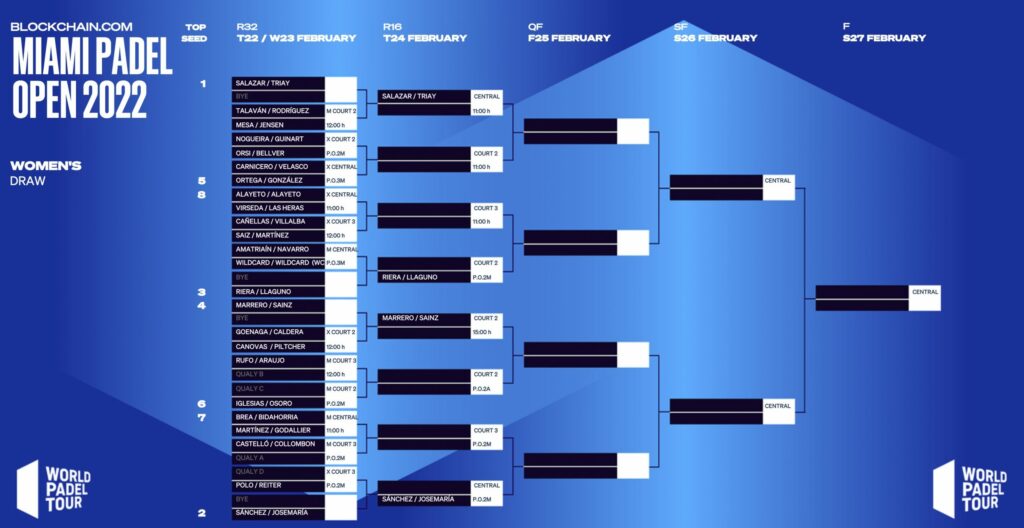 Tic Tac Tic Tac… The countdown has begun and this new edition of the WPT still promises a lot of entertainment!
To find all the tables, this happens HERE !

Team Padel Magazine tries to offer you since 2013 the best of padel, but also surveys, analyzes to try to understand the world of padel. From the game to the politics of our sport, Padel Magazine is at your service.