The new rankings of the week have been released at World Padel Tour. Our first Frenchman continues to grow: +6 places compared to last week.
Benjamin Tison is the new 86rd player in the world ! A good performance because he is the first French to reach this ranking on the WPT.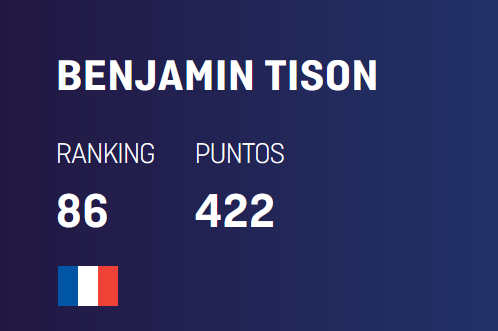 Better yet, the French are today the 56th player at the Race 2021, proof of the exceptional season he is having!
With our two best French drivers, the rise in the rankings continues little by little. Indeed, Alix Collombon and Léa Godallier each gain one place thanks to their eighth place in Marbella, and find themselves respectively 30ème and 37ème. A small place lost on the other hand for Melissa Martin who did not participate in the tournament due to his psoas injury. She finds herself 112ème.
In the other blues, it also stagnates a bit. Johan Bergeron don't move, he stays there 109ème instead. Bastien Blanqué loses 5 places and ends up 121ème. Adrien Maigret wins a place (169ème), while Thomas Leygue loses 29 (308ème). Max Moreau, who was returning to Marbella, is now 252ème in the ranking.

Team Padel Magazine tries to offer you since 2013 the best of padel, but also surveys, analyzes to try to understand the world of padel. From the game to the politics of our sport, Padel Magazine is at your service.