Discover all the paintings of the'' Estrella Damm Menorca Open du World Padel Tour which starts this Sunday, September 20, 2020 with the preprevias phase.
Main table men
The main draw matches start on Wednesday, and we should see some very interesting clashes from 1 / 16th including all the new pairs formed, who are going to want to start on a good note.
But the big poster of the sixteenth is the meeting between the finalists from Sardinia: Ruiz / Botello, and Juan Martin Diaz / Lucas Campagnolo, who will do well for the return of "Campa". Also return of Pablo Lima and Paquito Navarro, seed number 2, which will start on Thursday, perhaps with an entry shock, against Nieto / Rico.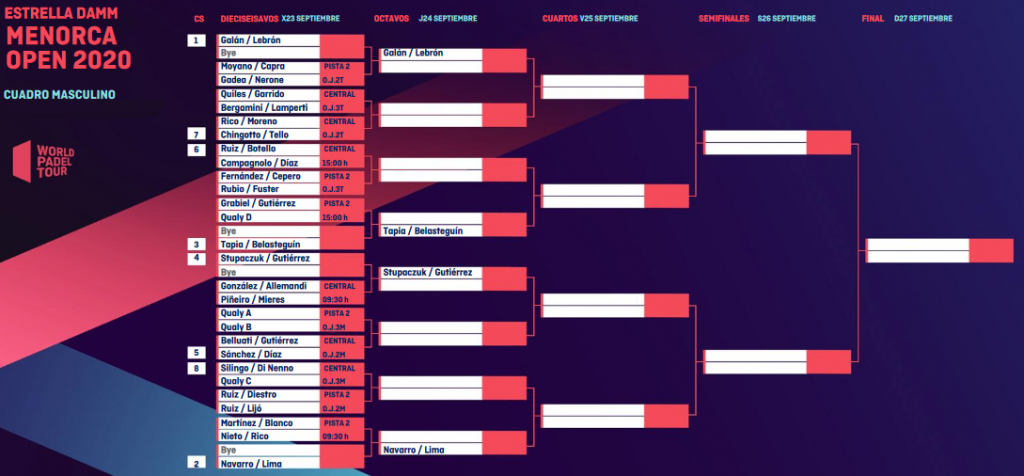 Previa men
Very good pairs in these men previas, with in particular the two young people in shape of the moment: Arturo Coello and Ivan Ramirez, who if they qualify will face another pair of qualified. But be careful because there are very good teams in the upper part of the table, with a big entry match: the new pair Semmler / Santana opposed to the regulars of the Sans / Zaratiegui previas.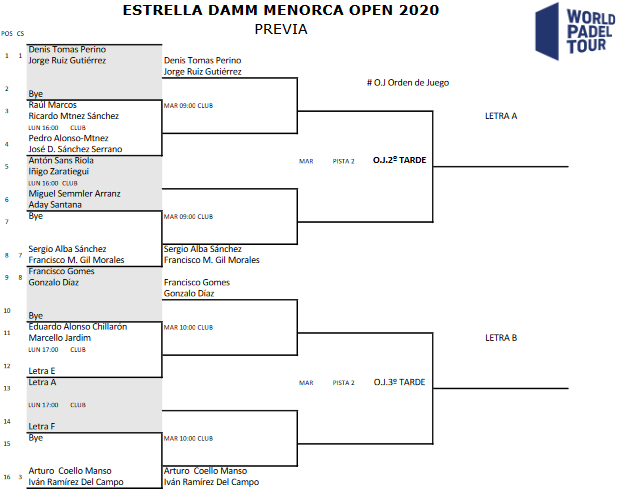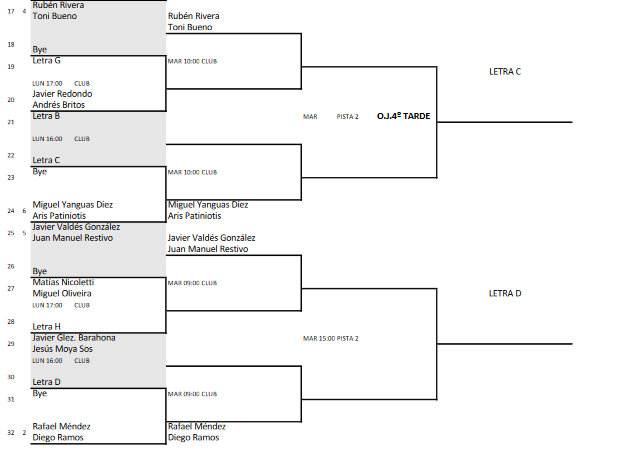 Preprevia men
The men's preprevias that start this Sunday with as always several French people involved. Small change nevertheless: thanks to their superb course in Sardinia, Tison / Scatena (seed 8 of the preprevias) pass just in front of Blanqué / Muñoz (seeded 9 in the preprevias) and will therefore start directly in the second round.
So back to the first round of the preprevias for Blanqué / Muñoz, which will start Sunday morning, just like Bergeron / Mena Gil.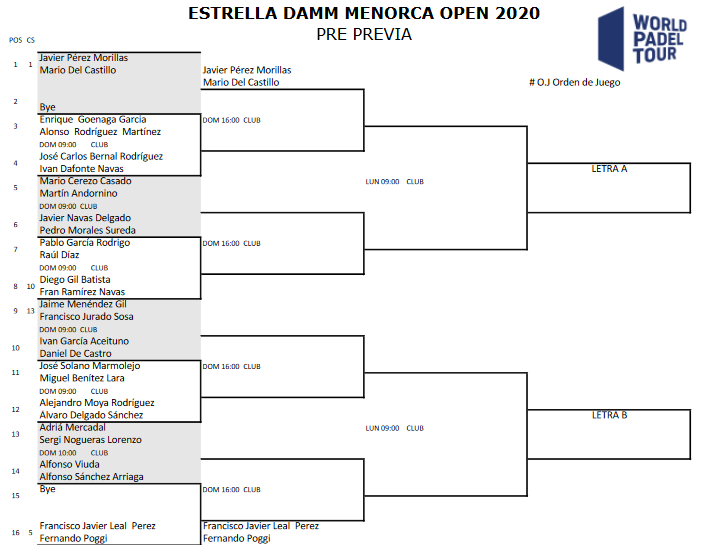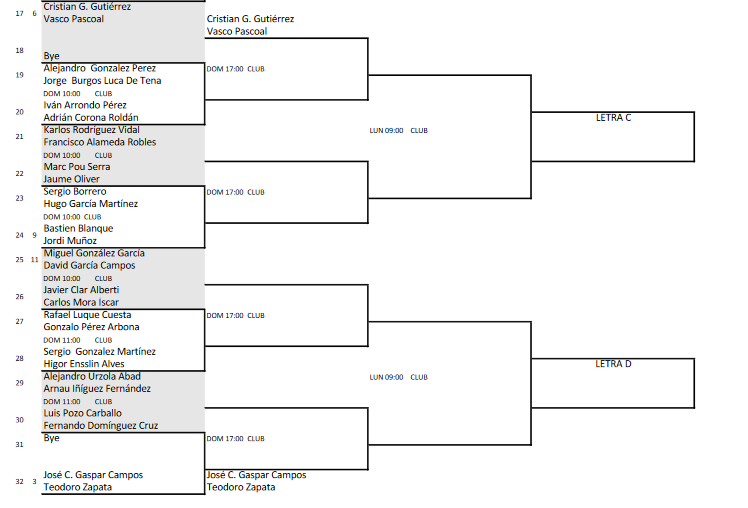 Main draw ladies
In the female painting, surprise: Marta Marrero and Paula Josemaria are positioned at the head of series number 2, while Marrero announced on Instagram that she will not be playing the tournament… We don't have more information at the moment, but there could be a lucky looser in the sixteenth.
We will in any case be entitled to very beautiful posters from Wednesday, with Collombon / Traviesa who will be opposed to a pair in form: Martinez / Fernandez de Osso, or Paz / Mesa against Galan / Iglesias!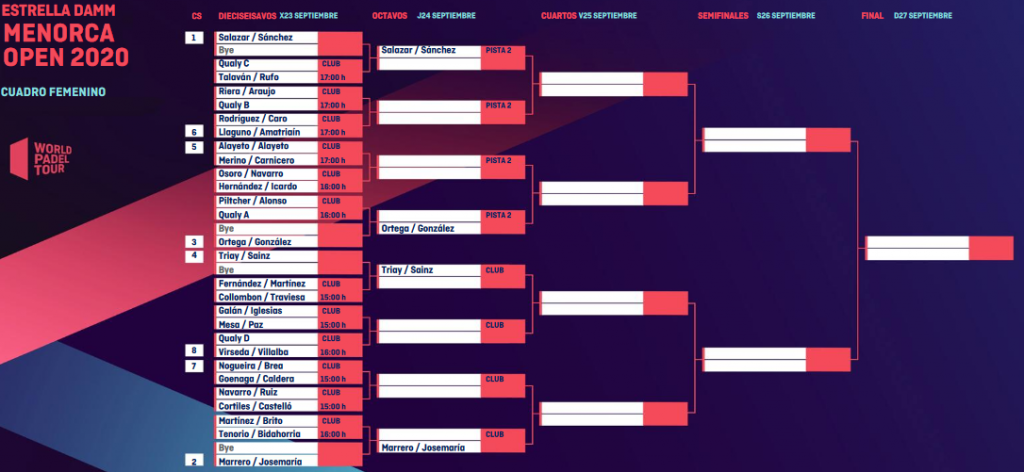 Previa ladies
Léa Godallier and Laura Clergue will be seed number 4 of the previas, they will therefore start their tournament on Tuesday at 19 p.m., facing the qualifiers. If they win, they could face Lobo / Bellver, a pair they had beaten in Marbella.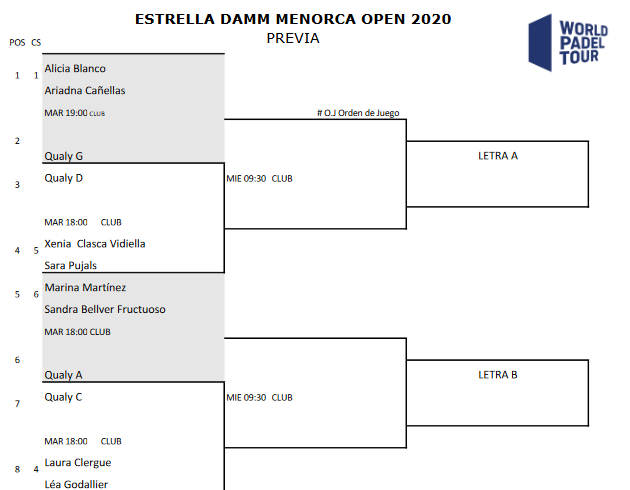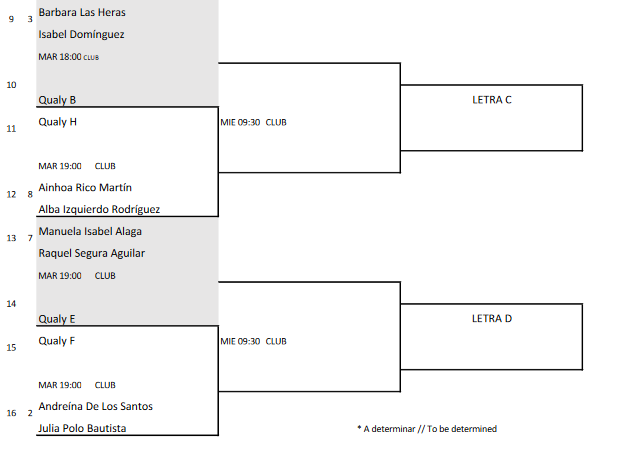 Preprevia ladies
Absent in Sardinia, Melissa Martin is back on the World Padel Tour alongside a different partner: the Brazilian Rafaella Masseron. They start their tournament at 18 p.m. against the Italian Carlotta Casali, and her new partner Palma Osorio.