Mario Cordero interviews Zinédine Zidane in Spanish (while waiting for the French version) during the inauguration new Z5 center in Istres.
Z5: a beautiful padel in France
Mario Cordero: "We are with the owner of Z5 Istres, a player who made us dream one evening in July 1998. Zinédine Zidane how are you, can you tell us about your new centre? »
Zinedine Zidane : A former player! Everything is going well thank you. Mhe new center here in Istres consists of 5 football pitches, 4 of which are indoors, and 6 football tracks. padel.

MC: In the Z5s, you can play football and padel, have you thought about adding other sports?

ZZ: I don't know, why not, but it's not planned for now. For the moment we remain focused on two activities: football and padel which is developing at high speed here in France and which will become a sport as important as in Spain!
A family story
MC: We know that your brother runs the Z5 in Aix, it's a family story

ZZ: When I stopped playing football 15 years ago, we discussed with my brothers what we could do together and we said that what we knew best was football. so we decided to start in Aix with 7 pitches including 3 indoors. And ten years later, we added 4 tracks of padel. We will soon open a 3rd center in Turin.
MC: In Spain the padel is the family sport par excellence, it can be practiced from 7 to 77 years old in your centres?

ZZ : Of course and that's what I love! What we are trying to do is to bring together the whole family, parents and children so that everyone can find happiness here and that is very important to me.

Padel between friends
MC: We're going to talk a bit about you, how do you stay in good shape, what is your sports program for the week?

ZZ: Not much really, I try to eat healthy and exercise a little, I run two to three times a week and then when I have time a little football with friends and some padel also. More and more padel at the moment.

Federer / Nadal / Jornet / Woods: I sign all 4
MC: We know that you are a big sports fan, what would you choose between a tennis match with Roger Federer, a jog in the mountains with Kilian Jornet, a golf course with Tiger Woods or a game of padel with Ale Galan?
ZZ: I sign for the 4! Everyone would like to play against Federer or Nadal of course. Even if I don't play golf it would be fantastic to be able to be next to Tiger Woods and see him play. And with Ale Galan I already did it for the inauguration in Aix!
MC: We saw you at the WPT Masters last year, how did you feel about this tournament?

ZZ: It was spectacular! To see the best players in the world live and off the track, it was an amazing day.

MC: Are we likely to see you at the WPT in Toulouse or at the Premier Padel of Roland Garros?

ZZ: We'll see in due time.

MC: Finally, you are going to be the first to participate in the game of the wheel of Padel Magazine ! On this wheel, 14 names of athletes and personalities, you have one year to organize a game with whoever you are going to fall on, otherwise we will meet again in a year to celebrate the anniversary of the Z5 Istres and you will have to play a game against the Binisti/Cordero team of Padel Magazine !
ZZ: Here we go, some have busier schedules than others but here we go!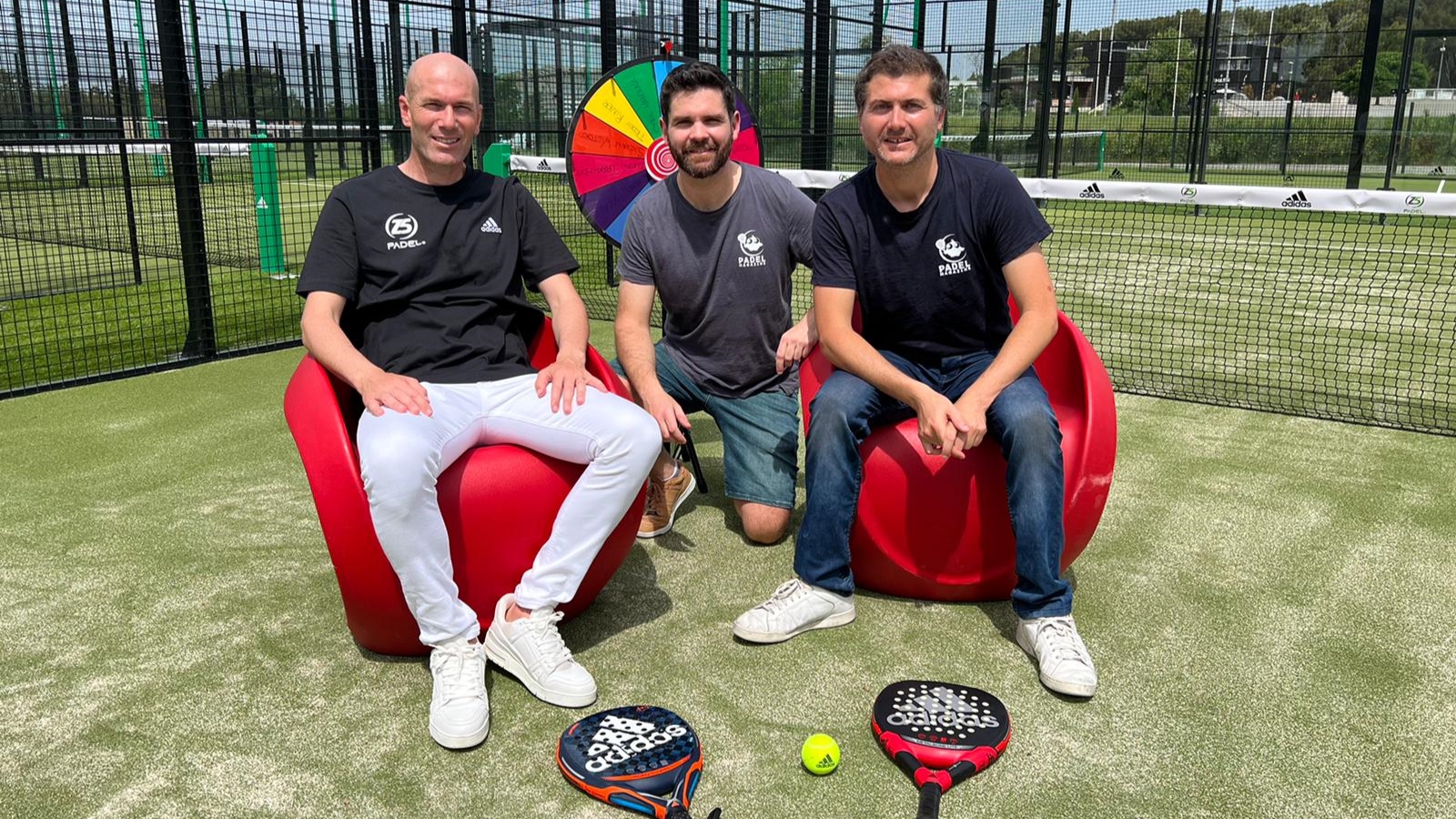 ---
After two spins, Zinédine will therefore have to play a game with Neymar or with Christophe Dugarry, his ex-teammate and friend from Bordeaux and the France team. See you in a year to see if the bet has been held!
---

Mario Cordero is a fine technician of the team. He observes, he analyzes, he returns to themes to bring his expertise. Complete, the man is as in the field!