Cruel defeat for the French player at FIP ​​Rise Kuwait Steel, who lost in three sets against Tia Norton and Rosalie Van Der Hoek. Big match, and big battle, for the two teams which lasted a little over two hours. Defeat in the end 3/6 7/6 6/3.
Carla Touly and Nelida Brito (TS7) had done the necessary efforts to return to this match after losing the first set. Unfortunately, this was not enough to the Franco-Argentinian pair. Despite an undoubtedly frustrating defeat for the Frenchwoman, we must highlight the latest good results for Carla, who had already made a very good result across the Channel.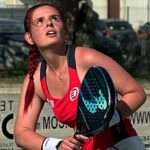 It was his brother who one day told him to accompany him on a track. padel, since then, Gwenaëlle has never left the court. Except when it comes to going to watch the broadcast of Padel Magazine, World Padel Tour… or Premier Padel…or the French Championships. In short, she is a fan of this sport.