Au 4PADEL Bordeaux when Cupra Padel-Point Tour, we interviewed Thomas Vanbauce, just after discussing with his partner Dorian deMeyer.
Discovery padel up to the French top 10 with Dorian
"This is Dorian who introduced me to padel in 2017, because a club had opened next to his work: the Big Padel. After playing tennis for twenty years (ranked 3/6), I had the feeling that I had completed the tour of this sport. I wanted renewal and padel arrived. The first time on the field was quite special, but we persevered. After just a few games we were completely hooked, we played all the time."
"Our friendship with Dorian continued on the track. A nice anecdote: during the first three tournaments together, we argued each time and we left the field very angry. It took us two days to talk again and in the end we found each other and never left each other again. I don't want to throw flowers, but I pushed a little to play with him again and do tournaments again. In the end, I think it paid off and indeed, we complement each other very well on the track and our friendship is fortunate: it's not an association by default."
"In September 2022, I reached my best ranking: 10th French."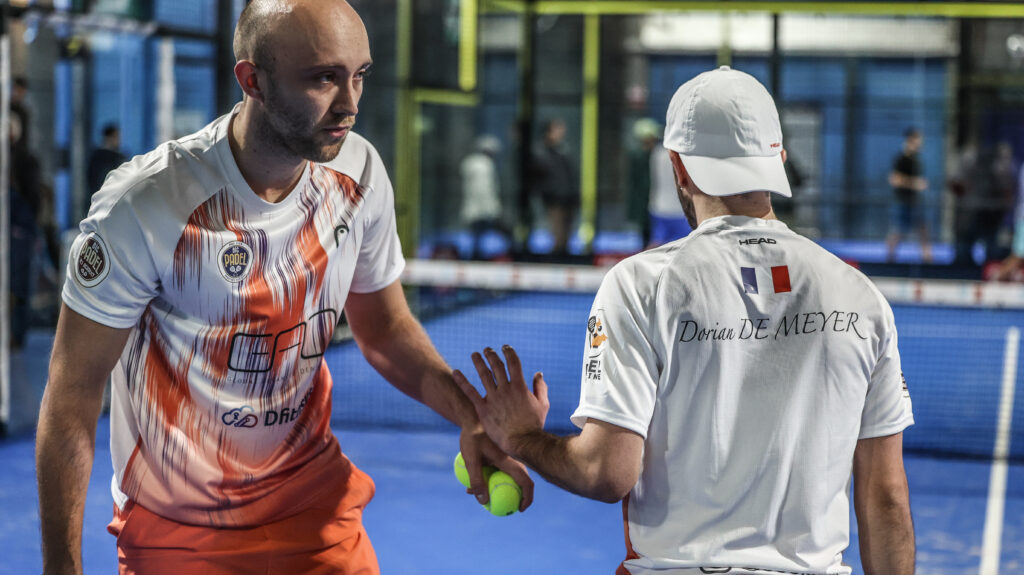 Experiments with other players
"When Dorian got injured, I played with Loïc The Panse, Yann Auradou et Ludovic Cancel : three totally different and completely different experiences of Dorian. ÇIt did me good because I was finally able to define myself as a player, individually, while we were still thinking as a pair with Dorian. It really allowed me to gain confidence in my qualities and as a player, to take my responsibilities, whether tactical, in terms of choices, in terms of communication. This experience made me better, mentally and in my game."
Jean-Thomas brings us a lot of serenity
"During this whole period when Dorian couldn't play, JT only had me. I was quite privileged. I worked a lot on defense, one of my weak points. He really gave me confidence. He is someone who experienced the high level before us, he gives us a lot of peace of mind regarding our results which were not necessarily those expected this year. His debriefings are reassuring and do us good, especially when the defeats are heavy. He also does not hesitate to tell us what is wrong, to get into us, there is no no filter between us. "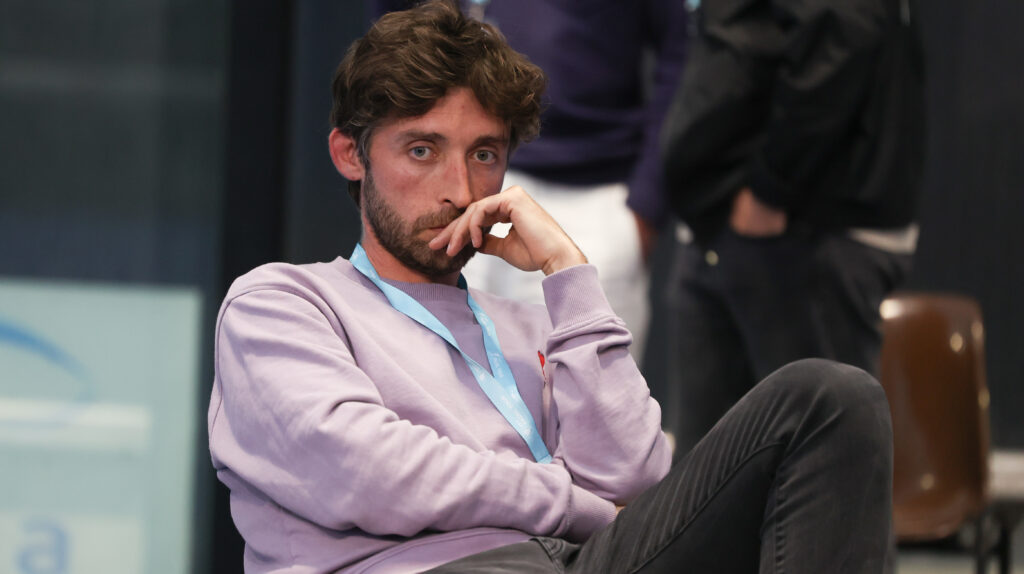 Focus on the international ranking and the "France by teams"
"This year, we launched internationally with Dorian, I am currently 294th worldwide and the objective is toreach 200th place at the end of the year. We are going on an American tour throughout the month of November with 3 or 4 tournaments. The goal is to earn as many points as possible to move up the rankings and get into the top seeds in certain FIPs. Back in France, we will attack preparation for the French Team Championships which will take place in Toulouse on December 8-10, where we have a second place to defend and we want to go for the All In or another team for the title of Champions of France. This is close to our hearts with Dorian, because we started at the Big Padel and we want to represent our club as best as possible and thank it for its support."
The French team internship: a mixed experience
"I learned that I was selected for preparation course for the Worlds in Dubai, without Dorian. It was a very special feeling for me, because at the same time, I was happy for me individually but I was almost more disappointed that we weren't both there. I had a hard time enjoying the moment."
"Despite that, it was really a great experience. I felt really comfortable, listening to all the advice. In terms of level of play, it was perhaps not my best moment, but I think I was still true to who I am and respected the values ​​I have on the pitch. That was the most important thing for me as a player. Now that I've tasted this, I obviously want more, I want to wear this swimsuit. This is why we train every day: to experience moments like this."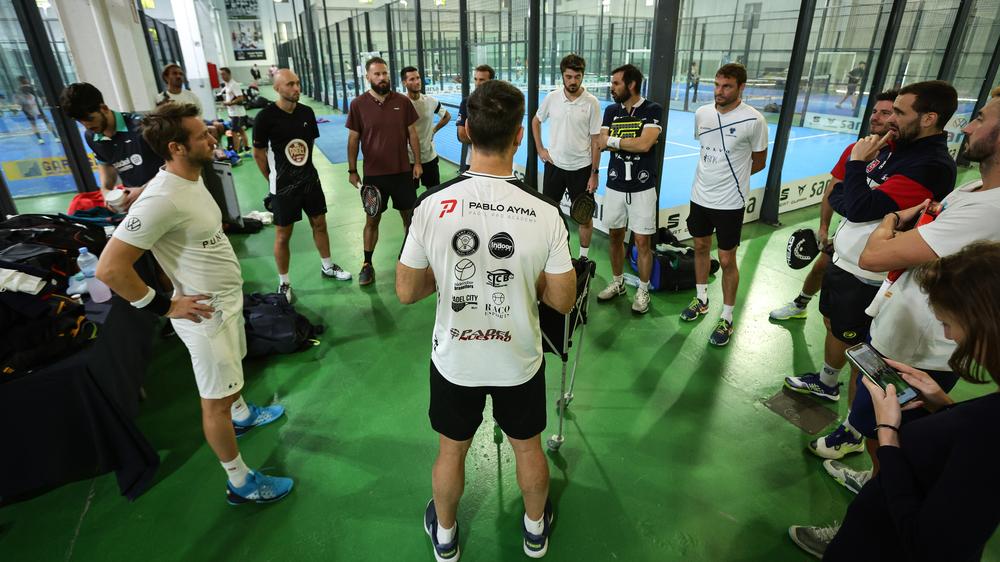 Paris Major controversy: "the wild-card is not deserved, it is required"
"To be honest, I didn't expect it at all. I was really convinced that the level of play and our international ranking meant that we were going to deserve this wild-card. At the time, I was angry with those who made this decision, partly with Pablo Ayma."
"Unfortunately, there is no no merit in sport, it's cruel, that's how it is. There are choices to make, for the moment it is not for us. But I really want to ensure that as a team and as individuals, Dorian and I, we are really as clean as possible and really straight in our boots. We have nothing to reproach ourselves for, and we have always done the right thing. Now we have to accept it and move on. And as JT said very well: "we will no longer have to rely on the wild-card, you have to enter these tournaments with the points and with the level of play, quite simply.""
Qualities and faults of Dorian
"His serenity in defense. I'm used to him bringing everything back, on the field we see the public applauding thinking that the point is over and Dorian gets us back into the rally. I have complete confidence in his quality as a defender, he is incredible."
"I absolutely want to have his backhand volley, it's a real strong point for him and if I can get it, I'll sign it every day."
"And the flaws? Really, you put me in a position there... When it's a little heated moments and we're not playing well, hetend to lower your head a little. ÇIt doesn't affect me, but I really have the impression that it galvanizes the opponents. We have to work on that."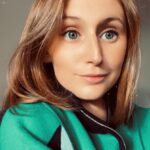 Passionate about Padel since 2018 with numerous experiences in communication and content creation, I want to share my passion with you through my writings.