For more than fifteen years, Fernando Alonso, Formula 1 driver, has had a deep love for padel. As soon as he has the opportunity, he abandons the circuits to join the playing fields padel. During the Formula 1 Grand Prix in Mexico, he shared some anecdotes.
Recently, the Aston Martin driver introduced his young teammate, George Russell, to the sport. They have already had the opportunity to play together several times. And this new duo presents an astonishing statistic: "I've been doing this sport for about 15 years, but George just started and he surprised me. We only played together once, so we have a 100% win rate," he said jokingly.
In addition to being passionate about padel, Fernando Alonso launched his own clothing brand, Kimoa. The presentation of this initiative took place at the Wynwood club in Miami, in the presence of Pedro de la Rosa, ambassador of Aston Martin, the former tennis player Juan Martín Del Potro, as well as Peter Alonso, tennis player padel.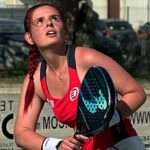 It was his brother who one day told him to accompany him on a track. padel, since then, Gwenaëlle has never left the court. Except when it comes to going to watch the broadcast of Padel Magazine, World Padel Tour… or Premier Padel…or the French Championships. In short, she is a fan of this sport.