Another cruel defeat for a Frenchman today on the FIP circuit. This time, it was Jérôme Inzerillo who was stopped in his attempt to reach the final in Kuwait.
The step was too high for Jérôme Inzerillo and his partner, the Italian Emiliano Iriart. In this semi-final, the Franco-Italian pair was opposed to Jose Luis Gonzalez (76) and Antonio Luque (66), who were the 1 seed in this tournament.
A frustrating defeat for the French who had started their match well, winning 6/3 in the first set. But the Spanish pair came back stronger in the second round and left Jérôme and Emiliano no chance, winning 6/1.
The third round had the merit of being a little tighter. But a break at the worst time, at 5/5, completely puts an end to the dreams of the Franco-Italian pair. Final score: 6/3 1/6 5/7.
Next deadline for Jérôme Inzerillo, the FIP Rise Bourg-en-Bresse, alongside Belgian Clément Geens!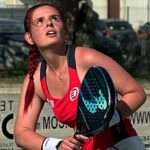 It was his brother who one day told him to accompany him on a track. padel, since then, Gwenaëlle has never left the court. Except when it comes to going to watch the broadcast of Padel Magazine, World Padel Tour… or Premier Padel…or the French Championships. In short, she is a fan of this sport.