Favorite pair of the tournament with the title holders Lebron and Galan, Arturo Coello and Agustin Tapia did not do well today. The Spanish-Argentinian pair dominated the Spaniards Jon Sanz and Coki Nieto with a score of 6/2 6/4, in less than an hour of play.
In a temperature of 35°, the numerous spectators at the Philippe-Chatrier court, with the roof always closed to protect themselves from the blazing sun, did not shy away from their pleasure.
A break from the 4th game
As in the women's half, the first break occurs at 4e game: it is to the credit of Tapia and Coello, who take Nieto's throw-in and follow up with an expeditious shutout (4/1).
The rest of the operations go very quickly. Coello and Tapia expedite their service game, before easily stealing that of Nieto, taking advantage of three missed volleys and a much too short smash from Jon Sanz.
In this set, Sanz and Nieto only committed three unforced errors compared to five for Coello and Tapia. So how can we explain the clear domination of the latter? By their number of winning shots: 24 in total, compared to 13 for the Spanish pair.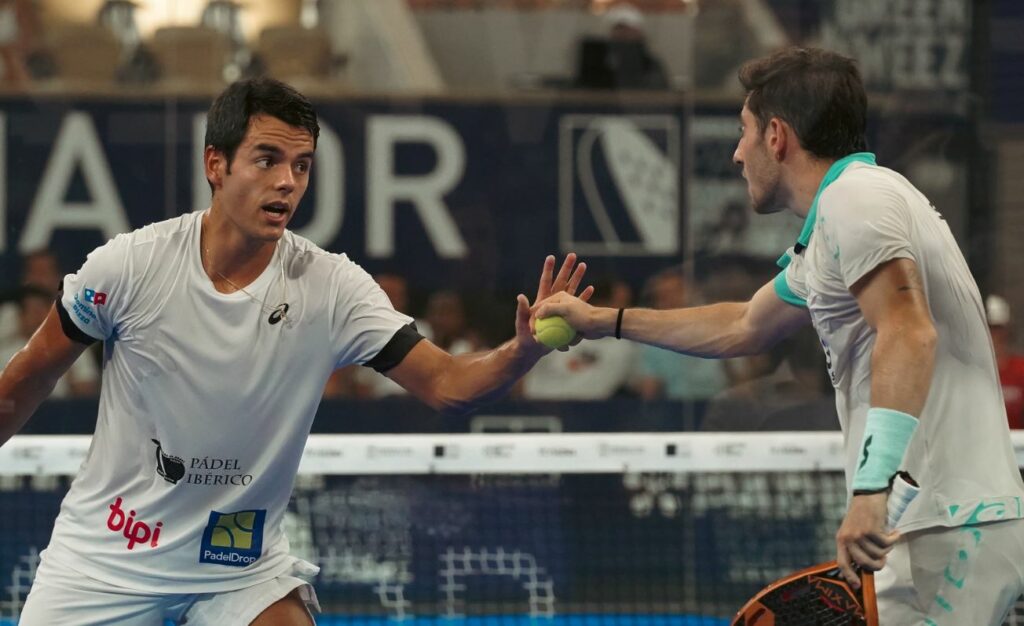 Smashes hit from afar
The start of the second set is a little more balanced, with each pair winning their first two service games. At 6e game, Sanz is put in difficulty on his serve, but Tapia is presumptuous on a smash hit from too far, for which he is punished. Sanz is just as angry right after, but still manages to equalize 3-3.
The four players display in this 2e set an average success rate on their smash attempts, especially when they are hit from far away from the net. Could the temperature of the windows, perhaps lower than in direct sunlight, have something to do with it?
In a post-match press conference, the Argentinian explained that "the conditions were different from those of yesterday. Yesterday, even when I missed my smash, the ball was a winner, unlike today with the roof closed from the start of the match. It took me a while to understand that the track was slow".
After a service game won without incident by Nieto, we thought we were heading towards a 5/5, or even a tie-break. This was without counting on the sudden boost given by Tapia and Coello, who took Jon Sanz by the throat on his commitment.
The ogres of the 2023 season, world number 1 on the WPT and number 3 in the FIP ranking, conclude this match 6/2 6/4 in 57 minutes, winning 57% of the points, without having had a single break point to defend.
After 40 years of tennis, Jérôme falls into the pot of padel in 2018. Since then, he thinks about it every morning while shaving… but never shaves pala in hand! Journalist in Alsace, he has no other ambition than to share his passion with you, whether you speak French, Italian, Spanish or English.