At Roland-Garros, it's almost the home stretch this Saturday, with the semi-finals of the Greenweez Paris Major.
After an anthology Friday (which you can relive HERE), marked by Dantesque matches and a exceptional interruption due to extreme heat, this Saturday promises to be incredible again. Temperatures should once again reach 35 degrees on the slopes of Porte d'Auteuil, at the risk of putting organisms to a severe test.
Four matches are scheduled today on the Philippe-Chatrier court, starting at 14 p.m.
Hostilities will begin with the ladies and a match between Ariana Sanchez / Paula Josemaria vs Sofia Araujo / Alejandra Salazar. The former have been merciless in this tournament, leaving only crumbs to their opponents; as for the second, they put an end yesterday to the good run of the Frenchwoman Alix Collombon and her teammate Lorena Rufo.
The second match of the day will pit Arturo Coello / Agustin Tapia to Jon Sanz / Coki Nieto. The latter will not be favorites, but are capable of anything, especially if Arturo Coello is not completely recovered from his heat stroke yesterday.
From 18 p.m., the second women's half will pit Gemma Triay and Marta Ortega, who fought last night until 1 a.m. to qualify, with Aranzazu Osoro and Jessica Castello, who created a surprise last night by bringing out Bea Gonzalez and Delfi Brea.
The last meeting of the day should delight aficionados: it will pit Ale Galan and Juan Lebron, which are approaching their best level, and Paquito Navarro / Federico Chingotto. The latter have also been impressive since the start of the tournament.
To follow the matches in France, go to Canal +.
Here is the detailed match schedule: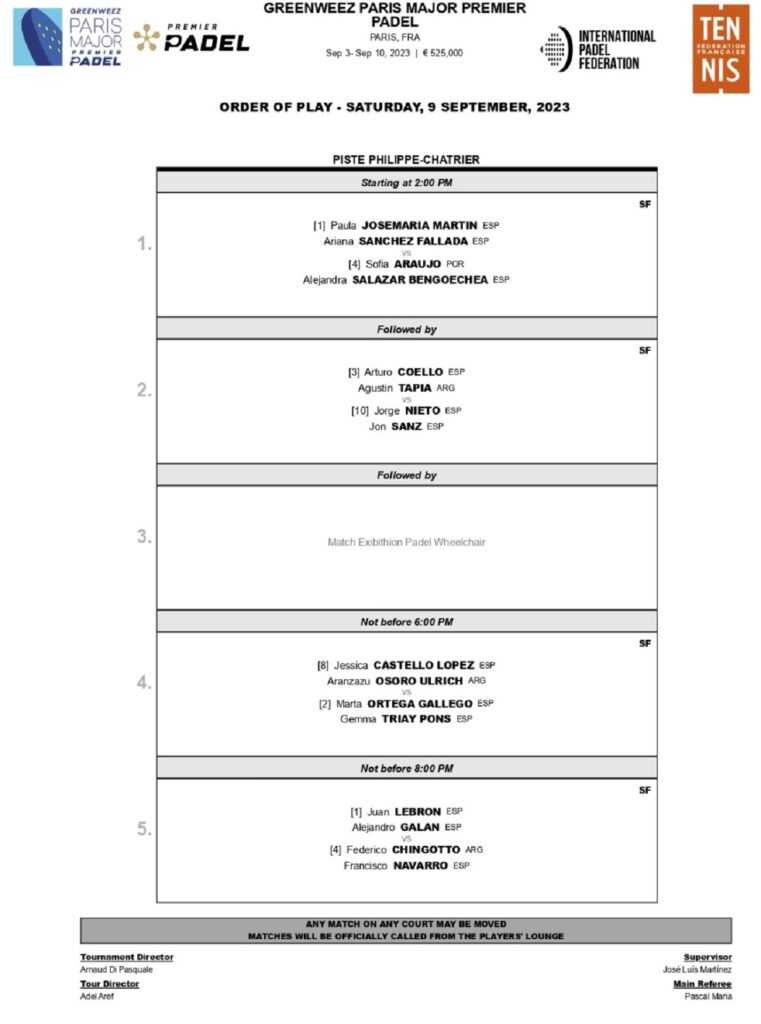 Find the updated tables just below:
After 40 years of tennis, Jérôme falls into the pot of padel in 2018. Since then, he thinks about it every morning while shaving… but never shaves pala in hand! Journalist in Alsace, he has no other ambition than to share his passion with you, whether you speak French, Italian, Spanish or English.