This is another hard blow for the A1. After several setbacks this year and, recently, the cancellation of the Bahrain Grand Master, the A1 Miami Master is postponed. It will not take place from November 6 to 12 as initially planned.
This is the sixth cancellation on the circuit led by Fabrice Pastor. Concerning Miami, "organizational problems" are mentioned as the main reason for this postponement. To date, no new date has been set.
Thus, two of the last four tournaments of the 2023 season will not be held as part of the A1 circuit, unless a solution is found for the Miami event. For the moment, no definitive cancellation has been confirmed by the organization. With the conclusion of the season imminent, more information is expected to be released soon.
"The Miami Masters is postponed. Infinity Sports LLC, the management company for the final Masters of the 2023 season scheduled for Miami during the week of November 6 to 12, informed us that the Miami Master had to be postponed for organizational reasons. Details of the new date will be announced in the coming days" we are told on the circuit's social networks.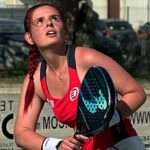 It was his brother who one day told him to accompany him on a track. padel, since then, Gwenaëlle has never left the court. Except when it comes to going to watch the broadcast of Padel Magazine, World Padel Tour… or Premier Padel…or the French Championships. In short, she is a fan of this sport.