In the north of France, at the gates of Boulogne-sur-Mer, the Fox's Center was born. The club padel has been talked about for some time and for good reason: With magnificent facilities, 4 golf courses padel including 1 panoramic central 1 single and 1 Baby padel, without counting the 5 badminton courts, the Saint Martin Boulogne club is becoming the reference in the region.
[src googlemap = ""Width =" 150 ″ height = "150 ″]
At the helm, François Luzinar, a racquet enthusiast who fulfills his passion with this club. Back on his adventure to make his project a reality: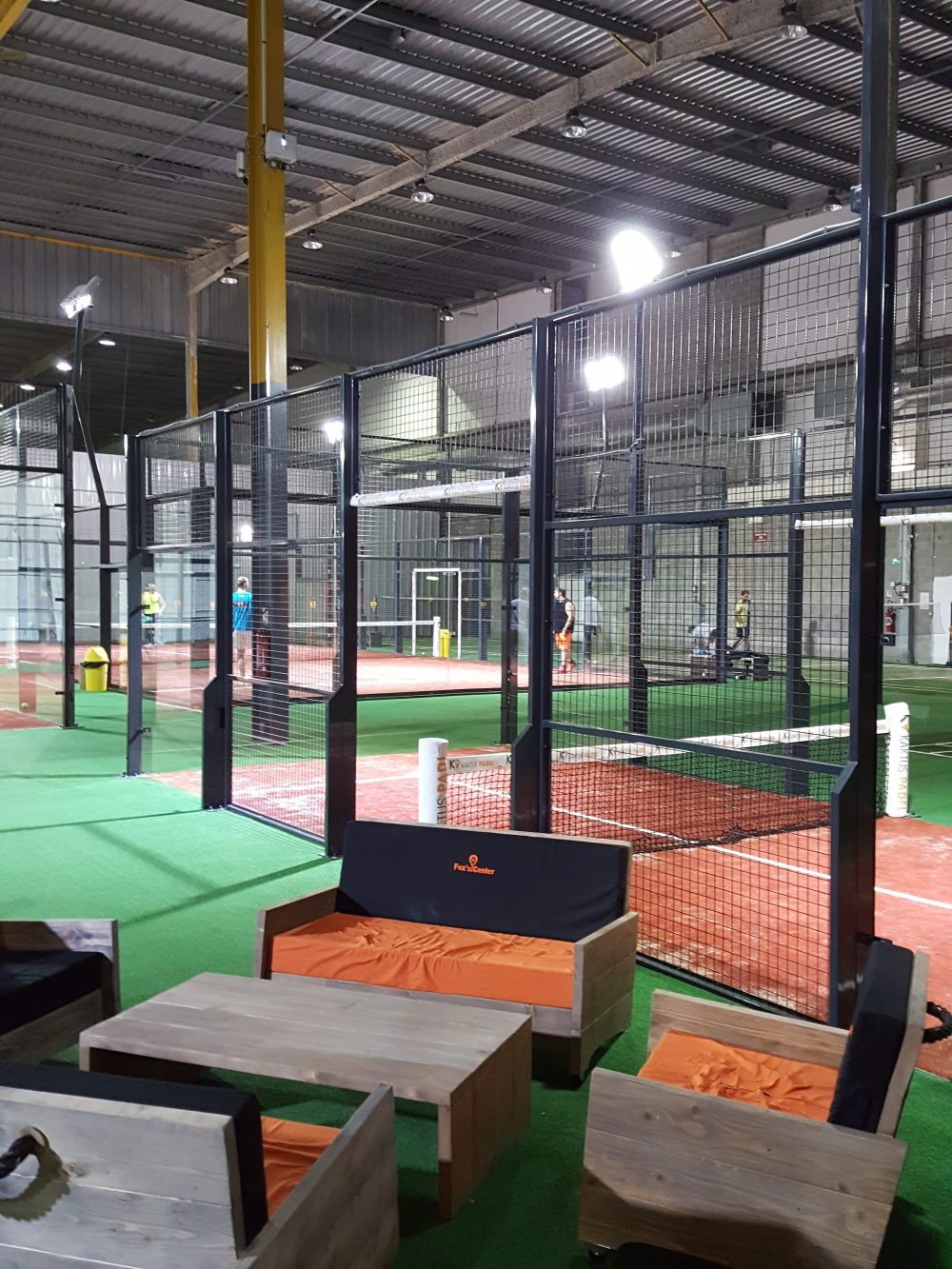 Hello François, can you tell me about your meeting with the padel?
Hello Franck, and hello to all Padel fan's. I discovered the padel in Portugal, then in Spain. There is 2 years I catch the virus. I am passionate about the yellow ball, here comes to me the padel ... We spend great moments, the game is simple and very funky.

From when you said to yourself: "I must embark on the adventure padel »?
Immediately after replaying in Spain. The love story had just begun.
Back in France I started the club tour. I went through, among others, Amiens at Jean Pierre Chevrier from Multiball, Lesquin at Thibaut and Pascal from Padel Attitude, then Padel Sensation in Villeneuve d'Ascq… The obvious was obvious: I had to get started!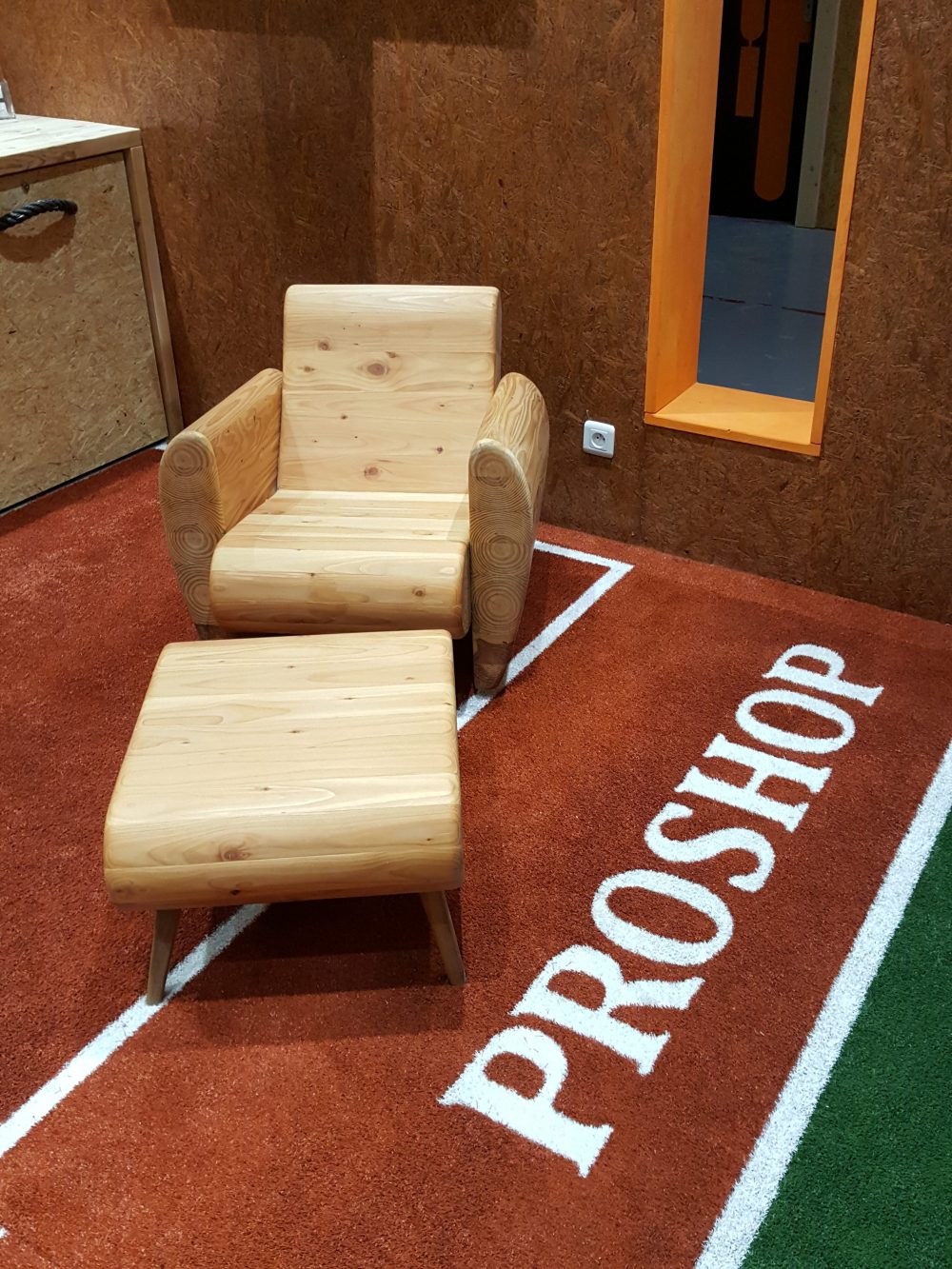 How long did it take to validate the realization of your club?
Between the start of the reflection and the birth of the club, almost two years.
First convince my wife to start ... not simple.
At the genesis of the project, I had a stable and financially interesting situation ... But the 40 years approaching, the little yellow ball I missed terribly and I wanted to return to my first love ... Then I embarked on the adventure my cousin , computer engineer and administrative and financial director of a transport box ...
One evening, around a table, the Fox Center was born.
The Business Plan and Bank presentations stage was bitter but our BNP Paribas partner quickly positioned itself, confident of our desires, our ideas, our arguments. Thank you to them for their trust. Almost two years later, here it is!
How was your journey in finding premises and setting up your club?
SEARCHING FOR LOCATION, with a big E, was the priority for us.
We wanted to hit hard for our first cross… and we didn't want to deviate from the rule that location is everything.
We finally concluded after many adventures on our first choice, an industrial building displaying 14 meters under roof at its arrow and 12m30 at the lowest point ... of the Dream!
We worked a lot on visuals, colors, ambiance, warmth, comfort, trying to draw a clear guideline, and support the trend of our future other centers.
The Fox's Center at St Martin Boulogne is based on 3 Padel Classics, a Panoramic center, a Padel court, a Baby Padel and also 5 Badminton courts on Synthetic lawn.
We offer a bar and restaurant area of ​​more than 200m2, two changing rooms with showers and toilets. a Proshop space dedicated to Padel and Bad with big brands like HEAD, Yonex, New Balance, Black Crown, and soon Artengo with whom we have concluded a superb close partnership.
The whole of Fox's stretches on more than 2600m2 in its first installment. we still have more 2000m2 to develop and ideas are going well.
For the opening, how will the club be organized? Political commercial ? exhibition? demonstration? Club organization? How is the team formed?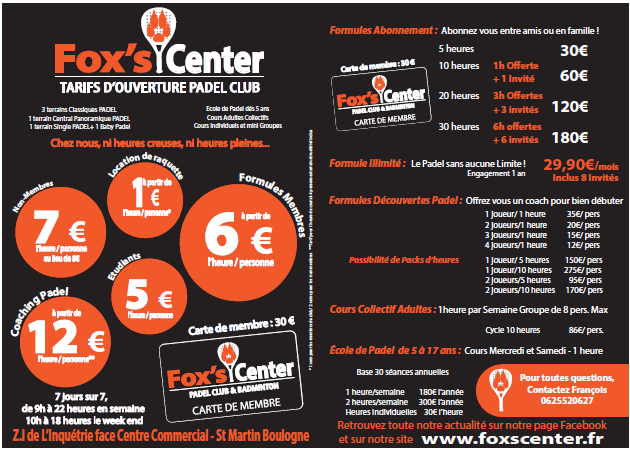 We opened the October 14, a week after my 40 candles, super gift!
Our club is organized around the words home availability amplitude and cool attitude.
We have a very open commercial policy with fixed rates, without full hours or off hours because we are in the heart of a commercial area, therefore subject to variable positions.
Due to the fragile economic environment of our catchment area, we opted for a commercial strategy of volume and diversification of activities, including cross-association intervention on our courts, all underpinned by an adjusted tariff policy. and accessible.
The club is organized around 3 shareholders. Perrin my wife manages the operational, the staff and the supplier relations, David is in charge of the financial part plus the party Bar and evening. For my part I manage the athlete, the relationship and the commercial part.
We have just hired a full-time employee, two other half-time hires are in progress. We are currently looking for a teacher from Padel for our center in St Martin, and the second we will open 2017 current, but hush, it's still a little secret ...
Is an inaugural date already planned?
The inauguration will take place on December 02, beginning of the ceremonies towards 19H.
We will make this day, a big thing with our brands to make this day an exceptional date for the panel.
We will keep you informed very soon of the plateau ...
Given the club facilities, the club will offer many events ...
The ambition of our club is necessarily immense, but full of reason and delay: before running we start by walking.
Our wish is, eventually, to host national and international competitions, to be a necessary step of the Head and National Padel Cup circuits, as well as other circuits on which we work.
Our franchise Fox's Center aims to develop racket sports in a spirit of discovery and competition of good father, in the respect of our values.
Regarding this franchise Fox's Center does it work?
The Fox's Center franchise is above all based on support and a state of mind, that of the padel: Exchange of skills, sharing of experience and pooling of networks.
The outline of the accompaniment, and therefore of the franchise, is specific to each project, not shackles but tailor-made.
To become a franchisee Fox's center is to maintain its independence while taking advantage of our concept.
Interview by Franck Binisti

Franck Binisti discovers the padel at the Pyramid Club in 2009 in the Paris region. Since then padel is part of his life. You often see him touring France by going to cover the big French paddle events.