It was a small sensation that occurred on the central track of the WPT Menorca Open: Paula Josemaria and Ariana Sanchez lost a set.
We know that the world number ones are almost unbeatable. 25 consecutive wins for Paula and Ari, current series, their stats are impressive. Since the Amsterdam final, the world number ones have secured their first place. It is the first time that she ends the season in this place on the podium.
Besides the impressive consistency of these two players, the craziest information is undoubtedly the number of sets lost. 0. Since their semi-final against Sofia Araujo and Alejandra Salazar at Premier Padel from Paris, Paula Josemaria and Ariana Sanchez had not lost a set.
In Menorca, in a match where we know the particular context, so it's a sensation in the world of padel. Ariana Sanchez and Paula Josemaria lost a set.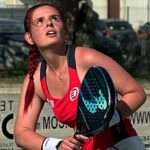 It was his brother who one day told him to accompany him on a track. padel, since then, Gwenaëlle has never left the court. Except when it comes to going to watch the broadcast of Padel Magazine, World Padel Tour… or Premier Padel…or the French Championships. In short, she is a fan of this sport.