France and Belgium are in the spotlight on the FIP circuit this weekend: after Thailand, Kuwait, it is the turn of Ben Tison and Clément Geens to qualify for the semi-final of the FIP Rise in Norway.
For the moment, the Franco-Belgian pair is on a very good run in this FIP Rise. After a victory following a WO from the Portuguese pair Perry/Fazendeiro (TS18), then a 6/0 6/3 against Briega/Bressel (TS11), Clément and Benjamin continue their beautiful journey in Norway.
In the quarterfinals, still no set lost for the Franco-Belgian pair, which wins 6/4 6/2. From now on, it is a place in the final that will have to be sought for the number 4 seed of the tournament.
The Geens/Tison tandem seems to work well. We saw him during the World Padel Tour from Amsterdam, where Clément and Benjamin made us vibrateer, by qualifying for the 8th final, offering themselves a gala match against Juan Lebron and Ale Galan !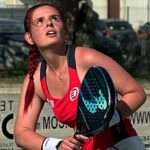 It was his brother who one day told him to accompany him on a track. padel, since then, Gwenaëlle has never left the court. Except when it comes to going to watch the broadcast of Padel Magazine, World Padel Tour… or Premier Padel…or the French Championships. In short, she is a fan of this sport.