The Kelme Padel Lion 2020, a top level racket for players of intermediate level looking for a pala of power.
For intermediate level players looking for a powerful pala with a large ball outlet, this Kelme Lion is a very interesting option. Shaped water drop, it has the same eraser as the models in the pro range: the Eva XtraSoft.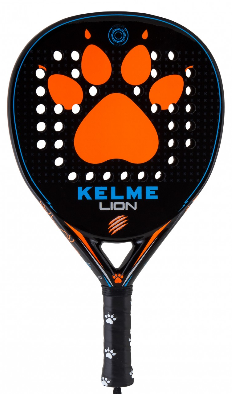 The fiberglass frame, will bring you more elasticity, which combined with the XtraSoft foam will bring you a great outing of the ball: the assurance of never playing small arm. The three layers of fiberglass on the sides will bring resistance and a little rigidity for the attack shots. The rough surface will help you for the effects.
In the end we are dealing with a pala of excellent quality intended for an audience of intermediate level of play. For players who want a powerful, solid, comfortable, manageable racket with a large ball outlet, the Kelme Lion 2020 is a very good alternative. This versatile model has already won over many players.