Marie-Amélie Dardaine and Tiffany Phaysouphanh emerged victorious in a spectacular three-set match against Wendy Barsotti and Élodie Invernon.
In the first set, Marie-Amélie and Tiffany were down 5/3 before coming back to 5 all, and they got two balls to take the lead at 6/5. However, Wendy and Élodie saved these balls and won this first set 7/5. A match which lasted 2h30, including a last set which itself lasted more than an hour.
In the second set, Dardaine and Phaysouphanh were again behind by a break, 4/1. It was the moment for them to string together five consecutive games to equalize at one set everywhere, 6/4.
Like two weeks ago, we saw a third set between these two pairs. But this time, the match was not interrupted due to injury. The set was played in a tie-break. Marie-Amélie and Tiffany led 5/3 and had six match points. However, Wendy and Élodie came back at 5 all, leading the set to a tie-break which Dardaine/Phaysouphanh won, this time on their first match point. (7/4)
Next stop, the semi-final, around 15:15 p.m. in 2nd rotation: Dardaine/Phaysouphanh (TS3) vs Ginier/Pothier (TS2).
This confrontation is unprecedented, although, individually, Marie-Amélie (with Marie Boura) and Tiffany (with Mai Vo) lost last year against Lucile and Jessica.
Match to follow on Padel Magazine TV.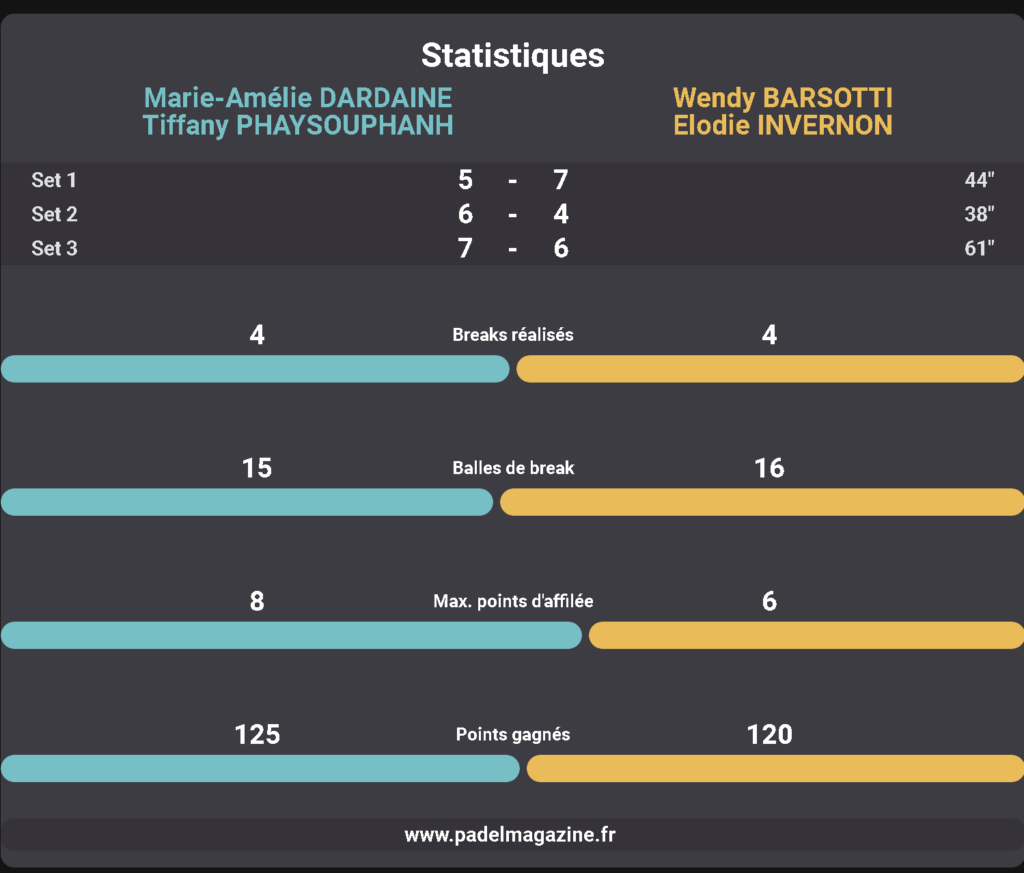 Franck Binisti discovers the padel at the Club des Pyramides in 2009 in the Paris region. Since padel is part of his life. You often see him touring France going to cover the major events of padel French.