Padel Magazine is live again from Roland-Garros this Friday for the quarter-final day of the Greenweez Paris Major 2023. Join us to experience the events of the day as if you were there, with all the results, anecdotes and an update behind the scenes view.
■ 00:52 a.m.- After 3h20 of match, Gemma Triay and Marta Ortega emerged victorious from the game of patience and nerves which pitted them against Pati Llaguno and Lucia Sainz. Final score 3/6 6/4 6/4. They will be opposed this Saturday to the Osoro / Castello pair.
■ 00:13 a.m.- Pati Llaguno, Lucia Sainz, Marta Ortega and Gemma Triay have been on the track for 2 hours and 45 minutes. The first two lead 3-2 in the 3rd set, with a break in advance.
■ 23:00 a.m.- Great atmosphere this evening at Roland-Garros: not for the last women's match on the central, but for the France – New Zealand rugby (tricolor victory 27 – 13), broadcast on a giant screen at Place des Mousquetaires! Meanwhile, we are approaching two hours of play and Marta Ortega and Gemma Triay are trying to get closer to the 3rd set, leading 4/3 in the second.
■ 22:29 a.m.- Pati Llaguno and Lucia Sainz will in turn try to thwart the odds: against Marta Ortega and Gemma Triay, they win the first set 6/3.
■ 22:24 a.m.- Aranzazu Osoro and Jessica Castello created a big upset in the women's draw by knocking out 3rd seed Delfi Brea / Bea Gonzalez in straight sets. The latter yielded 7/5 6/2 against an inspiring pair of determination, displaying an astonishing level of play.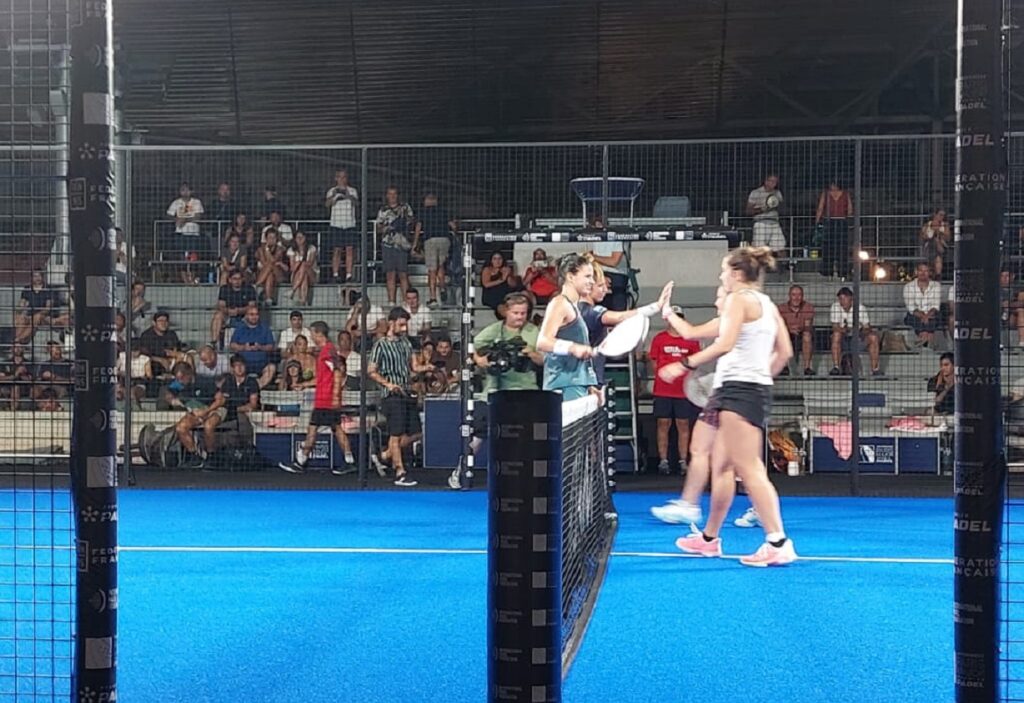 ■ 21:12 a.m.- The last two women's quarter-finals are underway: Delfi Brea / Bea Gonzalez and Aranzazu Osoro / Jessica Castello are neck and neck (4/4) on track 7 while Pati Llaguno / Lucia Sainz and Marta Ortega / Gemma Triay are doing their entrance to the exchange.
■ 21:06 a.m.- The other men's semi-final will pit Tapia / Bela against Sanz / Nieto.
■ 21:02 a.m.- Lebron and Galan won 7/6 6/2 against Belasteguin and Yanguas, at the end of a spectacular match, where the suspense lasted a set. Tomorrow, they will have an even more interesting challenge against Paquito Navarro and Federico Chingotto.
Read the detailed report of this match below:
■ 20:47 a.m.- The Lebron / Galan steamroller is underway and should no longer stop, barring an accident: Belasteguin and Yanguas, broken twice, are trailing 4/1 in the 2nd set.
Paquito Navarro soon to be a father
■ 20:35 a.m.- Information that some already know: Paquito Navarro is going to be a dad in a few weeks or a few months! This is what he has just confirmed to us during his post-match conference, during which the Sevillian showed his usual humor, explaining that he wanted his child to be "the complete opposite" of his partner Chingotto (whose play he had just complimented).
■ 20:18 a.m.- Heckled by Yanguas and Bela throughout the first set, Lebron and Galan gave no quarter in the deciding game, winning 7 points to 2.
■ 20:11 a.m.- Paquito Navarro and Federico Chingotto validated their qualification for the semi-finals, winning 6/1 6/2 against Lucho Capra and Maxi Sanchez. Apart from a set that went to the tie-break, Wednesday against Lamperti / Diaz, the Andalusian and the Argentinian are currently walking around in this Greenweez Paris Major: they have not lost any sets and only 13 games in three matches played!
■ 20:08 a.m.- The qualification ofAriana Sanchez and Paula Josemaria went so quickly that it escaped our radars: in an hour of time, Tamara Icardo and Virginia Riera only scored 24 points out of 79 played, losing 6/2 6/0. Ari and Paula will meet Ale Salazar and Sofia Araujo tomorrow in the half.
■ 20:02 a.m.- After two set points saved on Bela's serve, he and Yanguas managed to equalize at 5/5 against Lebron and Galan.
■ 19:54 a.m.- As Lebron and Galan served for the set Belasteguin/Yanguas turned the tables, erasing the break and returning to 4/5.
Meanwhile, Navarro and Chingotto wander around court 7, leading 6/1 and 4/0 against Capra and Sanchez.
■ 19:45 a.m.- The temperature went back from 35 to 32° Porte d'Auteuil. At times we feel a light breeze which cools the place. But above all, the sun, which is getting closer to the horizon, is much less overwhelming than around 15:30 p.m., when the matches were interrupted and postponed.
■ 19:40 a.m.- The Lebron / Galan pair made the hole in front of Belasteguin / Yanguas, obtaining a new break to lead 5/2.
■ 19:31 a.m.- On track 7, Paquito Navarro and Federico dug a first hole against Maxi Sanchez and Lucho Capra (4/1).
■ 19:20 a.m.- The public attending the Lebron / Galan vs Belasteguin / Yanguas match is enjoying the Philippe-Chatrier court, whose roof is once again three-quarters open. The 1 seed made the first break, leading 2/0, but Bela and Yanguas immediately returned to 1/2 then 2/2.
This match has a particular stake, since it is the 3rd confrontation between the two pairs for three months, with a victory for each:
■ 18:50 a.m.- It's the turn of Coki Nieto and Jon Sanz to qualify for the semi-finals. After a first set lost 7/5 against Javi Leal and Jose Diestro, the Spaniards took better advantage of the interruption of play lasting more than two hours, due to heat. Returning to track 7, Sanz and Nieto won 6/3 6/2 in the last two rounds. They explained that they had made a tactical change after the break, managing to hold their course better than during the first set. One of the keys to the match? Leal and Diestro only converted one of their 11 break points.
Tomorrow, Nieto and Sanz will challenge Tapia and Coello for a place in the final. In the interview below, they assess their chances of success:
■ 18:34 a.m.- The miracle did not happen for Alix Collombon and Lorena Rufo, who lost their service for the umpteenth time and lost, on the second match point, 7/5 6/3 against Ale Salzar and Sofia Araujo. During this almost two-hour match, no less than eleven service games were exchanged. The Frenchwoman and her Spanish partner have only won their serve four times, out of eleven face-offs. Their opponents have a positive ratio of 6/10.
In the semi-final, Salazar / Araujo will logically be opposed to Sanchez / Josemaria, who will later play against Icardo and Riera.
■ 18:27 a.m.- While they have again lost their serve and have their backs to the wall (2/5), Alix Collombon and Lorena Rufo break to stay alive (3/5). Everything is still possible...
■ 18:18 a.m.- The sun is still beating down strongly, but is lower in the sky. The temperatures having "dropped" from 35 to 34 degrees, the debates resumed on track 7 and were balanced: Jon Sanz and Coki Nieto won the second round 6/3. Javi Leal is clearly not happy that the game was interrupted while his team was ahead.
■ 18:15 a.m.- Ale and Sofia made the hole in this second set and lead 4/2. But all is not lost for Alix and Lorena, who are only one break behind.
■ 17:58 a.m.- The second round begins with a new exchange of services. Alix Collombon loses his serve, but catches up immediately by taking that of his opponents (1/1).
■ 17:45 a.m.- The Frenchwoman and her teammate were no longer able to get past the opposing defense and lost 7/5 in this first round. After a good start in this set, the fight is complicated. The match has lasted 1 hour 10 minutes, with three breaks for Salazar / Araujo and two for Collombon / Araujo.
■ 17:36 a.m.- Nothing is going well for Alix and Lorena, now trailing 6/5. Lorena Rufo, trailing 0-40 on her serve, had nevertheless saved the first three break points with Alix Collombon, but the 4th was fatal for them, on a lucky backhand passing from Ale Salazar. Initially trailing 4-1, the Spanish-Portuguese pair have won five of the last six games.
■ 17:14 a.m.- Everything has to be redone for Collombon and Rufo, who have just lost three games in a row against Salazar and Araujo.
■ 17:00 a.m.- The quarter-final between Ari Sanchez / Paula Josemaria vs Tamara Icardo / Virginia Riera will ultimately not be played on track 7, but on track 3, at 18 p.m. A consequence of the two-hour interruption of matches on track 7. The scheduling of the center court is not affected.
■ 16:59 a.m.- Alix Collombon and Lorena Rufo made a very good start to the match: after a break from the start, they currently lead 4/1.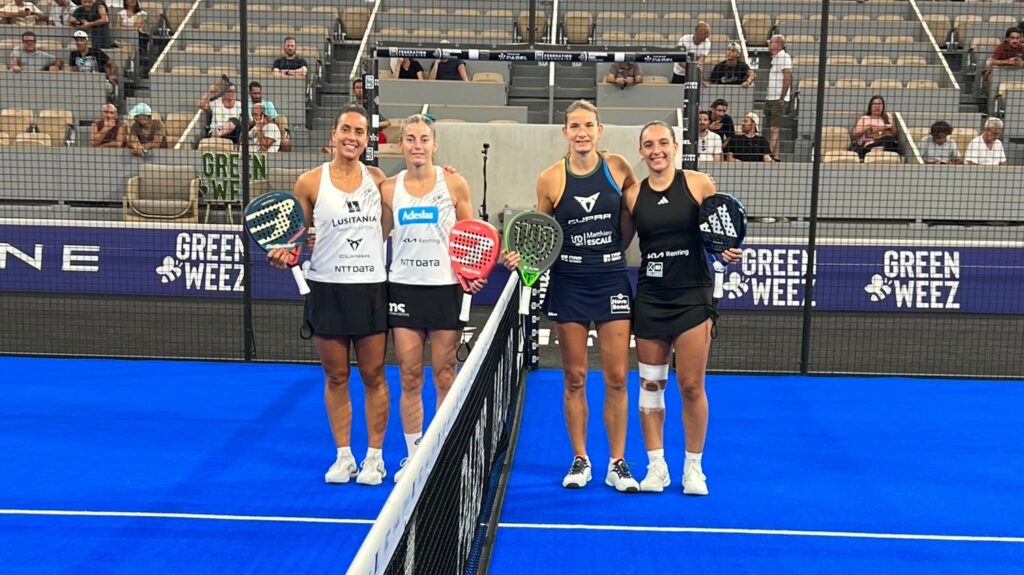 ■ 16:28 a.m.- Alix Collombon and Lorena Rufo are preparing to take to the track to challenge the new pair formed by Alejandra Salazar and Sofia Araujo. The latter are rather favorites in the ranking, but the public support for the Franco-Spanish pair can change the situation. In any case, regulars of the Instagram page of Padel Magazine believe in it: 76% of you think that an exploit is possible!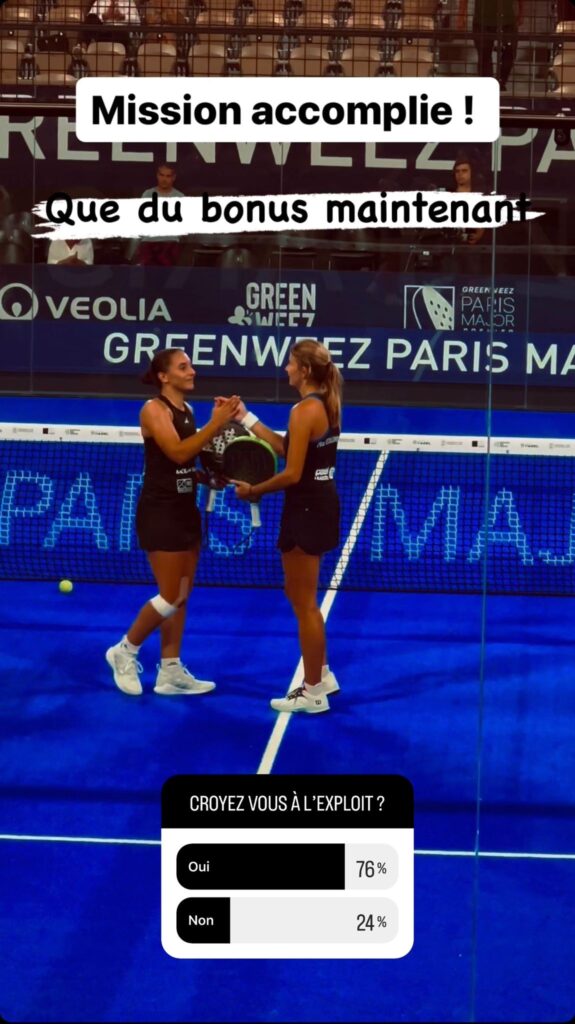 Coello had a temperature of 38,5°
■ 16:18 a.m.- During the post-match interview Coello apologizes for having called the trainer, explaining that he had a temperature of 38,5° and a drop in blood pressure. He thanks his partner and his team for supporting him in these difficult times and is delighted to reach this milestone and reach the semi-finals. "We are a real team," commented Tapia. When one of us stumbles, the other is there to help him get up."
■ 16:11 a.m.- Arturo Coello and Agustin Tapia are in the semi-finals! They win 4/6 6/1 6/2. The change in playing conditions after the roof closed and perhaps the ten-minute interruption changed the situation. Did this interruption allow Coello / Tapia to refine tactical choices and reverse the course of the match?
■ 16:08 a.m.- And another break in favor of Tapia and Coello, this time to the detriment of Lucas Bergamini. The favorites lead 5/2 and are heading towards an almost certain victory.
■ 15:59 p.m.- This time it's Victor Ruiz who loses his serve, allowing Tapia and Coello to lead 3-1 in the third set.
■ 15:55 p.m.- In Italy this year, the heat had already disrupted the matches of the Major of Rome. The very high temperatures had prompted organizers to start matches earlier in the morning and later in the evening, avoiding the hottest hours between 13 and 17 p.m.
■ 15:44 p.m. - Play resumed after a three-minute warm-up on the central track, the roof of which is closed. This is an extremely rare event: even in Spain and outside, we do not remember any matches interrupted due to heat. Last year in Toulouse, where it was 38 degrees during the Human Padel Open, we had asked players about the extreme temperatures, hot or cold, in which they had played. Find this article right here:
34° in the shade, matches interrupted
■ 15:30 p.m.- On the switchboard, the referee has just announced a interruption of the game for ten minutes, the time to close the roof to limit the effects of the heat, both for the players and the spectators. The mercury registers a temperature of 34 degrees in the shade and much, much higher in full sun.
■ 15:26 p.m.- On the Chatrier court, the trend is reversed: Bergamini and Ruiz have just suffered a 6/1 in the second set. For now, the match continues and the roof remains half-open (or half-closed, if you prefer).
■ 15:24 p.m.- Incredible: the match on track 7 was interrupted because of the heat ! In September in Paris… Unlike the switchboard, there is no roof on runway 7, nor any shade. According to our still unofficial information, the resumption of the match would not be scheduled before 17:30 p.m.
■ 15:18 p.m. - The physiotherapist was effective: the Spanish-Argentinian pair took Bergamini's service to lead 3/1, after which Coello held on, with difficulty, to his commitment, thanks to two smashes which hit Victor Ruiz almost at point blank range (4/1).
■ 15:15 p.m. - On track 7, it was Leal and Diestro who won the first set 7/5, despite fierce resistance from Nieto and Sanz. The biggest smasher of the quartet, Javi Leal, makes the decision in these hot conditions particularly favorable to big arms, sending the ball shooting towards the top.
■ 15:10 p.m.- The match resumed with no apparent problem for Coello, whose team holds its face-off to lead 2/1.
■ 15:05 p.m.- Interruption of the game: Arturo Coello called in the physiotherapist, for an unknown reason.
■ 15:01 p.m.- After ten minutes of combat, Victor Ruiz has just lost his service for the first time, after a hard fight. The Spaniard can blame himself for having missed two smashes, almost his first mistakes. Opposite, Coello and Tapia are making less and less lobs, favoring chiquita and high balls on the backhand of their opponents. A tactical battle has begun: Tapia and Coello must find solutions, because since the start of the match, Bergamini and Ruiz have been the bosses of the track, with 54% of the points in their favor.
■ 14:51 p.m. – There's a bit of panic on board for Coello and Tapia. The latter being obviously very embarrassed by the sun, it was Coello who started to serve on the "bad" side: bad idea, he got broken from the start, without scoring any points.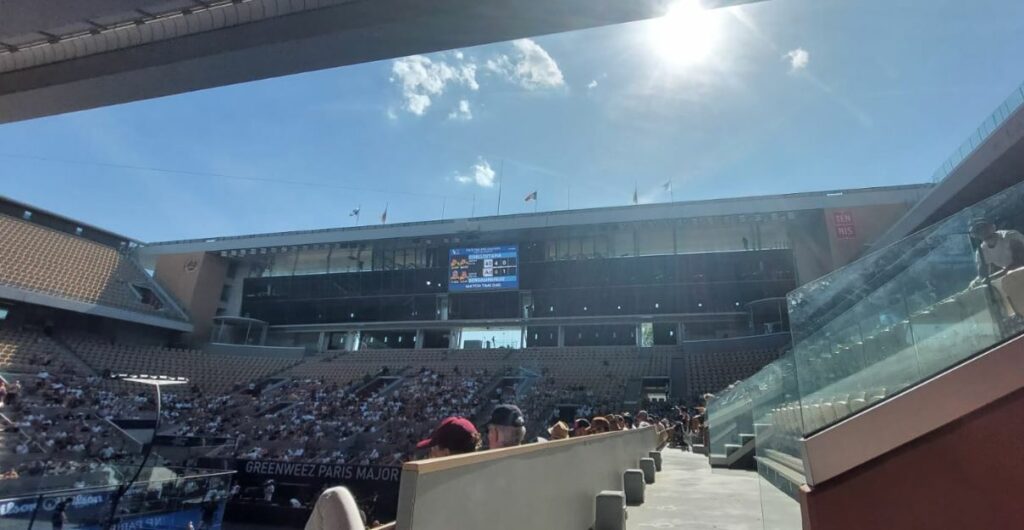 ■ 14:47 p.m. - First mini-sensation on center court: the favorites lose the first set 6/4! Bergamini and Ruiz play fire, the second multiplying big winning shots, with a minimum of mistakes. Opposite, Tapia and Coello are far from serene. In the last game, the Valladolid native notably made two big mistakes in return and one on the fly: far too many mistakes to get a break.
■ 14:40 p.m. - Two exploits from Lucas Bergamini allow the outsiders to regain the lead (5/4) by taking Coello's service. The Brazilian first made an incredible winning exit on a par 3 from the great Arturo, before concluding the game with an unstoppable smash, hit from the left side, while he and Ruiz had reversed their positions.
■ 14:34 p.m. - In the 7th game, Tapia does not let himself be surprised this time and is not worried about his throw-in (4/3).
Meanwhile, only four games have been played on track 7, where there are 2/2 between Sanz / Nieto and Leal / Diestro.
■ 14:30 p.m. - Lucas Bergamini, serving in his turn facing the sun, loses his turn in. The counters return to 2/2. Coello and Ruiz, who then serve with the sun behind their backs, have no trouble retaining their serves, bringing the score to 3/3.
■ 14:20 p.m. - Coello and Tapia win their first service game, with two winning smashes to their credit. But from the 3rd game, Agustin Tapia loses his commitment, confirming that Ruiz and Bergamini are players who pose a problem for the ogres of the 2023 season. Unless the fact of serving facing the sun has hampered the "Mozart of Catamarca" ? Of the four players, Ruiz is the only one wearing a cap and sunglasses…
■ 13:54 p.m.- If you missed yesterday, you can still catch up reading HERE the story of the matches and our offbeat view of the tournament behind the scenes. And if you've always wanted to know, without ever daring to ask, the relationship between Arnaud Di Pasquale, the padel and orgasm, The answer is here...

Alix Collombon has 45 to 50 € in fees per year
■ 13:45 p.m.- Since we are talking about Alix Collombon, we suggest you read the interview she gave us yesterday before his match, but also the one she gave to Sportbuzzbusiness, where she confides that a sports season costs her between 45 and 50 euros in miscellaneous expenses. However, she does not reveal how much her various sponsorship contracts bring her. Still on the financial level, a victory today would allow him to win at least €000, the prize money for a semi-final here; and in the event of defeat, the Frenchwoman would receive "only" €13…
Read here the details of the Greenweez Paris Major prize money
■ 13:35 p.m. - On the French side, all eyes will obviously be on French number 1 Alix Collombon and her Spanish partner Lorena Rufo, who will play after Tapia and Coello in central. They will be opposed to Alejandra Salazar and Sofia Araujo, after having obtained a convincing victory yesterday against Caldera / Nogueira:
■ 13:25 p.m. - Spectators who will not be on the central at the start of the afternoon will be able to enjoy two exciting matches on track 7: the first will pit the pairs Diestro / Leal and Sanz / Nieto, both eager to qualify for an unprecedented semi-final. The following match will see one of the favorite pairs, Paquito Navarro / Federico Chingotto, face the Argentinians Maxi Sanchez / Lucho Capra, who fought hard yesterday to eliminate Moyano / Gil.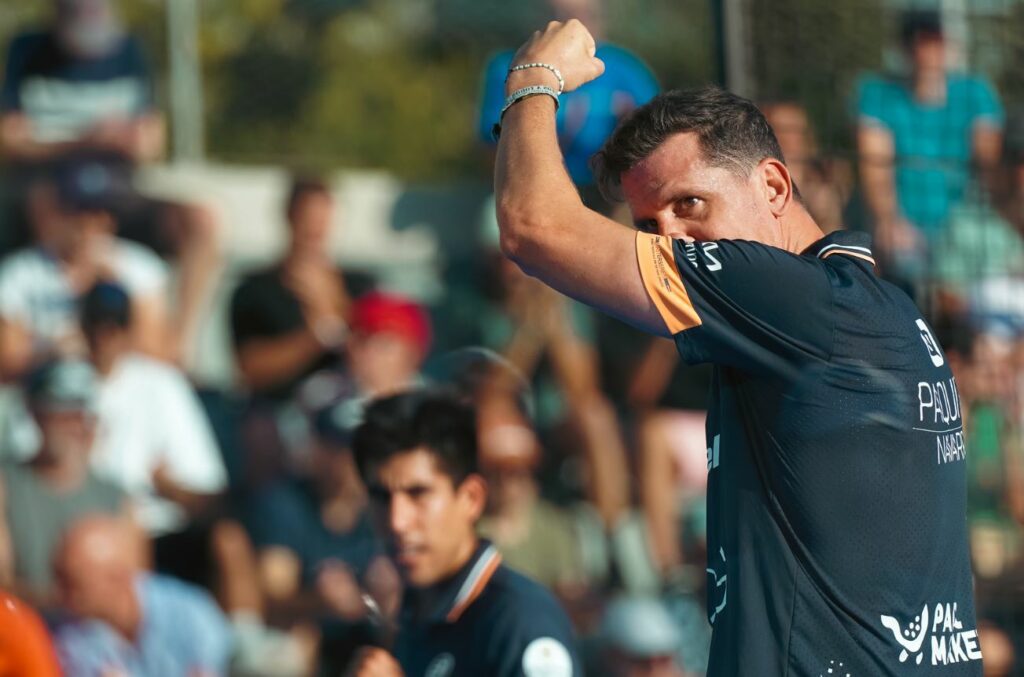 ■ 13:15 p.m. - From 14 p.m., the central court will smell like powder during a quarter-final that looks like a revenge between one of the favorite pairs of the tournament, Agustin Tapia / Arturo Coello and the one who beat them last week in Finland : Victor Ruiz / Lucas Bergamini. The stakes of this match are described here:
■ 13:05 p.m.- The temperature promises to be even more stifling and the smashes even more effective today. Yesterday at 13 p.m., it was 28° at the Porte d'Auteuil stadium; but this Friday, it's already 33 degrees! How high will mercury go?
■ 13:00 p.m.- The day promises once again to be thrilling in terms of play, with four quarter-finals for the ladies and the men, which will start from 14 p.m. on the Philippe-Chatrier court and track 7. The central should fill up even more than the previous days, in particular to support the French n°1 Alix Collombon, who will play around 16 p.m. The detailed program is available here:
After 40 years of tennis, Jérôme falls into the pot of padel in 2018. Since then, he thinks about it every morning while shaving… but never shaves pala in hand! Journalist in Alsace, he has no other ambition than to share his passion with you, whether you speak French, Italian, Spanish or English.