Like every Friday, new episode of the series At the heart of padel which retraces the journey of Palois Paul Daulan in the academy Padel Stuff from Bilbao. Today, the theme of the day, a moment that always raises a lot of questions for players: lob reception.
The moment when we wait for the ball is often the moment when we think the most... even too much. Between viboras, bandejas, smash by three, by four, or even let the ball pass to have to play a bajada, this overflow of possibilities which sometimes pushes us to make mistakes.
Finally, to properly receive a lob, you just need to carefully analyze the area of ​​the field in which you find yourself, as the former professional player explains Andoni Bardasco. Three very different zones which allow us to make three very different shots. You just have to position yourself well under the ball, adjust your shot and calculate the power of your shot so as not to send it directly into the back glass, or to the bottom of the net.
Even if it seems simple, it will take a few games, a few balls in the net and probably a few windows to successfully anticipate the reception of the lob. Once all this is understood, you will have to put it into practice on the courts.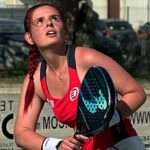 It was his brother who one day told him to accompany him on a track. padel, since then, Gwenaëlle has never left the court. Except when it comes to going to watch the broadcast of Padel Magazine, World Padel Tour… or Premier Padel…or the French Championships. In short, she is a fan of this sport.