Even when you've been world number one for years and are still among the best players in the world, it's possible to make...stupid mistakes. This is what happened to Alejandro Galan during his quarter-final against Momo Gonzalez and Javi Garrido.
The point was acquired, Ale Galan only had to pass the ball over the baseline glass. But, in an excess of relaxation, the former world number one propels it to the bottom of the net. The reaction of Juan LeBron, in the background, is eloquent. Even Ale Galan seems stunned to have missed such an obvious move.
This distraction from Alejandro Galan does not please the coach. Because, although his team delivers a solid match against Momo Gonzalez and Javi Garrido, the slightest error is singled out.
Jorge Martinez : "We play perfectly, they must play at 200%… and we don't do shit"
Alejandro galan : "We have passed the shit. Come on, let's concentrate."
We can say it to ourselves, Jorge Martinez is uncompromising with his players. And that goes for the Lebron/Galan pair who ends up winning 6/3 6/4 and reached the semi-finals.
Error grosero by Galán…
…and he has the "cagadas" container with cero#MenorcaOpen #Galan #Lebron #Garrido #Momo pic.twitter.com/SnWtFvgnsY

— Out Of Context Padel (@ocpadel) October 27, 2023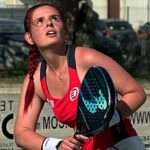 It was his brother who one day told him to accompany him on a track. padel, since then, Gwenaëlle has never left the court. Except when it comes to going to watch the broadcast of Padel Magazine, World Padel Tour… or Premier Padel…or the French Championships. In short, she is a fan of this sport.