The time for the quarter-finals has come for our two pairs still in the running in the Open of the Junior World Championships in Paraguay.
Among the girls, it is in the U16 category that we will find the Barla/Lambert-Agosti pair. During the 8th in the final, Kimy and Lou won against the Portuguese pair Pereira Alvarez/Arida Basto. For a place in the last four, the French will have a hard time facing the Mexicans Munoz and Montoya.
The start of the meeting is scheduled for 18:30 p.m. in Paraguay (22:30 p.m. French time).
For boys, it is the Peloux/Bernard pair who qualified for the U14 quarter-finals, facing the Mexican pair Gonzalez/Lara in two sets. For their quarter-final, Johan and Quentin will face the Spaniards Fernandez and Garcia.
Start of the meeting scheduled for 9:30 a.m. (i.e. 13:30 p.m. in France).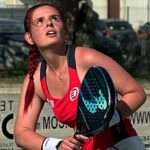 It was his brother who one day told him to accompany him on a track. padel, since then, Gwenaëlle has never left the court. Except when it comes to going to watch the broadcast of Padel Magazine, World Padel Tour… or Premier Padel…or the French Championships. In short, she is a fan of this sport.