Yesterday, Sweden was stronger than France in the quarter-finals, whether for girls or boys. In the end, two 2-1 defeats and we imagine a lot of regrets for our young players. But the competition doesn't stop there. THE Blueberries will still have a lot to do today, with the ranking matches to get a 5th instead.
This morning, the girls will start first, from 8:30 am (12:30 p.m. French time), against Portugal.
The boys will play later today, start of the meeting scheduled for 17 p.m. (21 p.m. French time) against Mexico.
Do not forget, Kimy Barla and Lou Lambert Agosti will play their semi-final against the Spanish Jana Montes Cabruja and Martina Calvo. The match should start at 17:30 p.m. (21:30 p.m. in France).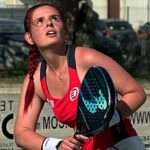 It was his brother who one day told him to accompany him on a track. padel, since then, Gwenaëlle has never left the court. Except when it comes to going to watch the broadcast of Padel Magazine, World Padel Tour… or Premier Padel…or the French Championships. In short, she is a fan of this sport.