The appointment is given at 13:30 p.m. for the final of the P1500 Padel Campus Arena. A beautiful poster in perspective.
Norman Sanchez and Nicolas Rouanet (TS3) will meet Alexandre Toppin and Maxime Joris (TS4).
Watch live on Padel Magazine TV: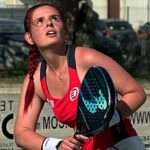 It was his brother who one day told him to accompany him on a track. padel, since then, Gwenaëlle has never left the court. Except when it comes to going to watch the broadcast of Padel Magazine, World Padel Tour… or Premier Padel…or the French Championships. In short, she is a fan of this sport.