The P1500 Padel Campus Arena has its first finalist team: the No. 3 seed composed of Norman Sanchez and Nicolas Rouanet. They triumphed over Thibaud Pech and Benoît Theard in just over an hour, with a score of 6/4 6/2.
A contested first set
The start of the meeting was tight. The two duos showed a similar level, but the first break was made by Toulouse's Theard and Pech, following three consecutive faults from Norman Sanchez.
However, the No. 3 seed did not give in and immediately took the break in the next game. From then on, Sanchez and Rouanet consolidated their lead by clearly dominating the end of this set, achieving another break.
They concluded the first set in 38 minutes, 6/4.
A second set dominated
Building on their lead, Norman Sanchez and Nicolas Rouanet continued their momentum during the second set. They quickly gained the upper hand and held their serve, giving their opponents no chance to come back.
Theard and Pech, visibly destabilized by the higher level of the number 3 seed, multiplied the errors, especially in defense. They were unable to counter the Sanchez/Rouanet duo.
In the end, after two additional breaks, Norman Sanchez and Nicolas Rouanet won the second set 6/2 and qualified for the P1500 final.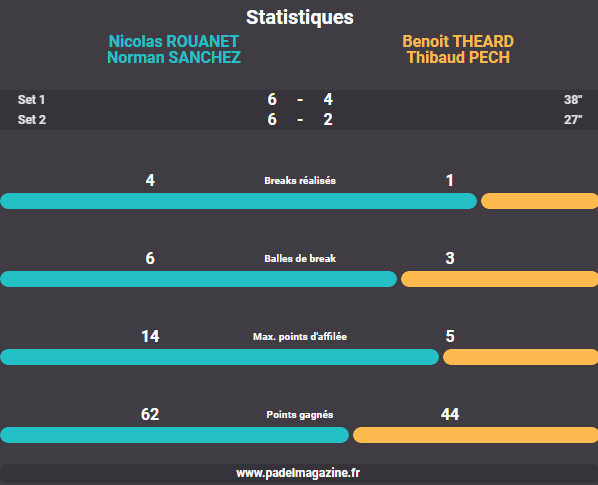 Norman Sanchez and Nicolas Rouanet will reunite with Alexandre Toppin and Maxime Joris (TS4).
The final will be live, from 13:30 p.m., on Padel Magazine TV: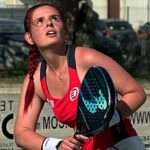 It was his brother who one day told him to accompany him on a track. padel, since then, Gwenaëlle has never left the court. Except when it comes to going to watch the broadcast of Padel Magazine, World Padel Tour… or Premier Padel…or the French Championships. In short, she is a fan of this sport.