The Fip Platinum Sardegna holds its champions : among the ladies, Lucia Sainz and Patty Llaguno won, as well as Fede Chingotto and Mike Yanguas among the men.
Sainz and Llaguno, still there!
The experienced Sainz and Llaguno went to win the title in Italy. Big favorites, after the withdrawal of the number 1 seed, Icardo/Riera, the two Spanish players were able to live up to their ranking. In a match that they knew how to maneuver from start to finish, they only needed two short sets to win this match.
Final score: 6-4/6-2.
Chingotto / Yanguas!
Among the gentlemen, an equally tempting encounter awaited us. The sensation pair of this tournament, Chingotto/Yanguas, started this match well by winning the first set, against the surprising Rami Moyano and Francisco Gil, 6-3. The number 1 seed continued his momentum in the second round. One break ahead, Federico Chingotto and Mike Yanguas join Patty Llaguno and Lucia Sainz at the top of Italy.
Final score: 6-3/6-4.
This unique pair will have created a sensation in Italy and won the hearts of a large number of fans of our sport.
Who knows, this association may be tried again in the future...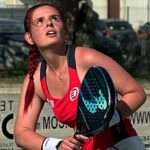 It was his brother who one day told him to accompany him on a track. padel, since then, Gwenaëlle has never left the court. Except when it comes to going to watch the broadcast of Padel Magazine, World Padel Tour… or Premier Padel…or the French Championships. In short, she is a fan of this sport.