Dorian DeMeyer and Thomas Vanbauce went to get their ticket for the semi-finals of the Fip Promotion Padel Asia winning 6/1 6/0, facing their compatriot Hugo Jay and his teammate Mainard Mendel.
The French pair form the number 3 seed in this tournament, following the abandonment of Vives / Seurin. And for the moment, we cannot say that the two French people are doing well. First round exempt, they returned from 16ᵉ of final. When they first met, Dorian and Thomas swept away Vladimir Nifontov (644) et the Spaniard Salvador Perez Lazaro (913), 6/1 6/1.
During the quarters, facing Hugo Jay (1583) and Mainard Mendel (1583), the tricolors did not waste any more time on the track in Thailand. 6/1 6/0 and a place assured for the semi-finals tomorrow. They will be opposed to the winners of the match between the Russians Ilya Grinshteyn and Konstantin Kravchuk, without FIP ​​ranking, at seed 2 Thijs Roper (387) and Samuel Jones (171).
For early risers, match scheduled for tomorrow, around 5 a.m.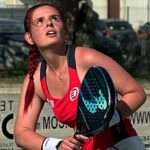 It was his brother who one day told him to accompany him on a track. padel, since then, Gwenaëlle has never left the court. Except when it comes to going to watch the broadcast of Padel Magazine, World Padel Tour… or Premier Padel…or the French Championships. In short, she is a fan of this sport.